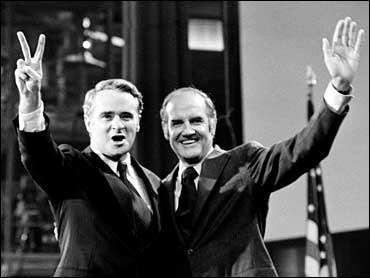 Short take: The Eagleton Affair
(CBS News) -- Today I posted a new edition of Whistlestop, my twice monthly podcast on presidential campaign history, on The Eagleton Affair, as Time magazine put it at the time. The collapse of McGovern's Vice Presidential pick mortally wounded an already long-shot campaign and had consequences that went far into the future.
While I was doing the research, I came across a great New York Times piece about McGovern's pick. There was some useful information in a correction in the piece about the nature of presidential defeats. I'm putting it in my folder for whenever I have to make a claim about big presidential defeats:
While [McGovern's] defeat was the largest in a contested presidential race in terms of the margin of the popular vote, it was not the "worst defeat" ever in presidential history when judged by electoral votes -- the standard most historians use. In 1936, Alf Landon carried Maine and Vermont and won eight electoral votes. In 1984, Walter Mondale won his home state of Minnesota and the District of Columbia for 13 electoral votes. And Mr. McGovern won the 17 electoral votes of Massachusetts and the District of Columbia.
Thanks for reading CBS NEWS.
Create your free account or log in
for more features.