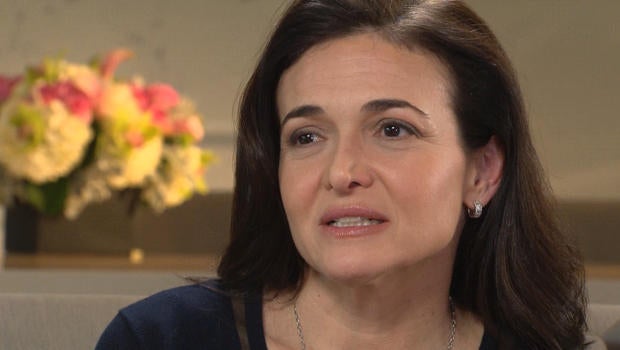 Sheryl Sandberg on living "Option B"
Sheryl Sandberg is one of social media's top executives, and a mother of two, who -- not so long ago -- suddenly found herself a widow. She talks with Norah O'Donnell of "CBS This Morning":
"Dave was my rock," said Sheryl Sandberg. "Dave was my best friend long before we dated. And then we got married and had two amazing children. He was the one who always told me everything would be okay. And then one day it wasn't okay, because he wasn't there."
On that day, nearly two years ago, Sandberg's husband, 47-year-old tech entrepreneur Dave Goldberg, died while exercising at a Mexican resort.
Initially Sandberg thought he had died from falling off an exercise machine. "That was what the initial report said. But then we got an autopsy, and the autopsy showed that he died of coronary artery disease. He had a cardiac arrhythmia, so he died before he hit the floor."
Sandberg, the chief operating officer of Facebook and author of "Lean In" (her controversial manifesto on women in the workplace), faced her toughest challenge.
"I flew home and told my children -- they were seven and ten -- that they'd never see their father again. And as anyone who's ever been through something like this will tell you, it feels like you're not going to get through, you know, a minute, let alone an hour, let alone a day."
Friends and family rallied around her. And her rabbi, Sandberg said, told Sandberg to "lean into the suck."
"And I thought, 'That is not what I meant when I said lean in.' But it was really good advice. Because what he was telling me is, 'This is going to suck. Don't fight it.' My kids and I wrote family rules the first week. And our very first family rule was 'Respect our feelings.' It's okay to feel angry, it's okay to feel sad, it's okay to feel jealous of other kids. It's okay for them to feel jealous of me, because I still have a father and they don't, something that -- I'm so grateful I have my father, but I can't believe my children don't have one and I do -- I'm so much older than they are."
Thirty days after Goldberg's death, Sandberg went public with her grief on Facebook. "When tragedy occurs, you can give in to the void," she wrote. "Or you can try to find meaning. You can kick the s*** out of option B."
And where did that phrase come from? "A few weeks after Dave died, there was a father-son activity," Sandberg recalled, "and I was sitting there with my friend, Phil, trying to figure out who could go with our son. And we figured it out. But then I just looked at him and I said, 'I want Dave. I want Dave to do this with our son.' And he said, 'Option A is not available. So let's just kick the s*** out of option B.'"
Sandberg is sharing what she learned about coping with grief in her new book, "Option B: Facing Adversity, Building Resilience, and Finding Joy." She co-wrote it with psychologist and author Adam Grant.
In the book she explores how ordinary occasions, like school events, can become landmines. "My daughter was in second grade the year Dave died," she recalled. "And I read what she wrote on the very first day of school: 'I'm in second grade. I wonder what will happen in the future.' And I thought to myself, 'Well, what happened is you lost your dad' before she finished second grade. And just trying to get through those moments, or even the everyday, was hard."
Sandberg and Grant write about the pitfalls to coping with tragedy -- blaming yourself, not recognizing what's still good in your life, and believing the trauma will last forever.
"You know, we can find things to be grateful for," she said. "So one thing that happened is, Adam one day said to me, 'It could be way worse.' And I looked at him like, 'Are you crazy? I just lost my husband suddenly. How could it be worse?' And he said, 'Dave could've had that same cardiac arrhythmia driving your children.'
"It's true, that can happen. It happens to people. And I thought immediately, 'Oh my God, my kids are alive, I'm good.'"
Before her husband's death, Sandberg might have been the least likely person to talk about coping with adversity. At 29, she was the chief of staff to Treasury Secretary Lawrence Summers. She was a vice president at Google. And in 2008 Mark Zuckerberg asked her to be his number two at the social media giant Facebook.
Today, she's a billionaire, and one of the most powerful businesswomen in America.
O'Donnell asked, "Were you nervous about coming back to work?"
"Yeah. It wasn't just that I was so grief-stricken; it was that really no one knew what to say to me. And for a lot of people I think they were afraid of saying the wrong thing. So they just said nothing at all. And so I started to feel more and more and more isolated."
The woman who wrote the book on building up women's self-confidence … had lost her own.
"And one of the suggestions Adam made was, 'Write down three things you did well before you go to sleep,' in a little notebook by my bed. And at first it was ridiculous. There was nothing I was doing well. Made tea. Had fewer diet sodas. I mean, they were really a sad list of things!
"And just the practice of writing down three things that went well -- and that was the last thing I thought of at night -- really helped build up my self-confidence."
"Option B" is meant as a guide not just for those dealing with adversity, but for those around them as well.
"I used to say to anyone who was facing anything, 'Is there anything I can do? Anything at all?' And I meant it. It was coming from a really good place," Sandberg said. "But when you say that, it shifts the burden to the person to figure out what you can do. And you don't know what to ask for. Like, the big things, the small things. Can you make sure my children and I are never alone on a holiday because our little family of three feels really small? You can't ask for that. But if you do something, you are showing people you are there for them."
"When you say people at work didn't know what to say to you, what have you learned about what they could or should have said that might have been helpful?" O'Donnell asked.
"The most important thing is to acknowledge the pain. And I got this completely wrong before. I thought that if someone was going through something hard, it was really up to them to talk about it. And if I brought it up I was reminding them."
"Or invading their privacy, or bringing up a bad topic or whatever?"
"Yeah. Bringing up a bad topic, reminding them. That's ludicrous. I couldn't be reminded. To this day I can't be reminded that I lost Dave. I know I lost Dave, and I know it every day."
O'Donnell first met Dave Goldberg four years ago, when she sat down with Goldberg and Sandberg in their home for "60 Minutes," in their only joint television interview.
Goldberg said of his wife, "She's an incredible mom. She's also a great sister, daughter, partner. She's incredible with all her relationships."
It was clear then how much she relied on him.
O'Donnell said, "One of the things you said then was, 'You cannot have a full career and a full life at home with your children if you're also doing all the homework and all the childcare.'"
"Yeah. When I wrote 'Lean In,' I hadn't really ever thought enough about what it was to be a single parent. I don't think I got it. Being a single mother, even for me with all the resources I have, is much harder than I ever imagined."
"The last chapter in your book is to love and laugh again. Have you been able to do that?"
"I've had to work hard at finding laughter," she replied. "Even jokes early on made me kind of gasp in shock, like, 'Oh my God, I just made a joke!'
"I was watching TV with my sister-in-law, and I kind of blurted out, 'Well, at least I don't have to watch Dave's bad TV shows anymore.' And then I just froze in horror, like, Oh my God! But then we laughed."
For the past year, Sandberg has been dating video game CEO Bobby Kotick.
O'Donnell asked, "When it was revealed that you were in another relationship, did you feel judged?"
"I did," Sandberg replied. "I mean, some people judged me. But the people closest to me were supportive. We judge people, but particularly women, very harshly often when they date after loss, and that's not fair."
Just as "Lean In" spawned some 30,000 support groups worldwide, Sandberg hopes "Option B" will create a global community to help people build resilience.
"In some way," she said, "we are all living option B. No one's life is perfect. And the question is, when things go wrong, then what?
"And I learned so much from Dave's death. Things that I wish so much I could go back and share with him, but I don't have that option. But I do have the option to live every day with the joy I would have had, had I known Dave and I had so few years. And I do have the option of helping other people learn those lessons, if possible. And that's what I'm hoping 'Option B' does."
For more of Norah O'Donnell's conversation with Sheryl Sandberg, tune in to "CBS This Morning" on Monday, April 24.

For more info:
Thanks for reading CBS NEWS.
Create your free account or log in
for more features.