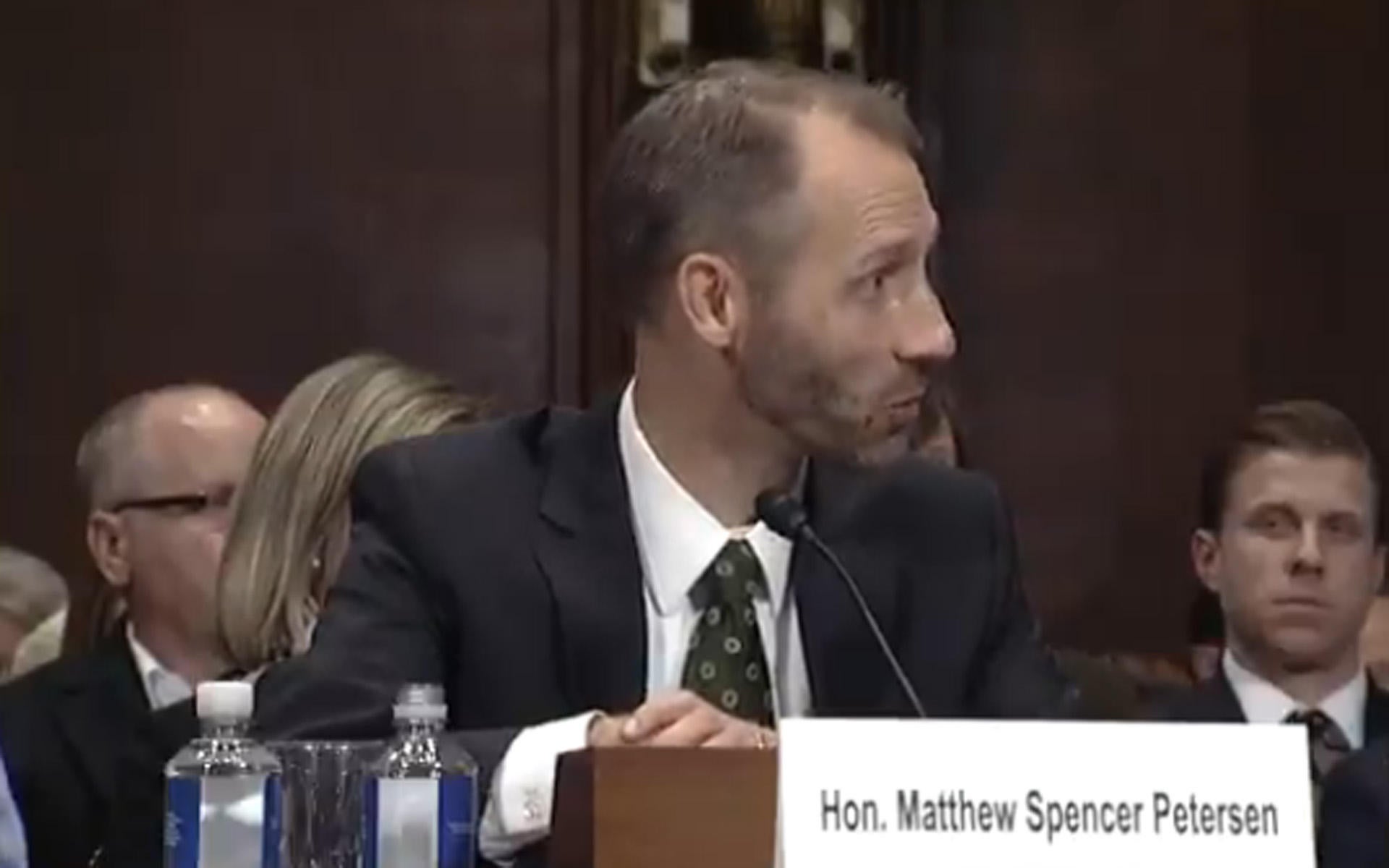 Senator openly mocks Trump judicial nominee
A Democratic senator took to Twitter Thursday night to highlight the apparent inability of a Trump judicial nominee to answer basic questions about the law. Sheldon Whitehouse, of Rhode Island, posted video of the testimony on Wednesday of Matthew Spencer Petersen, who's currently a commissioner on the Federal Election Commission and is up for a seat on the U.S. District Court for the District of Columbia
Whitehouse called attention to the video with the words "MUCH WATCH" and "Hoo-boy."
Petersen was one of five nominees testifying at the hearing.
After Spencer admitted he'd never tried a case to a verdict, Republican Sen. John Kennedy, of Louisiana, reeled off several principles of law and asked Spencer to describe them:
Petersen's testimony came a day after the Senate narrowly confirmed one of Mr. Trump's judicial nominees despite a rare "not qualified" rating from the American Bar Association. On a party-line vote of 50-48, the Republican-led Senate backed Leonard Steven Grasz to serve on the 8th U.S. Circuit Court of Appeals.
The Senate voted 50-47 Wednesday to confirm Don Willett, a justice on the Texas Supreme Court, to serve on the U.S. Court of Appeals for the Fifth Circuit. Willett was the 11th federal appeals court judge to be confirmed this year.
Grasz and Willett were the 10th and 11th appellate court nominees to win confirmation during the Trump presidency.
By comparison, President Obama had three appellate court judges confirmed in his first year.
Grasz was only the third nominee since 1989 to be unanimously deemed "not qualified" by the ABA. In that time, it's evaluated more than 1,700 nominees.
Since Grasz's evaluation, Brett Talley has also been unanimously rated "not qualified." Talley was nominated to serve as a district judge in Alabama but also has never tried a case in court.
The White House said this week it would withdraw Talley's nomination and that of Jeff Mateer, who has made controversial statements about transgender children. He was up for a spot on a district court in Texas. Both faced opposition from Senate Judiciary Committee Chairman Chuck Grassley, of Iowa.
So far, the ABA has rated 57 of Mr. Trump's nominees. Fifty-three came back as "well qualified" or "qualified." Four have been considered "not qualified."
Despite the two withdrawals, the president has enjoyed an excellent track record getting his conservative judicial nominees – many of them controversial – confirmed, with the backing of Senate Republicans.
Thanks for reading CBS NEWS.
Create your free account or log in
for more features.