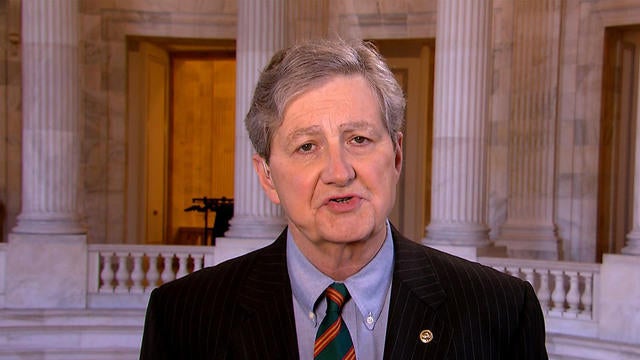 Sen. John Kennedy calls Cambridge Analytica data mining the "definition of creepy"
Senator John Kennedy, R-Louisiana, is calling for Facebook CEO Mark Zuckerberg to sit down with lawmakers on Capitol Hill to provide insight into just what he knew about Cambridge Analytica's alleged misuse of data from Facebook's users. Kennedy told "CBS This Morning" that the harvesting of user data is "getting into the foothills of creepy."
"I appreciate Mr. Zuckerberg finally saying something and I appreciate his apology but that's not enough. We need to sit down and visit. I'm not looking to regulate him to death, but I can tell you this, the issue isn't going away," said Kennedy.
He added, "The issue is not whether Mr. Zuckerberg knew, the issue is whether he should have known. The issue is whether, and I'm not saying they were, whether the company was negligent or reckless, how serious are they taking data protection, how serious are they vetting their advertisers."
While the Senate has previously heard social media representatives testify on how they are safeguarding user information in the wake of Russian interference in the 2016 election, Kennedy called the congressional hearing a "waste of our time." He said lawyers for companies like Facebook, Twitter and Google "dodged" lawmakers' questions and provided few details into how they are preparing against future attempts of foreign actors abusing their sites in the hopes of sowing dissension and manipulating the U.S. election process.
"I would like to see Mr. Zuckerberg – not his lawyer, Mr. Zuckerberg in the flesh – come and talk with us," he said. "Let me ask him a few questions. To what extent, if any, when we go on Facebook, are we living in a contrived world created by Facebook's algorithms? ... I would like to know to what extent has Facebook been a good steward of our data."
"And I guess the overarching question is how can we preserve the good things about Facebook, and there are good things, while at the same time stopping the corrosive effects."
As for politicians like Sen. Ted Cruz and President Trump using Cambridge Analytica in their campaigns, Kennedy noted that many candidates from both parties – including former President Obama, who pioneered the practice – have harnessed the power of Facebook to reach potential voters.
"Plenty of politicians use Facebook to articulate their message. Nothing wrong with that. And I'm not saying Cambridge Analytica did the right thing here, it certainly looks like they're part of the definition of creepy. But the issue is bigger than just one media consultant abusing Facebook. I want to know if there have been other cases of abuse. I want to know how they're protecting our data. I want to know how they're going to stop the Russians from interfering with our midterm elections."
Kennedy called Facebook a "wonderful company" that has grown into a virtual country with enormous power.
"Facebook does many good things, it does in some respects bring in us closer together, but in other respects we have discovered it pushes us apart, and particularly the data – the amount of data being collected, how the data is being used, whether its being used with our consent," he said.
Thanks for reading CBS NEWS.
Create your free account or log in
for more features.