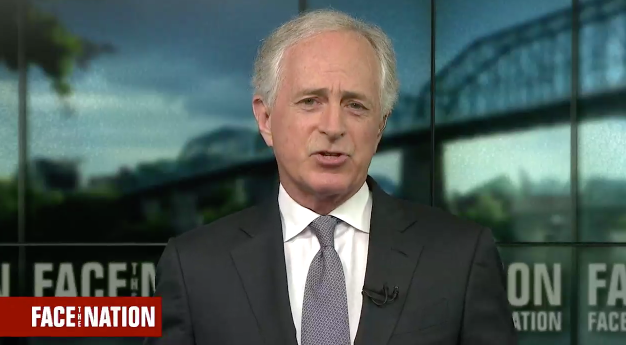 Sen. Bob Corker faults Trump administration for "ready, fire, aim" family separation policy
Sen. Bob Corker, R-Tennessee, says that the Trump administration's "zero tolerance" policy that forced many families to be separated at the U.S border was implemented in a "ready, fire, aim way" and is not a "realistic" way to enforce immigration laws.
"It obviously is not something that's realistic. It's not something that appreciates these young children. It certainly was done in a ready, aim, fire way, obviously," Corker told "Face the Nation" on Sunday. "There was no preparation for it. I can't imagine any American's heart not going out to these families, knowing these children are being separated and then, where were they going?"
Corker said he's glad President Trump signed an executive order to reunite families who are awaiting prosecution at the border, but said "that's led to another crisis" due to the 20-day limit on how long children can be detained with their parents while they are prosecuted.
"The administration obviously made a large mistake," Corker said. "I know that some in the White House want to use the immigration issue as a force to activate the base for elections, but obviously the president realized that was a mistake, and now it's up to us in Congress to work with them to come up with a longer-term solution."
Corker, chairman of the Senate Foreign Relations Committee, said the issue of family separations speaks to the larger issue of Congress' inability to pass legislation to address the nation's existing immigration problems -- particularly in an election year.
"We keep trying to deal with micro issues, all of which are important, whether it's DACA or this issue," he said. "I realize before the election that's very unlikely to occur, but we really need to deal with whole of the issue."
A conservative immigration bill failed in the House on Thursday, and a vote on a compromise measure was delayed in an effort to wrangle enough votes for passage.
As for the president's rhetoric on immigration issues, Corker, a vocal Trump critic, said that he's "never been part of a group that hated someone for wishing something better for their life."
"Maybe they have a little different color of their skin and they speak differently -- I just have never hated someone who traveled through tough conditions to try to come to a place where they could realize their dreams," he said. "I'm just not part of that group that wants to punish."
Thanks for reading CBS NEWS.
Create your free account or log in
for more features.