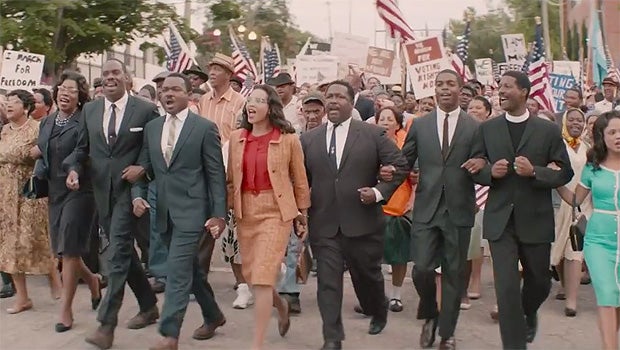 "Selma" director makes history with Golden Globe nod
Even if Ava DuVernay doesn't win a Golden Globe for best director on Sunday, she's already made history.
The 42-year-old filmmaker behind "Selma" is the first black female director to ever receive a nomination in the category.
Starring David Oyelowo, Tom Wilkinson, Oprah Winfrey and Cuba Gooding Jr., the period drama follows the story of Dr. Martin Luther King Jr. and the challenges leading up to the Voting Rights Act of 1965. Movie reviewers have praised the film, calling it "riveting," "passionate" and "moving." But it's also sparked some controversy too, with some critics raising questions overs its historical accuracy and the portrayal of President Lyndon B. Johnson.
"I think what happens is every year at time of nomination voting people start looking at movies a little closer and sometimes they do it with malicious intent," said Scott Feinberg, The Hollywood Reporter's awards analyst. With 'A Beautiful Mind' there were accusations of anti-Semitism or with 'The Hurt Locker' there were questions whether it was an accurate portrayal of what people go through. In this case, I don't think these are necessarily people from one campaign looking to damage another. I think they're just looking at the factual basis -- or lack thereof -- of some of these movies and commenting upon it...There are definitely questions of accuracy about the portrayal of LBJ."
Others are more skeptical about the timing of the criticism surrounding "Selma," especially with Academy Award nominations coming next week. Filmmaker Julie Dash tells CBS News she thinks the controversy is "clearly about the race to the Oscars."
"She's a front-runner and all of a sudden the week before the [Oscar] voting comes out certain people are writing op-eds...progressive talk show hosts are going off on her," Dash told CBS News, adding, "Let's go all the way back to Michael Bay's 'Pearl Harbor' or Steven Spielbeg's 'Lincoln' or Ben Affleck's Academy Award-winning 'Argo.' All these films -- major films -- big winners with so many inaccuracies, but no one cared."
DuVernay -- herself -- defended the film during a visit Wednesday on to "CBS This Morning" amid the growing controversy over the portrayal LBJ and King.
"What I try to do is show the full arc of their relationship. Neither man was a saint. Neither man was all sinner. There were gray areas to their relationship," said DuVernay, who started out in Hollywood as a publicist. "They had one of the most productive relationships in history, but it was sometimes a rocky road to get there," DuVernay said. "It happened. It was a triumphant time for our country but we tried to show the complexity and the humanity within their relationship."
Dash echoed those sentiments, saying, "We see his dramatic arc from beginning to end and there's nothing wrong with doing that in the film because he still comes out like a shining star...And you like him even more because you saw that dramatic arc."
Controversy aside, "Selma" is a critics' darling. The film has a 99 percent approval rating on movie review aggregator website Rotten Tomatoes.
"I love all things 'Selma.'...It's one of the most powerful movies," said "CBS This Morning" co-host Gayle King. "They shot that movie with a budget of $20 million, which is really bird seeds -- and in 32 days. What Ava pulled off is really amazing."
On Sunday, "Selma" will compete against Wes Anderson's "The Grand Budapest Hotel," David Fincher's "Gone Girl," Alejandro Gonzalez Inarritu's "Birdman" and Linklater's "Boyhood" in the best director category at the Globes. It's a category filled with top-notch talent behind a diverse group of the year's best films.
Dash, who directed 1992's "Daughters of the Dust" (the first independent film -- directed by an African-American woman -- to get wide national distribution), told CBS News that DuVernay's nomination is great news for the industry.
"'Selma' is not just a history lesson," said Dash. "It's history in the making on many counts -- for her being the first African-American woman to have this kind of budget and to be able to have final cut on an epic feature film -- telling the inside story of what's happening in the civil rights movement rather than from outside....This was an intimate, internal POV."
But will it win the category?
"It's definitely a turning point and one that people are paying a lot of attention to rightly. I think that in all likelihood the nomination for her will be the win," said Feinberg, who predicts that "Boyhood" will take home the prize.
Globe or not, Hollywood insiders say the recognition for DuVernay is a step in the right direction for women in film.
Female directors working on major Hollywood films are scarce. Women comprised 6 percent of all directors working on the top 250 films of 2013, for example, according to the Center for Women in Television and Film at San Diego State University. And it was only just five years ago that we saw the first woman director win an Academy Award -- when Kathryn Bigelow took home the best-director Oscar for "The Hurt Locker."
Will we see another female director in that Oscar category in 2015? We'll find out next Thursday when 2015 Academy Award nominations are unveiled. In the meantime, eyes will be glued on the Globes when the ceremony airs Sunday, starting at 8 p.m. ET.
Thanks for reading CBS NEWS.
Create your free account or log in
for more features.