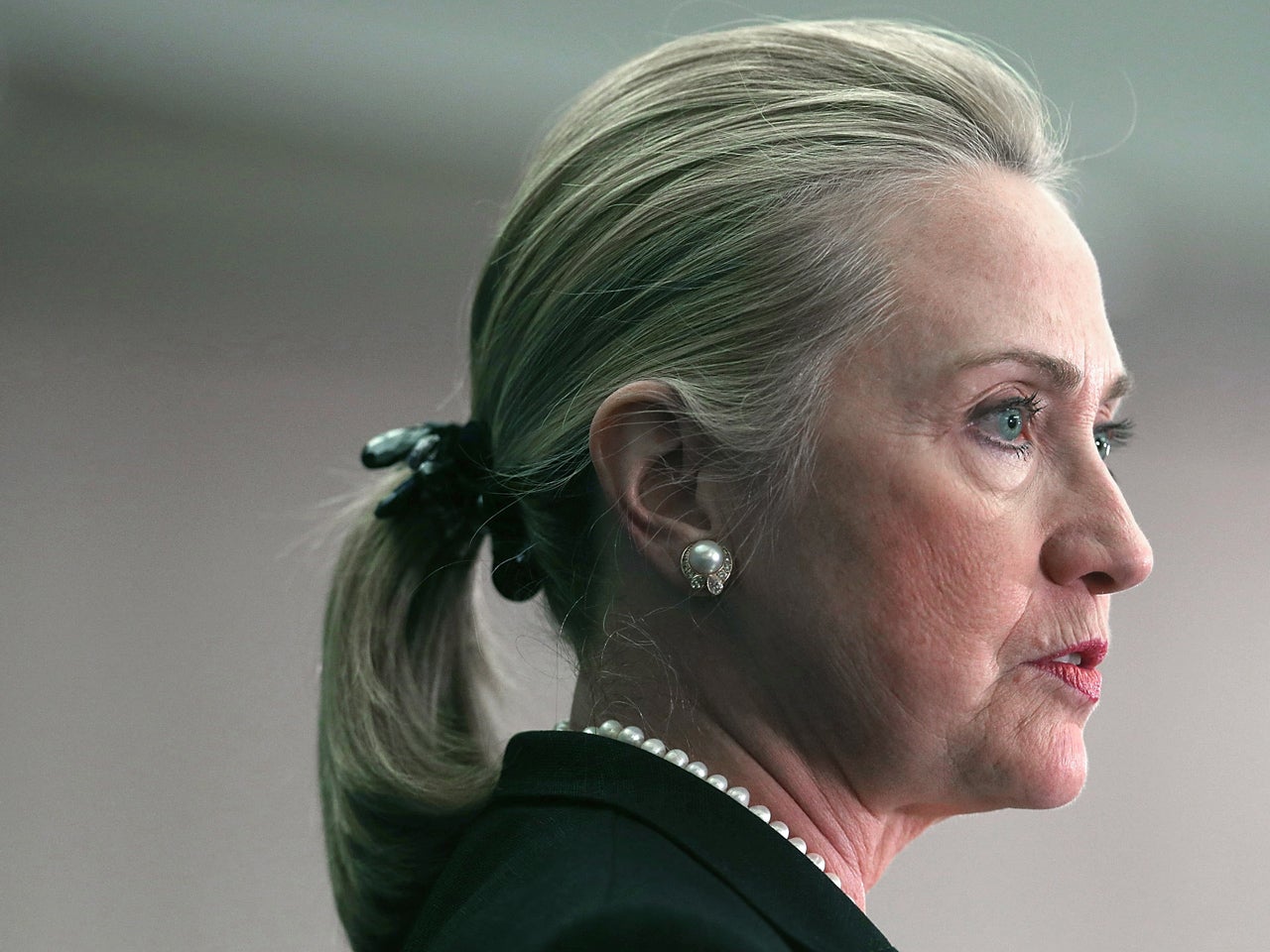 Secretary of State Hillary Clinton takes "responsibility" for Benghazi attack
Updated Oct. 16 at 7:44 a.m. ET
Secretary of State Hillary Clinton sought to take responsibility for the attacks on the U.S. Consulate in Benghazi, Libya, on Sept. 11 in a series of interviews on Monday.
"I take responsibility" for what happened on September 11, Clinton told CNN Monday after arriving in Lima, Peru, for a visit. The series of interviews with U.S. television networks were Clinton's most direct comments on the deadly attack, which killed U.S. Ambassador Christopher Stevens and three other Americans.
Clinton insisted President Barack Obama and Vice President Joe Biden are not involved in security decisions.
"I want to avoid some kind of political gotcha," she told CNN.
Speaking with CBS News correspondent Margaret Brennan, Clinton expressed personal regret for Stevens' death.
"Nobody wants to get answers more than I do," Clinton said. "These were people who I care deeply about. I knew Chris Stevens. I asked him personally to be in Benghazi during the revolution. I personally nominated him to be ambassador because I couldn't think of a better person to represent the United States: Somebody who understood what was at stake for Libya what was at stake for U.S. I saw how these revolutions could be so positive or hijacked. He understood that. He was instrumental in working with Libyans. I care deeply about what happened that night."
Since the Sept. 11 attack, the State Department has come under intense scrutiny from Republicans over how it handled security at the consulate in Benghazi in the months before the attacks. In a hearing held by the Republican-led House Oversight and Government Reform Committee last week, Eric Nordstrom, the former regional chief security officer for the State Department, told the committee his pleas for more security were ignored.
"I don't want us to reach any conclusions about what we did or didn't do without the full context," Clinton told Brennan. "I mean I understand why people want to ask questions but I just caution that we need to look at everything and everything needs to be explained at the same time."
"We have 275 posts around the world. We have more than 60,000 people. We live in a dangerous, risky ... environment today in many places around the world and we are constantly calculating, particularly led by our security professionals, about what needs to be done, where assets need to be."
Republicans have accused some in the Obama administration of misleading Americans on the nature of the attack, initially blaming the violence on an anti-Muslim movie that went viral online and inflamed protests in the Middle East. That explanation has since been discarded, and the administration acknowledges it was a well-organized terrorist attack.
United Nations Ambassador Susan Rice's comments on "Face the Nation," five days after the attack, that there was no indication from U.S. intelligence that the attack was planned in advance have been particularly panned by critics.
But Clinton said Rice had the "same information that everyone got and I think she very clearly said here's what we know now but this is going to change."
" I have to say I know there's been a lot of attention paid to who said what when but I think what happened is more important. We were attacked and four brave Americans were killed. ... Everybody in the administration has tried to say what we knew at the time with the caveat that we would learn more and that's what's happened. ... I think it's part of what the fog of war causes."
In a statement, U.S. Senators John McCain (R-Ariz.), Lindsey Graham (R-S.C.) and Kelly Ayotte (R-N.H.) said Clinton's acceptance of responsibility was "a laudable gesture" but said President Obama is "bears full responsibility" for both the security failures leading up to the attack and for how it was initially portrayed by administration officials.
Thanks for reading CBS NEWS.
Create your free account or log in
for more features.