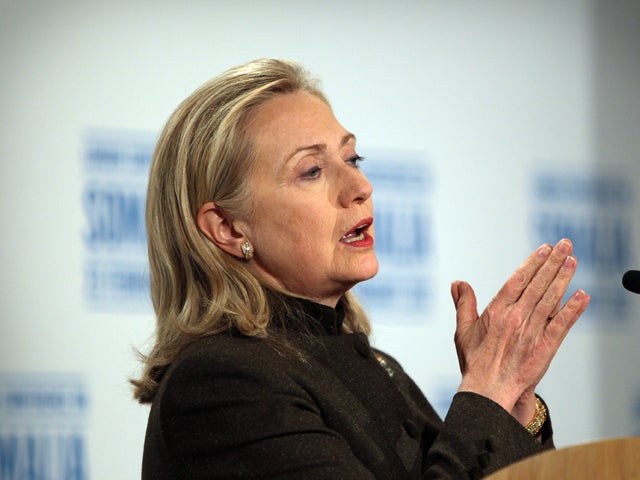 Secretary Clinton's blood clot may have been caused by rest following concussion, experts suspect
Update: 10:20 P.M. EST -- Secretary of State Hillary Clinton's physicians released more information about her condition in a statement Monday afternoon:
"In the course of a routine follow-up MRI on Sunday, the scan revealed that a right transverse sinus venous thrombosis had formed. This is a clot in the vein that is situated in the space between the brain and the skull behind the right ear," Clinton's doctors Dr. Lisa Bardack of Mt. Kisco Medical Group, and Dr. Gigi El-Bayoumi of George Washington University, said in a statement. "It did not result in a stroke, or neurological damage. To help dissolve this clot, her medical team began treating the Secretary with blood thinners. She will be released once the medication dose has been established. In all other aspects of her recovery, the Secretary is making excellent progress and we are confident she will make a full recovery. She is in good spirits, engaging with her doctors, her family, and her staff."
---
Secretary of State Hillary Clinton remains hospitalized at New York-Presbyterian Hospital in Manhattan on Monday for a blood clot.
Clinton reportedly suffered a concussion Dec. 13 after falling and hitting her head after fainting from a stomach virus that caused serious dehydration. She hasn't been seen in public since, but was expected to return to work this week before being hospitalized for the blood clot.
"She is being treated with anti-coagulants and is at New York-Presbyterian Hospital so that they can monitor the medication over the next 48 hours," Spokesperson Philippe Reines said in a statement. There has been no announcement on the location of the clot, which was discovered during the course of a follow-up exam.
Doctors are expected to decide soon whether any further action is required, Reines said, adding that they will continue to assess Clinton's condition, "including other issues associated with her concussion."
A blood clot is a clump that occurs when blood hardens from a liquid to a solid.
Dr. Jack Ansell, chairman of the department of medicine at Lenox Hill Hospital in New York, who has no special knowledge of the secretary's case, tells CBSNews.com he suspects Clinton is either experiencing a clot that originated in a blood vessel in the brain, called cerebral venous thrombosis, or one that could have occurred in one of the veins in the leg, called deep venous thrombosis (DVT).
Ansell's field of study is thrombosis, which is the formation of a blood clot inside a vessel.

Where does Clinton's concussion come in?
Ansell said the brain is rich in substances that stimulate clotting, so in general, people with a brain injury may face a higher risk for having a blood clot. Therefore it's possible a clot could have originated in a nearby vessel in the brain. However, if someone is lying around recuperating following a concussion or stomach virus, that increase in inactivity could also raise risk for DVT, he said. A person who experiences this dangerous blood clot deep in the leg could be at risk if the clot travels to the lung, becoming what's called a pulmonary embolism.
Dr. Richard Figler, a primary care sports medicine specialist at the Cleveland Clinic, told CBSNews.com that he doesn't believe Clinton's head injury was a direct cause of the blood clot, but said timing and other factors could have contributed. He also suspects that Clinton may have rested more following the stomach virus and concussion than she typically does, and going from an active to sedentary lifestyle may have combined with other factors that can influence blood clotting, like age and genetics.
"I'd have a hard time blaming the concussion for the clot itself," he said.
Ansell said these types of clots are easily treatable and respond well to therapy, so while there is potential harm from complications, he would give the secretary a good prognosis. Patients typically receive anti-coagulant therapy for three to six months, he said, and are monitored up to every week with a blood test to ensure they aren't having any blood flow irregularities.
"I would expect her to recover and not have a problem," he said.
One potential complication from treatment with an anti-coagulant, such as Coumadin (warfarin), is an increased risk for bleeding. That presents a problem for head injury suffers, according to CBS News medical correspondent Dr. Jon LaPook, who is affiliated with the hospital where Clinton is receiving care but has no knowledge of her case.
LaPook says that it is unusual for someone to be given blood thinners after suffering a head injury, because more bleeding in the brain can be deadly.
"The reason is when somebody falls and hits their head, you're worried about bleeding into the skull, into the brain, like Natasha Richardson had, so the last thing you would want to do is thin their blood," he said. "At this point the reason to give anti-coagulation, blood thinner, would be to prevent another clot from forming," he said.
Actress Natasha Richardson hit her head while skiing in Quebec in 2009 and later died from bleeding underneath the skull. That type of clot in the brain is called a subdural hematoma.
LaPook said the doctors treating Clinton may be between a rock and a hard place.
"They want to thin her blood to prevent a further clot, on the other hand they're afraid to give her blood thinners because that could increase bleeding in somebody who's smacked their head recently, so they're going to observe her very closely in the hospital," he said. That observation could also rule out other potential causes for the blood clot, such as heart problems.
Figler said a brain bleed from a head injury is only a major risk within 48 hours of the initial injury, and if the blood clot originated in the secretary's leg, as some suspect, the anti-coagulant therapy shouldn't present a major risk.
Ansell said that while doctors may have balanced Clinton's underlying head injury initially, such as by waiting a few days to make sure brain tissues healed, he also said it's likely safe to treat her with anti-coagulants, adding that many patients with brain injuries or strokes take these types of medication and it's not even certain if the secretary's concussion caused bleeding in the brain.
"I don't think there's any concern for any special risks for bleeding in the brain," he said.
Both doctors also said that anti-coagulants are not typically prescribed for brain bleeds caused by head injuries.
To Figler, the fact that doctors separately diagnosed a clot in addition to the secretary's other recent health woes, speaks to the doctors' ability to find other potential symptoms of a blood clot, such as leg swelling or calf soreness.
"Some docs may say don't worry about it, it could be soreness," he said, noting that a leg ultrasound isn't a typical test given following a concussion. "To be honest, it takes an astute physician to figure those things out."
Thanks for reading CBS NEWS.
Create your free account or log in
for more features.