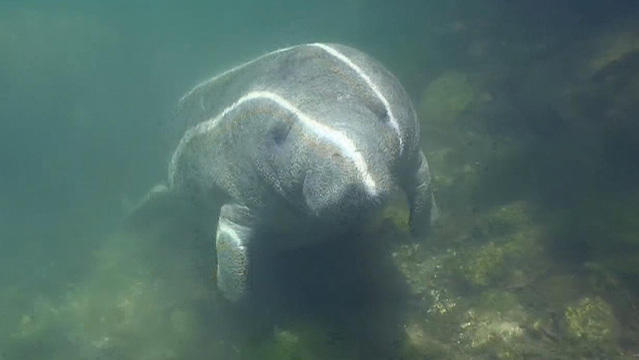 SeaWorld's massive mission to get a pregnant manatee back into the wild
A complex rescue effort involving a Coast Guard plane is helping return a pregnant manatee to the wild. The 800-pound marine mammal was rescued in September off the coast of Massachusetts.
Less than a month later, veterinarians gave the go-ahead to make the journey from a base in Groton, Connecticut back to Florida, where the manatee is beginning the next phase of her recovery, reports CBS News correspondent David Begnaud.
The manatee – named Washburn for the island where she was rescued – returned to the Sunshine State after a 1,300-mile flight aboard a Coast Guard transport plane.
Escorted by police, a slow procession moved through the streets of Orlando to her temporary new home at SeaWorld.
There, a crane hoisted Washburn into a private rehab tank. You could almost see the relief as she hit the water.
The once anonymous manatee became a summer celebrity. She was spotted bobbing in the choppy waters off Cape Cod in late August. Conservationists with the International Fund for Animal Welfare sprang into action, capturing Washburn three weeks later, and taking her to the Mystic Aquarium in Connecticut.
When Washburn arrived there, it became clear that this rescue operation was even more important than first thought. Veterinarians discovered this manatee was a mom-to-be.
"It's not only one manatee but it's two so the stakes are pretty high," said Dr. Jen Flower, a veterinarian at Mystic Aquarium.
Manatees, also known as "sea cows," can weigh over 3,000 pounds, eating a diet comprised mainly of sea grass. The animals, native to Florida, spent nearly 50 years on the endangered species list, but the population is recovering.

Sea World veterinarian Lara Croft accompanied Washburn on the flight south. She said just saving one has proven to be worth the extraordinary effort.
"We did have one orphan calf that was hand-reared, returned to the wild and she gave birth to nine calves," Croft said. "And who knows how many calves that those calves had. One manatee can have a huge effect on the population."

Now that Washburn is back home in Florida, the staff at SeaWorld is working hard to prepare her return to the wild, where she's expected to give birth in about four to six months. SeaWorld has released 17 manatees back into the wild thus far.
Thanks for reading CBS NEWS.
Create your free account or log in
for more features.