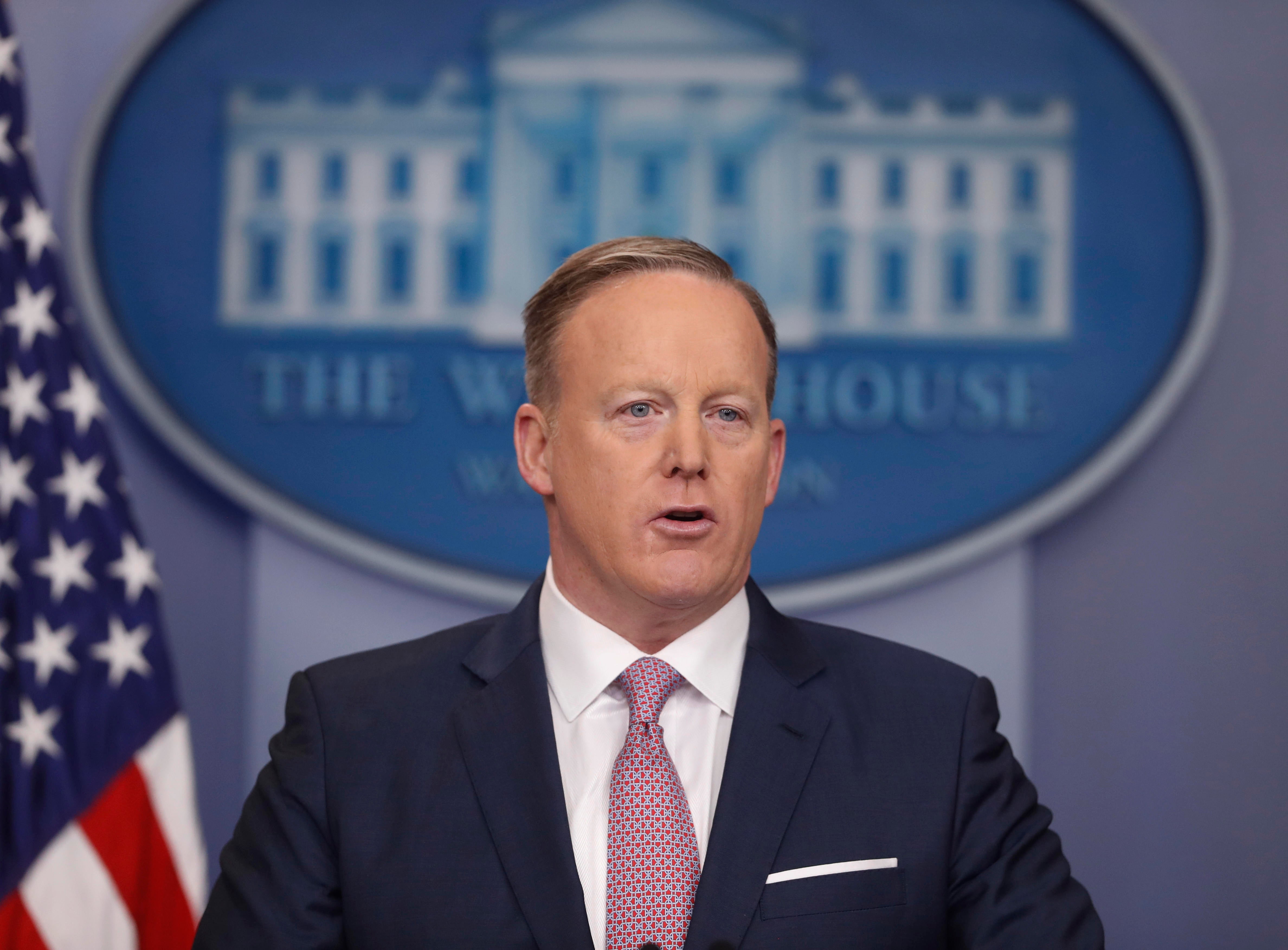 Sean Spicer press conference - Monday, January 23, 2017
Live Blog of the White House Briefing on 23-Jan-2017
3:03 p.m. The briefing has ended.
2:59 p.m. Spicer is asked whether Mr. Trump does not intend to send more U.S. troops into Iraq to take back the oil.
"I'm not going to talk about what we may or may not do," Spicer said.
2:58 p.m. Spicer said that the national security adviser, Gen. Michael Flynn, spoke to the Russian ambassador about four issues including a Dec. 25 plane crash, Syria and ISIS and setting up a phone call between Mr. Trump and Russian President Vladimir Putin.
2:55 p.m. After Spicer slammed the press for its coverage of Mr. Trump throughout the campaign and doubting his potential, Spicer claimed that the first few rows during Mr. Trump's CIA visit Saturday were "all CIA."
2:45 p.m. CBS Radio's Steven Portnoy asked Spicer about a CBS News report from Jeff Pegues that the first few rows of people at CIA headquarters Saturday during Mr. Trump's visit were his own people cheering him on.
"I don't think that's accurate at all," Spicer said, adding that he doesn't have a seat chart and that only about 10 people from the White House attended the event.
2:42 p.m. Spicer is asked about Mr. Trump's intentions on Social Security and whether infrastructure reform is still a priority. The president, he said, "has been very clear about preserving and protecting this very important benefit to our seniors." He added that Mr. Trump is still focused on making infrastructure a "huge priority."
2:37 p.m. Spicer is asked whether Mr. Trump plans to repeal or maintain an Obama administration policy to bar LGBT worker's discrimination.
"I don't know," Spicer said.
2:35 p.m. Spicer said he doesn't expect Mr. Trump to issue any additional executive orders today, but expects more throughout the week, especially on trade.
2:32 p.m. Spicer is asked if Mr. Trump has spoken with anyone on the investigation into Russian interference in the election and if he would stop the probe. Spicer said he doesn't believe he's spoken with anyone on that and hasn't indicated that he would stop any such investigation.
2:27 p.m. Spicer was asked what the Trump administration is going to do to address climate change.
"I think he's going to meet with his team and figure out what policies are going to be best," Spicer said, adding that there should be a "balance" so that the U.S. uses its resources well, that are smart for the environment and also ensures job creation.
2:25 p.m. Spicer refused to say what the national unemployment rate is and said that too often, government officials gets their heads wrapped around a number or statistic.
2:19 p.m. CBS's Margaret Brennan asked Spicer if the memorandum he issued to withdraw from TPP is any more than symbolic.
Spicer said that pulling out of the agreement is symbolic because it represents a "new era of trade policy" that puts American workers first. Spicer added that the U.S. already has existing trade agreements with nations that negotiated TPP and that the deal was an expansion of the status quo.
"This is not a deal that was in our country's best interest," Spicer said.
2:16 p.m. Spicer is asked what the U.S. interest would be in moving its embassy in Israel from Tel Aviv to Jerusalem, breaking longstanding U.S. policy. Spicer said that no decisions have been made yet, and added, "We're at the very early stages of that decision-making process."
2:10 p.m. ABC's Jonathan Karl asked Spicer if he intends to tell the truth and pledge to now knowingly provide falsehoods to the press.
"It is. It's an honor to do this," Spicer said, adding, "I believe we have to be honest...I think sometimes we can disagree with the facts. Our intention is never to lie to you, Jonathan."
Asked if he wants to make any corrections to the statement he made on Saturday, Spicer dodged the question and said that the numbers for metro ridership he relied on came from an outside group and not the agency that runs the D.C. metro system. He said he didn't make the numbers up out of thin air.
Spicer acknowledged the importance of having a healthy relationship with the press, but then slammed a journalist (who apologized) for inaccurately reporting that the bust of Martin Luther King, Jr., had been removed from the Oval Office.
Spicer said that there seems to be an "attempt" by the press to go after Mr. Trump and there's a "rush to judgment every time."
2:06 p.m. The AP's Julie Pace asked Spicer about reports that Russia coordinated with the U.S. on airstrikes in Syria. Spicer said the situation is "still developing" and referred reporters to the Department of Defense. Spicer added that Mr. Trump has made clear that the administration would like to work with any country interested in defeating the Islamic State in Iraq and Syria (ISIS).
2:04 p.m. April Ryan of American Urban Radio Networks asked Spicer if the Trump administration has a mandate to dismantle Obamacare given the differences in crowd size at his inauguration last Friday and the women's march on Saturday.
"We have a mandate to make healthcare more accessible and lower cost," Spicer said.
1:59 p.m. Spicer is asked about reports that the Trump administration plans to work with Congress to pass major cuts to discretionary spending. Spicer said that there's been "a lack of respect for taxpayer dollars in this town" and that Mr. Trump will work with Congress to save money.
1:56 p.m. The series of questions began with one on how soon Mr. Trump will build a border wall. Spicer didn't give a specific answer and only said that the president is already starting to work with Congress on appropriations for the border wall (even though Mr. Trump has repeatedly claimed that Mexico would finance the wall).
1:54 p.m. Spicer said that the White House is creating "Skype seats" in the briefing room to journalists who live beyond 50 miles from Washington, D.C., that would open up briefings to a "diverse group" of journalists to can't afford traveling to D.C.
Mr. Trump will have breakfast with heads of the auto industry on Tuesday, Spicer said, including General Motors, Chrysler and Ford. On Wednesday, Mr. Trump will have a swearing-in ceremony for Homeland Security Secretary Gen. John Kelly.
1:51 p.m. Spicer is still going through a pretty lengthy statement before moving to questions. He detailed the meeting Mr. Trump plans to have later in the day with congressional leaders. He slammed Senate Democrats for not confirming Rep. Mike Pompeo, R-Kansas, as CIA director on Friday, but the vote is expected to happen on Monday evening.
1:45 p.m. Spicer has begun the press briefing by detailing Mr. Trump's activities today, including a meeting between the new president and business leaders at the White House. Spicer said he will reconvene the group in a month, and have quarterly meetings after that.
He announced that Trump issued a presidential memorandum, withdrawing the U.S. from the Trans-Pacific Partnership.
Spicer said Mr. Trump also signed executive orders, including one that bans U.S. funding to go toward organizations that provide abortions abroad.
1:30 p.m. The new White House press secretary Sean Spicer is about to face the press, two days after he delivered a false statement about the crowd size at Donald Trump's inauguration on Friday to the White House press corps. The briefing comes after Mr. Trump signed several executive orders on Monday morning.
Thanks for reading CBS NEWS.
Create your free account or log in
for more features.