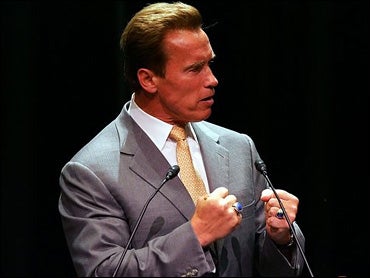 Schwarzenegger Settles Libel Suit
California Governor Arnold Schwarzenegger has settled a libel lawsuit with former late-night British TV personality Anna Richardson, who claimed she was groped by the Hollywood actor during a 2000 interview and later defamed by his aides during his 2003 campaign for governor.
"The parties are content to put this matter behind them and are pleased that this legal dispute has now been settled," said a two-sentence statement issued jointly in London on Friday by lawyers for Schwarzenegger and Richardson.
No details were released. The statement said Richardson and the three people she sued — the governor and two top aides, Sean Walsh and publicist Sheryl Main — reached a settlement "to all parties' satisfaction."
The settlement was confirmed by Walsh in a telephone interview. He said he had no comment beyond the lawyers' joint statement.
The agreement spares the governor from what could have been a potentially embarrassing trial as he campaigns for a second term.
Richardson, a former late-night TV personality, sued Schwarzenegger and his two aides in London in May 2004. She claimed Schwarzenegger fondled her breast during a December 2000 interview in London and that his staff later damaged her reputation by contending she encouraged his behavior.
Schwarzenegger's lawyers argued that Richardson did not give a truthful account of events during the interview.
The governor's office in Sacramento referred calls to his personal attorney, Martin Singer. Singer did not respond to phone messages. Main did not respond to telephone or e-mail messages.
About a week before the 2003 recall election, the Los Angeles Times published a lengthy report quoting several women, including Richardson, who said they had been groped and humiliated by Schwarzenegger on movie sets, in cafes and at other locations. Schwarzenegger responded with an apology for having "behaved badly sometimes" and doing some things that "were not right, which I thought were playful."
Schwarzenegger said he would address specifics of the allegations after the election but later changed course, dismissed them as "old news" and announced he would not appoint an investigator to look into the women's claims.
The incident involving Richardson revolves around her interview with Schwarzenegger while he was promoting his film, "The 6th Day." She claimed that he asked if her breasts were real and then reached out and grabbed one.
Main told The Times a different version of events, saying Richardson cupped her right breast and said, "What do you think of these?"
Figures released last year showed Schwarzenegger piled up legal bills of more than $500,000 to defend himself and campaign aides in libel cases related to groping allegations made during the recall election.

Thanks for reading CBS NEWS.
Create your free account or log in
for more features.