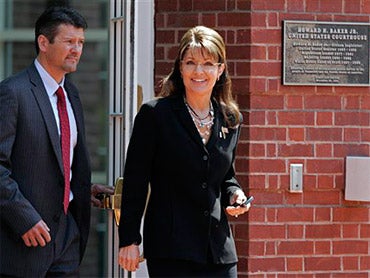 Sarah Palin Says "Drill, Baby, Drill" Was Right, Backs Alaska Senate Challenger
Updated 4:51 p.m. Eastern Time

Sarah Palin today took to social networks to make the case that the GOP slogan "Drill, baby, drill" was right despite the oil leak in the Gulf - and to endorse a challenger to an Alaska senator with whom she has had a rocky relationship.
Palin wrote the following on Twitter: "Extreme Greenies:see now why we push'drill,baby,drill'of known reserves&promising finds in safe onshore places like ANWR? Now do you get it?"
What Palin appears to be arguing is that the oil spill shows that it makes sense to drill for oil in the Arctic National Wildlife Refuge, which, she suggests, is safer than offshore drilling.
Of course, Palin has always maintained that offshore drilling is safe - and has in fact called for such drilling to be expanded. (She later expanded on the argument, writing to environmentalists that "Extreme deep water drilling is not the preferred choice to meet our country's energy needs, but your protests and lawsuits and lies about onshore and shallow water drilling have locked up safer areas.")
On Facebook, meanwhile, Palin posted an endorsement of Senate challenger and former federal Magistrate Judge Joe Miller. Miller is taking on Alaska Sen. Lisa Murkowski in the GOP primary.
"I share Joe's belief that we are at a critical time in our nation's history and the status quo will no longer do," she wrote. "Unfortunately, Lisa Murkowski and much of the political establishment have recently evolved into being a bigger part of the big government problem in Washington, and they've strayed from the principles upon which they had espoused."
Palin, whose political action committee had donated to Murkowski's campaign, denies in the post that there is "some sort of feud or bad blood between Lisa and myself." But it's worth noting that the two are not exactly close: When Palin resigned as Alaska governor midway through her term, Murkowski put out a very terse statement about how she was "disappointed" that Palin quit on Alaskans.
And that's not where the differences began: Palin gained the governorship by defeating Lisa Murkowski's father Frank, the Republican incumbent, in the 2006 election. More recently, the two split over John Bitney, Murkowski's current campaign manager.
As CBS News' Scott Conroy reports, in her book "Going Rogue" Palin describes Bitney, who orchestrated her successful 2006 gubernatorial campaign and went on to become a top aide in her administration, as hopelessly inept after a personal falling out between the two. Palin even goes as far as to denigrate Bitney, who remains well respected in Alaska politics, as "a Blackberry games addict who couldn't seem to keep his lunch off his tie."
Speaking of Murkowski in her Facebook post, Palin writes, "I've always wished her well, but it is my firm belief that we need a bold reformer who is not afraid to stand up to special interests and take on the tough challenges of our time. Joe Miller has stepped forward."
"Joe is unashamedly and unequivocally pro-life; Lisa is not and has voted to use taxpayer funds to support abortions and embryonic stem cell research," Palin writes. "Joe is against granting amnesty to illegal immigrants; Lisa has voted for it. Joe is against cap and trade...Lisa believes Al Gore's insistence that man-made global warming is fact, so she's on record as being open to cap and trade legislation to address weather changes."
"These are just some of the major differences between these two candidates," she adds. "I believe Joe is the better choice for Alaskans."
Following Palin's endorsement of Miller, Murkowski's campaign released a statement that included what may be a subtle jab at Palin's decision to quit her job as Alaska governor before her term ended.
Murkowski, the statement said, is "the best candidate to stay on the job and get things done." (italics ours.)

Murkowski's favorable ratings have long been high in Alaska, and in an April poll 62 percent said she deserves reelection, including half of Democrats.

Palin is less popular in the state, with 46 percent of Alaskans having a favorable view of her and 52 percent having an unfavorable view, according to a survey taken by the same GOP pollster.
Thanks for reading CBS NEWS.
Create your free account or log in
for more features.