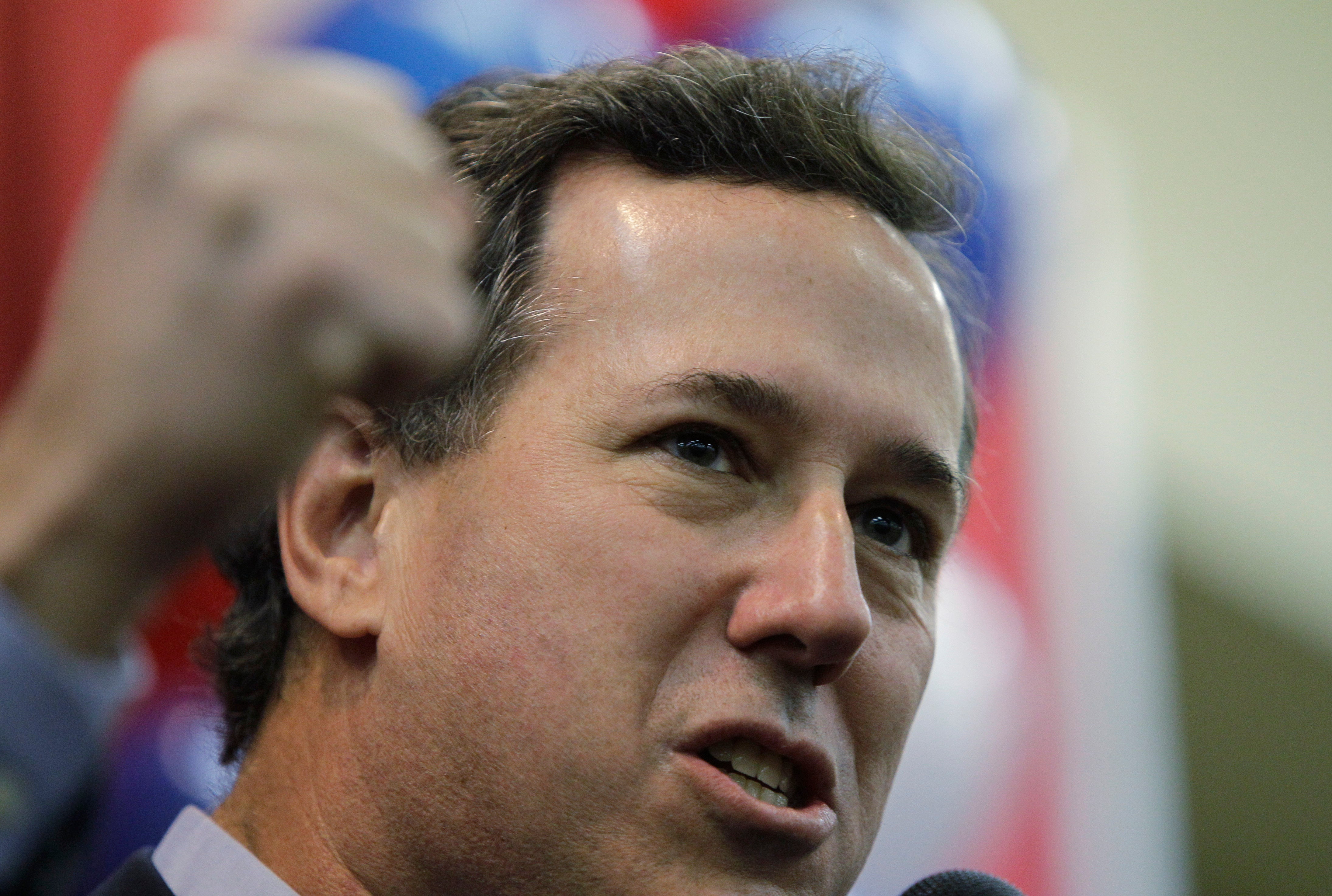 Santorum calls Occupy movement intolerant as protestors interrupt him
TACOMA, Wash. - Rick Santorum said on Monday that the Occupy movement represents "true intolerance" after he was faced with a handful of angry protestors who shouted through his entire event, ultimately resulting in the arrest of three of them.
"I think it's really important for you to understand what this radical element represents. Because what they represent is true intolerance," the former Pennsylvania senator said after two protestors were handcuffed and dragged away.
He cited a recent decision by the 9th Circuit Court of Appeals that California's same-sex marriage ban was unconstitutional to further paint the group as intolerant. "What they said was that anybody who disagreed with them were irrational and the only reason they could possibly agree is they were a hater or a bigot," he said. "Now I gotta tell you, I don't agree with these people but I respect their opportunity to be able to have a different point of view and I don't think they're a hater or a bigot because they disagree with me."
A third protestor was later arrested after she threw glitter on Santorum as he was shaking hands with the crowd. Tacoma Police Sgt. Paul Jagodinski estimated that three people were arrested altogether, though the department did not immediately return calls for comment.
But the presence of the protestors didn't ruffle the candidate as he tried to speak over the shouting below him and then calmly observed the arrests. Later in his speech, as the shouts continued, he even tried to appeal to the protestors.
"I understand their frustration," he said. "For three years they haven't been able to find work, they have a president who doesn't care about them."
Special Section: Campaign 2012
He blasted President Obama for dividing the country and called his fiscal 2013 budget proposal, released Monday, "another tax-the-rich scheme."
The audience of a few hundred people at an outdoor amphitheater, was supportive of Santorum and tried to shout down the protestors. He appealed to them to be the "momentum changer" during the Washington caucuses on March 3, just before the all-important Super Tuesday states.
"Your caucus, your voice will speak very loudly about where the race is heading into these big Super Tuesday primaries. Your caucus across this state can have a huge impact on who the Republican nominee will be so I ask each and every one of you to do your duty, to live up to your honor, to come forward and to go to those caucuses on Saturday morning," he implored the crowd.
Thanks for reading CBS NEWS.
Create your free account or log in
for more features.