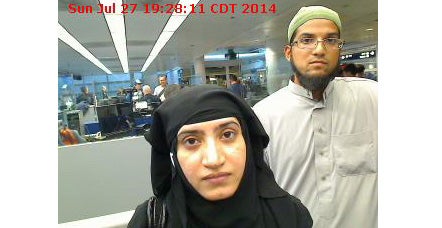 U.S. missed "red flags" with San Bernardino shooter
As investigators focus on what or who motivated San Bernardino shooters Syed Rizwan Farook and his wife, Tashfeen Malik, to open fire at the Inland Regional Center, a report about Malik's comments on social media before she moved to the U.S. is raising questions about how thoroughly she was vetted.
Law enforcement sources confirmed to CBS News that Malik made radical postings on Facebook as far back as 2012 -- the year before she married Farook and moved to the U.S., reports CBS News correspondent Carter Evans. According to a report in the New York Times, Malik spoke openly on social media about her support for violent jihad and said she wanted to be a part of it. But none of these postings were discovered when Malik applied for a U.S. K-1 fiancé visa.
"If you're going to start doing a deeper dive into somebody and looking at their social media postings or other things, you really want to focus your effort on the high-risk traveler, the person that you're really worried about being a threat to the United States," said James Carafano, national security expert and vice president of the Kathryn and Shelby Cullom Davis Institute for National Security and Foreign Policy at the Heritage Foundation. "The question is, how do you identify them?"
Malik was not identified as a threat despite being interviewed at the U.S. Embassy in Pakistan and vetted by five different government agencies that checked her name and picture against a terror watch list and ran her fingerprints against two databases.
"This is a case where, in retrospect, we know that this is a person that had lots of red lights and red flags. How come they didn't stand out as a high risk traveler? That's a really, really good question," Carafano said.
Over the weekend, dive teams from the FBI and local police finished searching the bottom of a muddy lake three miles from the site where the couple opened fire and killed 14 people. They pulled multiple objects from the water, but it is unknown if they recovered a computer hard drive that Farook and Malik may have discarded in the lake before they were killed in a shootout with police.
Investigators hope to search that hard drive for information on potential connections between the couple and foreign terror groups.
They also continue to question Enrique Marquez, Farook's friend who we know purchased the two semi-automatic rifles that were used in the attack. It is likely that Marquez will be charged with something once authorities finish speaking with him, but so far sources tell CBS News he has waived his rights and is being very cooperative.
Thanks for reading CBS NEWS.
Create your free account or log in
for more features.