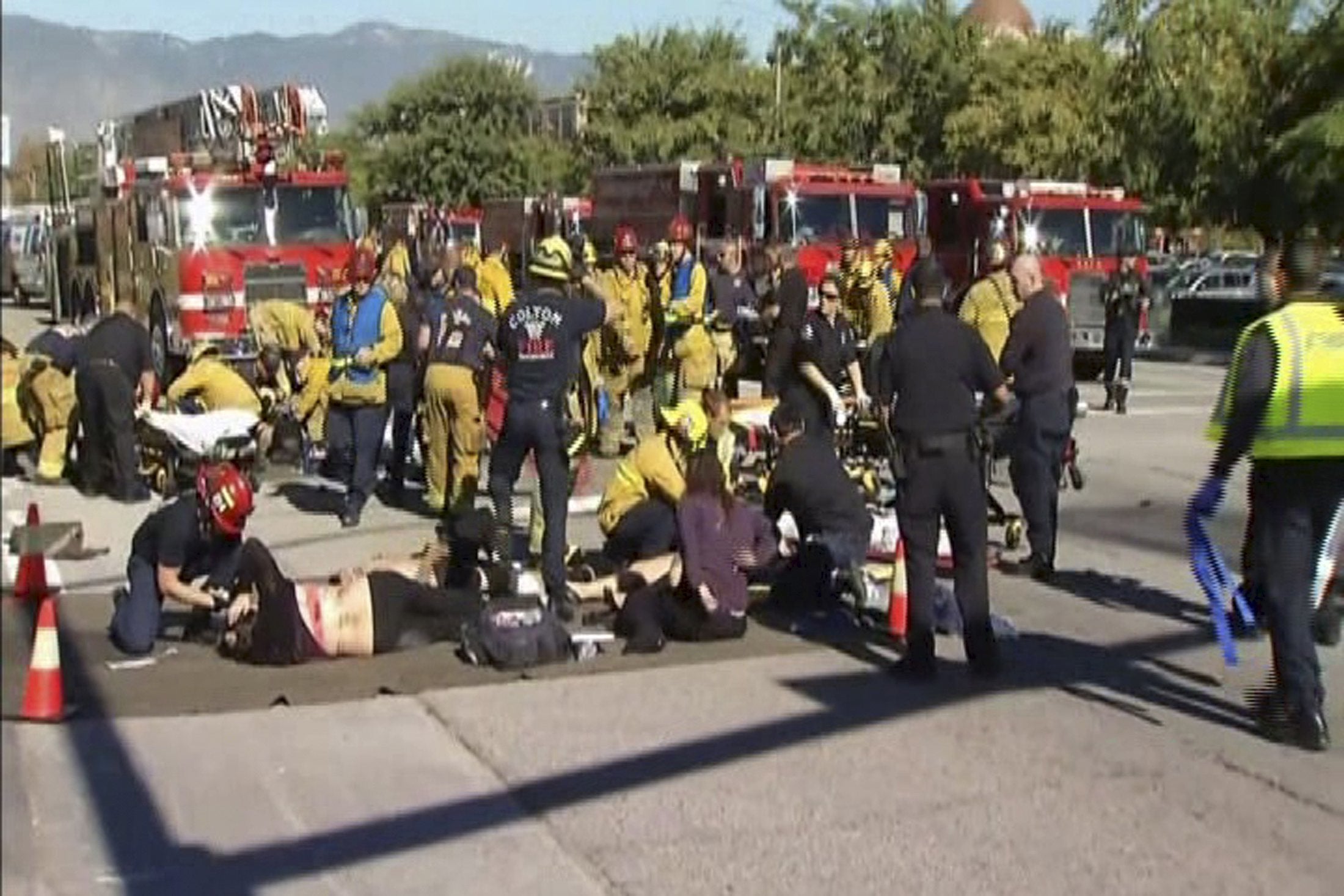 "Pretending to be dead": Survivors' families recount shooting chaos
The 17 people who were wounded in the shooting rampage at a Southern California social services center were sent to hospitals across San Bernardino County.
Loma Linda University Medical Center - a level-one trauma center that trains for this kind of mass casualty crisis -- received five adult patients, two of whom were critically injured, reports CBS News correspondent John Blackstone.
Terror, chaos and confusion followed the gunfire at the Inland Regional Center in San Bernardino.
"She said she was shot in her side. They were pretending to be dead because these guys were still out there," said Debbie Alvarado, whose daughter was wounded. "She told me not to come, these guys are still out there, you know that, right?"
"I called my kids and said if something happens to me, there's a shooting here, be safe," said one survivor, Melinda Rivas.
Families huddled together after they heard about the mass shooting.
"'Babe don't get scared, I love you so much. Take care of Matthew, there's a shooter here,'" Luis Gutierrez's wife told him over the phone. "This is my life, man, this is my queen. I'll do anything to protect her."
Stephanie Baldwin and Kathy Hotetz's sister was among the 17 survivors hit by bullets.
"She said, 'Steph I've been shot. I was at a work Christmas party, and I don't know what's going to happen and I'm scared and I love you,'" Baldwin said. "She said that the shooters came in and they just started unloading rounds on people that were in the building with her."
"We're doing okay now because we found out that she's doing fine. She did have one gunshot wound to her back," Hotetz said.
First responders arrived in just four minutes and worked to clear the building, room by room.
Hundreds of people were on the grounds of the Inland Regional Center when the gunfire began.
"Most of the people that were wounded, most of the victims were centrally located in one area of the facility," said San Bernardino Police Department Chief Jarrod Burguan.
Those victims were airlifted to compassionate care.
"We had five adult patients that were brought to the hospital," said Briana Pastorino, a public information officer at Loma Linda Hospital. "We're all shaken by this, we're all bothered by it. We're treating these people that didn't need to get hurt today."
As the medical staff was tending to the injured at Loma Linda Hospital, police responded to what they called a "credible bomb threat."
The medical center remains under heightened alert with a police presence.
Thanks for reading CBS NEWS.
Create your free account or log in
for more features.