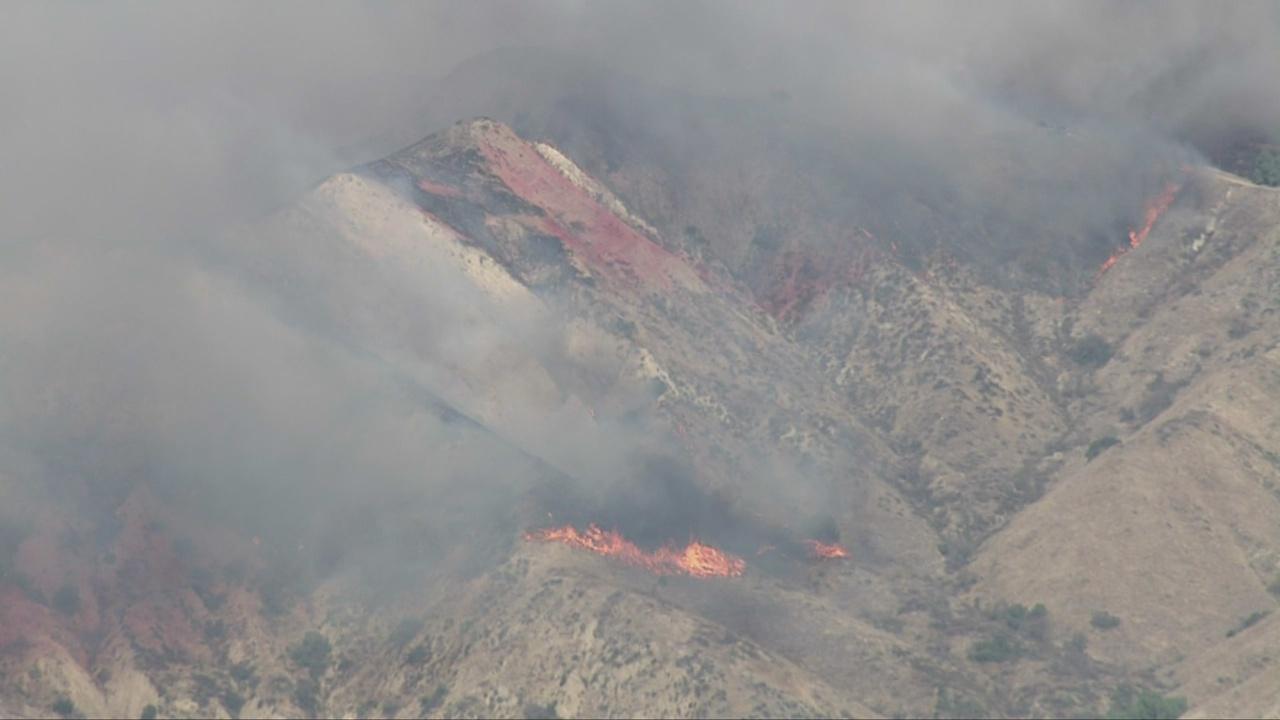 3rd Southern California wildfire breaks out
LOS ANGELES -- A third Southern California wildfire has broken out on the northern edge of Los Angeles, sweeping across 200 acres and forcing the closure of a major stretch of freeway. Los Angeles County Fire Chief Daryl Osby said the fire in Santa Clarita started at about 9:30 a.m. Tuesday.
CBS Los Angeles reports that officials named it the Rye Fire. Flames were burning in light to medium fuels amid wind gusts as much as 30 miles per hour, authorities said.
The I-5 Freeway was closed in both directions due to the fire, CBS Los Angeles reported.
The fire appeared to be linked to a power outage that left the Santa Clarita Valley Sheriff's Station's 911 system offline, authorities said.
The Sylmar and Lakeview Terrace neighborhoods were under threat as residents rushed to leave when heavy smoke billowed over the city, creating a health hazard.
Further details were not immediately available, but television footage showed the flames burning across a dry hillside area.
Santa Clarita, home to the California Institute of the Arts, is about 35 miles from downtown Los Angeles. Interstate 5 is a major link connecting Los Angeles to the San Francisco Bay area.
Ferocious Santa Ana winds raking Southern California whipped explosive wildfires Tuesday, prompting evacuation orders for thousands of homes.
The biggest blaze, the Thomas Fire, broke out Monday in Ventura County and grew wildly to more than 70 square miles in the hours that followed, county Fire Chief Mark Lorenzen said.
At least 150 structures had burned so far in Ventura County, officials said. Officials did not immediately say what type of buildings burned, but TV reports showed homes in flames as well as Vista del Mar Hospital, a facility that treats patients with mental problems, chemical dependency and veterans with post-traumatic stress syndrome.
CBS News correspondent Jamie Yuccas reported that one of the structures was a 200-unit apartment building in Ventura, the county seat.
More than 27,000 people have been evacuated and one firefighter was injured in Ventura County. There was no word on the extent of the injuries. After initial reports of a fatality, county fire Capt. Steve Kaufmann said a dead dog but no person was found in an overturned car.
Another blaze, known as the Creek Fire, also prompted evacuations Tuesday.
In October, raging wildfires that broke out in Northern California and its famous wine country killed 44 people and destroyed 8,900 homes and other buildings.
Fires aren't uncommon in Southern California this time of year before the winter rains set in, when the vegetation is tinder dry and winds blast the region.
Thanks for reading CBS NEWS.
Create your free account or log in
for more features.