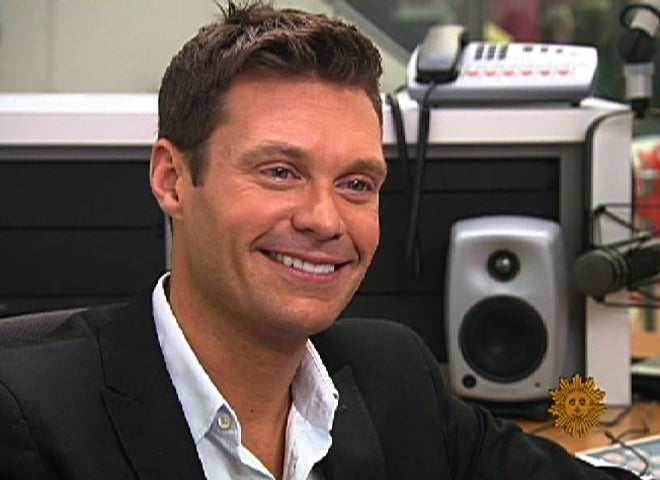 Ryan Seacrest: I've no problem being vanilla
Ryan Seacrest is best known as the host of the most-watched television show in the nation, "American Idol." But this is one host - with a HOST of other interests. Tracy Smith has a Sunday Profile.
If you've ever wondered what the perpetually happy Ryan Seacrest does in his down time ... here's a clue:
When we met him last month, the busiest man in show business was making the rounds at Children's Hospital of Philadelphia, where he had young patients smiling and singing.
It's more than a photo op: Seacrest is building "the voice" in as many hospitals as he can: high tech TV-radio studios designed to give young patients something to take their minds off the business of fighting for their lives.
"Even though this isn't like a cure or it's gonna give me my hair back when it falls out, it's something," said Richie Suarez who has cancer, "just a little thing to get you through the day and give you something to look forward to."
In fact, it's become a highly emotional mission for the entire Seacrest family - mom Connie, dad Gary and sister Meredith.
"I mean, honestly, when we even walk through the hospital today, just seeing the impact that it has on the children," Meredith said. "It's such a delight."
At every encounter, he makes it a point to introduce himself, but for Ryan Seacrest, introductions are hardly necessary.
Seacrest is the host of one of the biggest shows in history, "American Idol." He's also, among other things, the host of a top L.A. morning radio show, and co-host of cable TV's E News, all done in a smooth, cheerfully bland style.
"It is not my goal to be controversial. It it's never been my strategy to be that person," he told Smith. "So in a way, yeah. I get up every day thinking, 'Let's be vanilla.' I have no issue with that.
"I don't feel like I've gotta push a button today or I've gotta create a headline or be controversial. I have no problem being considered just 'there,' you know? You're just there," he laughed. "And letting the things, the moving parts around me, be in the spotlight."
"You've done vanilla pretty well," said Smith.
"It's good. it goes with everything, right?" he replied.
Click on the video player below to watch Ryan Seacrest discuss his need to keep busy.
And these days, "everything" includes an ambitious slate of projects he doesn't host: He's the executive producer and the driving force behind such reality TV hits as "Keeping Up With the Kardashians," and the spinoffs "Khloe and Lamar," and "Kourtney and Kim Take New York."
And yet, there's more: Every New Year's Eve, Seacrest is in Times Square. Every Oscar night, he's a fixture on the red carpet ... a multi-millionaire in perpetual motion.
Maybe more impressive still, is that he started out about as far from Hollywood as you can get.
Born on Christmas Eve in 1974, Ryan John Seacrest was raised in Dunwoody, Ga., the son of an attorney and a homemaker.
Young Ryan seemed an unlikely candidate for future stardom.
He said he was overweight as a kid. His mother said Ryan didn't eat the healthy lunches she packed for him: "He traded for cupcakes!"
That taste for cupcakes was eventually replaced by a passion for radio. He started on the air with a local station, then took his act to L.A.
His visibility grew, and after "American Idol" premiered in 2002, Ryan Seacrest exploded.
These days, food is still an issue in his life: Seacrest is an investor in half a dozen restaurants, including super chef Thomas Keller's Bouchon Bistro in Beverly Hills.
When asked why he got involved in the restaurant world, Seacrest replied, "Well, he's the best. So, you know, originally I just wanted to get a reservation. Let's see, how do I get into that place?"
"It's a little odd for a former fat kid to own restaurants; I mean, it's like a former gambler owning a casino," said Smith.
"It's dangerous, isn't it? Yeah, well, you know, I don't always go in and eat the most fattening thing on the menu and douse myself in oil and butter. I like to order where you don't have to commit. Like you can order several things on the left side of the menu, which I call it, or you can taste a lot of different things without having to make too much of a commitment because I think, you know, the more bites, the more fun."
There IS a commitment Seacrest says he's serious about: His girlfriend, actress and dancer Julieanne Hough, who also rose to fame on a TV talent show, "Dancing With the Stars."
"She's an amazing woman and someone that has completely made me a better person, has helped balance my life," Seacrest said. "Because my life has been all work all the time. And I think for the first time, I'm actually saying to myself, 'Wait. There are gonna be units of your week and units of your day that are devoted to a relationship and not just work.'"
"You are a little teary," Smith said.
"Am I? That's 'cause I'm in a hospital," he said. "There's a lot of kids and there's a lot of emotion here."
"Is that what it is?"
"Yeah, maybe. I'm an emotional guy. I have a heart."
"You seem kind of unflappable," Smith said.
"Well, keep trying!" he laughed. "Keep going. Keep going. You'll be able to get me."
One thing Seacrest says doesn't get to him: Running jokes about his height, and everything else.
"You are the target of so many comedians - doesn't bother you?" Smith asked.
"I actually am not bothered at all about being the butt of any jokes," he said. "At all."
"It means at least they're thinking about you, I guess?"
"You have to have a sense of humor about it, you know?"
"Even when it gets prickly? I mean, there are so many gay jokes. How did that start?"
"I don't know, I really don't know," Seacrest said. "I guess I've embraced any sort of fodder about me - maybe to a fault. But it doesn't bother me at all."
And it doesn't really seem to matter. With a golden voice and a platinum business sense, Ryan Seacrest will be smiling well into the future ... and looking for more, always more.
"I'm the type of individual that loves to be busy," he told Smith. "I'm better busy than doing one thing at a time."
"Can you sit still and not do anything?"
"No. This is the most I've sat in one place in a long time."
"And you're miserable," Smith added.
"Not miserable," Seacrest laughed. "But I'm, you know, I feel like I should go do something. Feel like I should host something. There's gotta be a show that I've gotta do in a minute or somewhere."
Thanks for reading CBS NEWS.
Create your free account or log in
for more features.