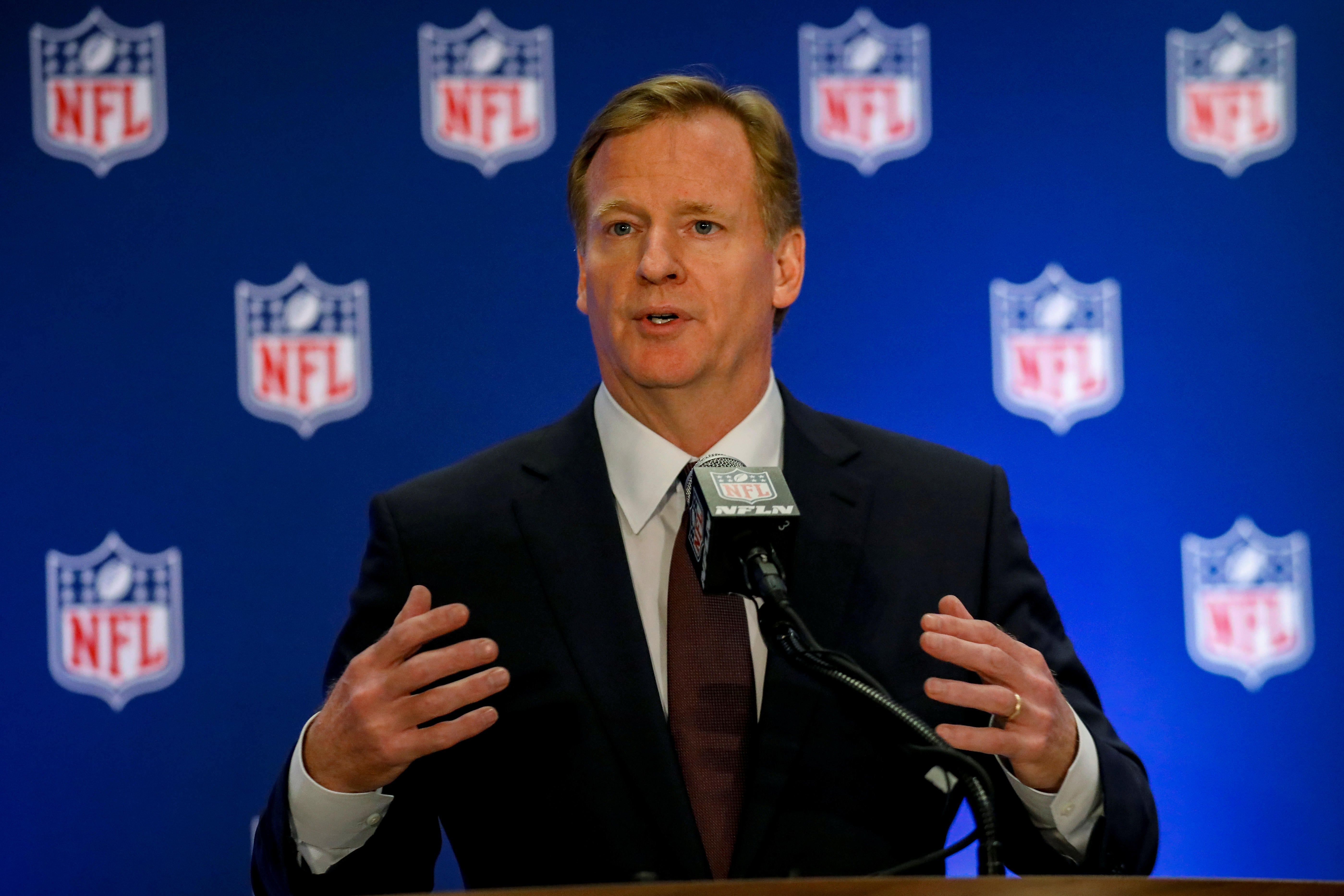 NFL commissioner "did not ask" players to stand during national anthem
NFL Commissioner Roger Goodell spoke out Tuesday evening in a very brief press update following an annual meeting with NFL players and owners at the league's headquarters in New York City.
Goodell was asked during the briefing if NFL players were told to commit to standing during the national anthem, he answered: "We did not ask for that."
Earlier Tuesday, The Associated Press reported that 11 owners and more than a dozen players convened and one of the topics of conversation was enhancing the players' platforms for speaking out on social issues. Miami Dolphins owner Stephen Ross said the session was "constructive" while Colts defensive called it "positive."
"We heard what they had to say and they heard us," Ross said. "It's open talks and that's a good thing."
"Very little of the meeting was about the actual anthem," Eagles safety Malcolm Jenkins said. "We were really more talking about solutions and how we get the results that we want to get."
The meeting came amid ongoing protests by NFL players who have been kneeling during the national anthem in protest -- something former San Francisco 49ers quarterback Colin Kaepernick kicked off in 2016.
A letter from Goodell to team owners circulated in the media recently that discussed a possible rule change that would force all players to stand while the anthem plays. However on Tuesday, Miami Dolphins owner Stephen Ross said that the NFL policy on the national anthem "did not come up."
The National Football League Players Association (NFLPA) has issued a statement urging equality and positive change.
"Today owners and players had a productive meeting focused on how we can work together to promote positive social change and address inequality in our communities," the statement said Tuesday. "NFL executives and owners joined NFLPA executives and player leaders to review and discuss plans to utilize our platform to promote equality and effectuate positive change. We agreed that these are common issues and pledged to meet again to continue this work together."
The statement continued: "As we said last week, everyone who is part of our NFL community has a tremendous respect for our country, our flag, our anthem and our military. In the best American tradition, we are coming together to find common ground and commit to the hard work required for positive change."
Live updates from earlier below:
---
6 p.m. ET: Officials say Goodell will return Wednesday for Q&A
Day 2 of the NFL Commissioner's meetings with owners and players will continue Wednesday and another press briefing will be held.
5:55 p.m. ET: Goodell takes a question and leaves the room
Goodell takes a question, "Do you have a commitment from the players that they will stand for the anthem -- did you ask for that?"
"We did not ask for that," Goodell said.
5:54 p.m. ET: Goodell says we spent the day talking about community issues
"I think we all agree there's nothing more important than trying to give back into our communities and make our communities better ... that was the entire focus today," Goodell said.
5:53 p.m. ET: Roger Goodell takes the podium to talk about "issues"
"Today's meeting with the players was very productive and very important -- it reflected our commitment to work together with our players on issues of social justice ... our players have a very deep understanding of the issues in all of our communities."
"I will tell you that our players are men of great character -- they have a very deep understanding and tremendous knowledge of the issues that are going on in all our communities. Their commitment to addressing these issues is really admirable and something our owners look at by saying 'we want to support you,'" Goodell said.
"The players were very clear about how they felt about these issues and how deeply they care about these issues in our community. The players and the owners came to an agreement that these aren't really issues that are player issues or owner issues ... these are issues that affect all of our communities -- so we do plan to meet again soon. I have not set a date for that, but I would expect that to happen in the next two weeks," Goodell said.
5:25 p.m. ET: Awaiting NFL Commissioner Roger Goodell
CBS News is monitoring the video feed and will take it live as soon as Goodell takes the podium.
5 p.m. ET: Black Lives Matter New York protesters
Outside of the hotel where the NFL owners met with Goodell, about two dozen supporters of Black Lives Matter New York held a rally backing the players for speaking out in protest of racial injustice in America.
CBSSports.com writes that chants like "Take a knee against white supremacy" and "No allegiance to Trump or Pence. Defense. Defense" -- and some signs read "Take a knee against racism."
Thanks for reading CBS NEWS.
Create your free account or log in
for more features.