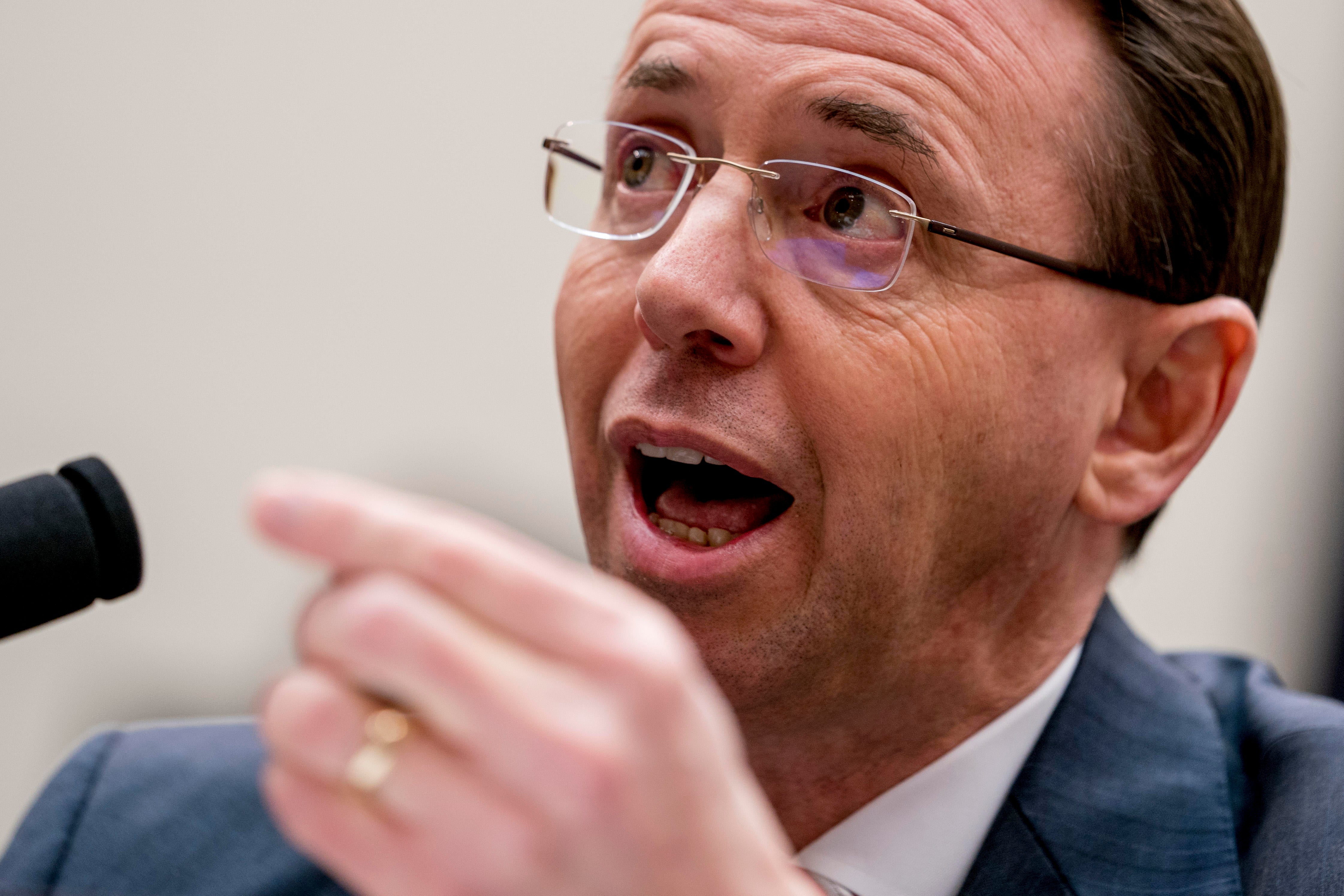 Rod Rosenstein tells Congress he hasn't seen "good cause" to fire Robert Mueller
WASHINGTON -- Deputy Attorney General Rod Rosenstein, facing congressional questions about anti-Donald Trump text messages exchanged between two FBI officials assigned to the Russia probe, defended special counsel Robert Mueller on Wednesday and said he had seen no cause to fire him or received encouragement to do so.
At a House Judiciary Committee oversight hearing, in an exchange with Rep. Jerry Nadler, D-New York, Rosenstein said that if there were "good cause" to fire Mueller as special counsel, "I would act." Nadler, however, asked if there's been no good cause so far.
"Correct," said Rosenstein, who added that he consults with Mueller and that he, as special counsel, is operating within the scope of his investigation.
Rosenstein appeared before the House Judiciary Committee one day after the Justice Department provided congressional committees with hundreds of text messages between an FBI counterintelligence agent assigned to Mueller's team and an FBI lawyer who was on the same detail.
Those messages, which occurred before Mueller was appointed in May to investigate potential coordination between Russia and the Trump campaign, show the officials using words like "idiot" and "loathsome human" to characterize Trump as he was running for president in 2016. One of the officials said in an election night text that the prospect of a Trump victory was "terrifying."
The disclosures of the text messages added to concerns among members of Congress that Mueller's team is tainted by political bias.
But when Rosenstein was asked by lawmakers if he had seen good cause to fire Mueller, whom he appointed and whose work he oversees, he replied that he had not. Rosenstein also defended the credentials of Mueller, a former FBI director, and said he was an appropriate choice to run the Justice Department's Russia investigation after the firing of FBI Director James Comey.
Rep. Sheila Jackson Lee, D-Texas, asked Rosenstein if he'll protect Robert Mueller as special counsel if he hasn't violated any rules or laws. "I won't take any action unless he's violated his duties," he said.
"The special counsel's investigation is not a witch hunt," Rosenstein added in response to questions about whether he agreed with Trump's characterization of the probe. "The independence and integrity of the investigation are not going to be affected by anything that anyone says."
Peter Strzok, a veteran FBI counterintelligence agent, was removed over the summer from Mueller's team following the discovery of text messages exchanged with Lisa Page, an FBI lawyer who was also detailed this year to the group of agents and prosecutors investigating potential coordination between Russia and Trump's Republican campaign.
"When we have evidence of any inappropriate conduct, we're going to take action on it. That's what Mr. Mueller did here. As soon as he learned about this issue, he took action," Rosenstein said.
Hundreds of the messages, which surfaced in a Justice Department inspector general investigation of the FBI's inquiry into Democrat Hillary Clinton's use of a private email server, were being provided to congressional committees and were reviewed by The Associated Press on Tuesday night.
Rosenstein acknowledged in response to Democratic questioning that reporters were invited to the Justice Department to review the messages -- which was unusual given that they part of an ongoing watchdog report -- but said that decision was acceptable because the information was determined to be "appropriate for public release."
"Our goal, Congressman, is to make sure it's clear to you we are not concealing anything that is embarrassing to the FBI," he said.
The existence of the text messages, disclosed in news reports earlier this month, provided a line of attack for Trump, who used the revelation to disparage FBI leadership as politically tainted. Republicans have also seized on the exchange of texts between two officials who worked for Mueller to suggest that the team is biased against Trump and its conclusions can't be trusted.
Working telephone numbers for Strzok and Page could not immediately be found.
Strzok had been deeply involved in the FBI's inquiry into Democrat Hillary Clinton's use of a private email server and was in the room when Clinton — Trump's 2016 Democratic opponent — was interviewed by the FBI. He later helped investigate whether the Trump campaign worked with Russia to influence the outcome of the 2016 presidential election.
The texts seen by the AP began in the summer of 2015, soon after the FBI launched its email server investigation, and continued over the next year and a half as the presidential race was in full swing and as Trump and Clinton were looking to defeat their primary challengers and head toward the general election.
The messages — 375 were released Tuesday evening — cover a broad range of political topics and include an exchange of news articles about the race, often alongside their own commentaries.
There are some derogatory comments about Democratic officials, including presidential candidate Bernie Sanders and former Attorney General Eric Holder, but some of the harshest comments are reserved for Trump.
In a March 4, 2016, back-and-forth provided to Congress, Page refers to Trump as a "loathsome human" and Strzok responds, "Yet he may win." After Strzok asks whether she thinks Trump would be a worse president than fellow Republican Ted Cruz, Page says, "Yes, I think so."
The two then use words like "idiot" and "awful" to characterize Trump, with Strzok saying, "America will get what the voting public deserves."
In another exchange, on Oct. 18, 2016, Strzok writes to Page and says: "I am riled up. Trump is an (expletive) idiot, is unable to provide a coherent answer. I CAN'T PULL AWAY. WHAT THE (expletive) HAPPENED TO OUR COUNTRY??!?!"
Weeks later, on election day, as it seemed to become clearer that Trump could defeat Clinton, he says, "OMG THIS IS (expletive) TERRIFYING: A victory by Mr. Trump remains possible..."
Page replies, "Yeah, that's not good."
In August 2016, Strzok responded to a New York Times story that carried the headline of "Donald Trump is Making America Meaner" by saying, "I am worried about what Trump is encouraging in our behavior."
But he also adds, "I'm worried about what happens if HRC is elected," using the initials for Hillary Rodham Clinton.
Thanks for reading CBS NEWS.
Create your free account or log in
for more features.