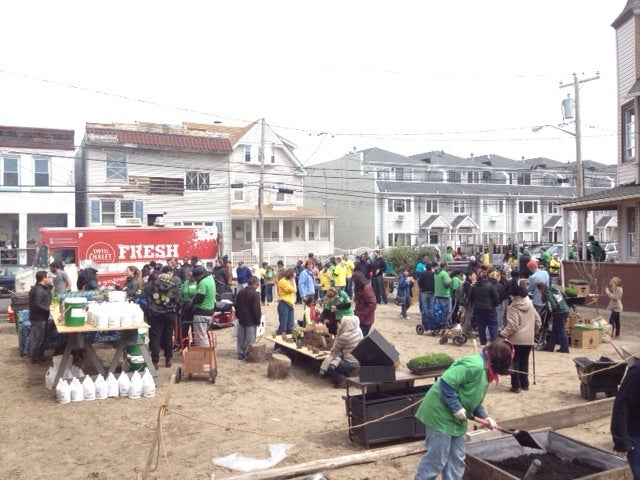 Rockaway Beach celebrates their first Earth Day since Superstorm Sandy
Over six months ago Superstorm Sandy hit the waterfront area of Rockaway Beach of New York City. The community itself was devastated, and at the same time it faced some of the worst aftermath complications from the storm. Many people in the area spent months without electricity or hot water, and many local businesses suffered from looters.
For the beach front community lined with tiny bungalows, the coming warm months mean everything for this area's summer tourism industry.
This weekend the residents in Rockaway celebrated their first Earth Day since being ravaged by the storm in a celebration sponsored by Waves for Water. Founder Jon Rose is a sports fan who knows and understands how summer sports impacts the community.
Rose, a retired professional surfer, previously traveled the world competing on the waves, but after 13 years he called it quits and started Waves for Water, a non-profit geared to helping people find clean water. Rose has been instrumental in distributing a portable water filtration process, which was cost effective and readily available. He was one of the first people to show up to help at Rockaway Beach when the storm hit, recognizing the need for clean water.
"Sandy struck such a personal chord with me because, as a surfer, I knew that most of the communities hit by Sandy were surf or beach lifestyle based; many of them I had spent time in personally over the years," explained Rose in an email to CBSNews.com.
To help residents celebrate Earth Day, Waves for Water helped the community revitalize a garden center which houses 31 plots that are farmed by local residents. Volunteers repaired, repainted and planted new vegetation the area in preparation for the growing season. They also scoured blocks of the beach cleaning up remaining garbage and storm debris to prevent these hazards from causing problems to residents and wildlife.
Waves for Water has donated more than $5,000,000 in supplies and over $200,000 in grants to more than 30 families and small business owners hit by Sandy.
Thanks for reading CBS NEWS.
Create your free account or log in
for more features.