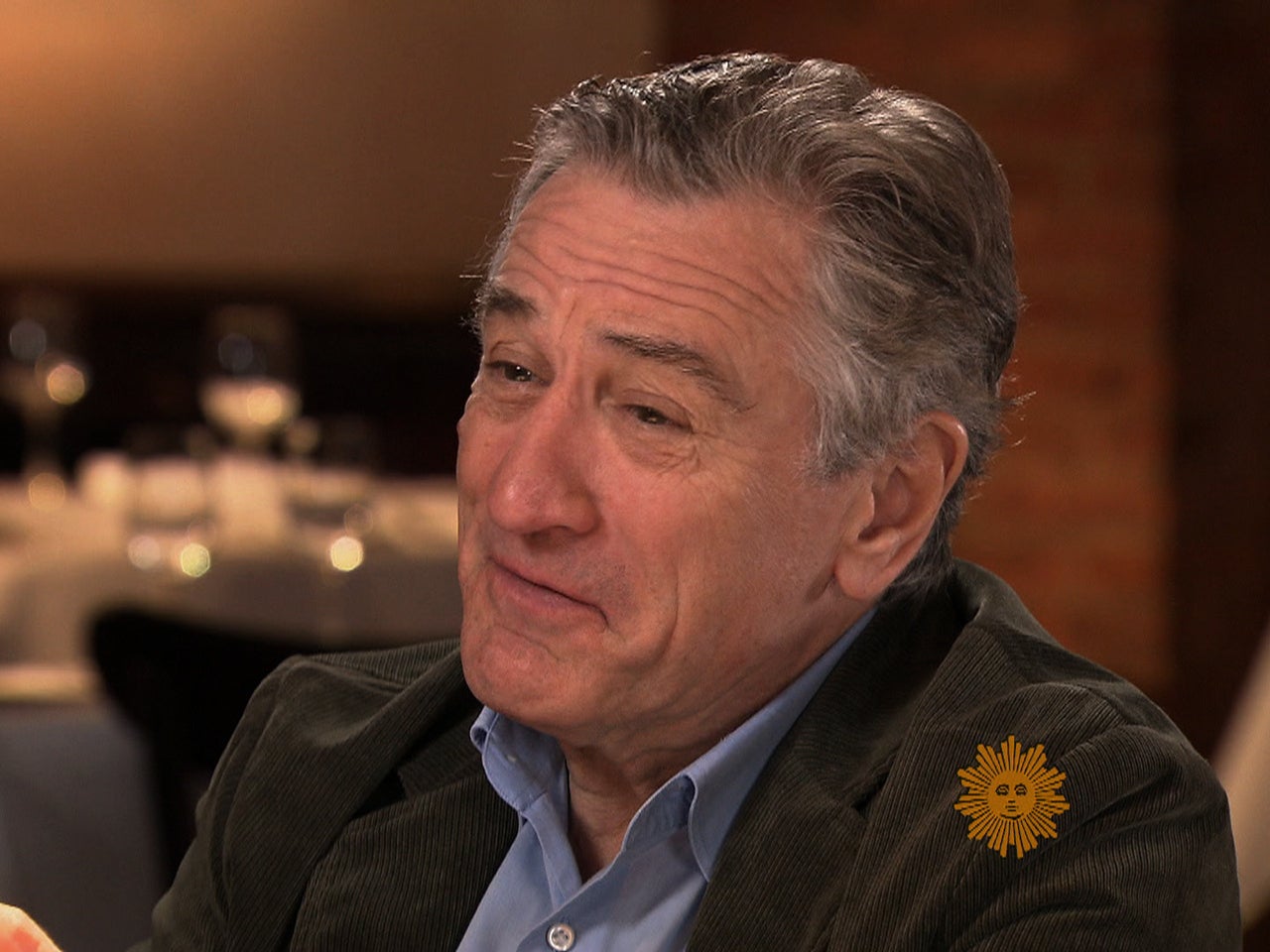 Robert De Niro on acting, shyness and luck
(CBS News) Robert De Niro is one of our most respected actors. Now, with his latest role as a football fanatic in the movie "Silver Linings Playbook," some say he may burnish that reputation with his third Oscar win. He sat down with Lee Cowan for some Questions and Answers:
Robert De Niro doesn't grant many interviews. Let's face it: He doesn't have to.
But on the rare occasion that he does, arguably one of the finest screen actors of his generation famously finds himself at a loss for words.
"When people come up to you and describe you as a legend, how does that sit with you?" asked Cowan.
"I don't know what to say to that. I mean, I'm flattered but it's . . . I don't know," he replied.
And there it is -- a deflection born not of arrogance, but out of a belief that he, Robert De Niro, was nothing more than "lucky."
"I'm lucky that I have whatever I had that makes me have a successful career, if you will," he said.
"It's got to be a little more than luck," said Cowan, "because the amount of work that you would put into characters . . . "
"Well, then I'm lucky I have the drive to do the work. But you're always lucky."
His latest run-in with luck is his role in "Silver Linings Playbook," alongside Bradley Cooper.
De Niro plays Pat Solitano, Sr., an obsessive-compulsive, die-hard Philadelphia Eagles fan, who struggles to deal with his even more obsessive and mentally-unstable son.
It's a performance that has earned him his seventh Oscar nomination -- De Niro's first in 21 years.
"Does this one mean anything more, because it's been so long since you've gotten a nomination?" asked Cowan.
"No, actually, I was surprised that it was so long. I can account for all the things and all the time, and everything, but there it is. It's like, so many years ago."
It was 1981 when De Niro last took home an Oscar, for his portrayal of the real-life world middle-weight champion, Jake LaMotta, in "Raging Bull."
His dedication to the role was both emotional and physical, gaining some 60 pounds.
"That must have not been particularly comfortable," said Cowan.
"It wasn't. The first 15-20 pounds, you know, you eat and overindulge, to say the least. And then after that, it's just pure drudgery, work."
The production set aside time in shooting of about three to four months, during which De Niro transformed himself into the older LaMotta. "Whatever I could get to in four months, would be what it is."
It wasn't the first time he had gone above and beyond for a role. In "Taxi Driver," for which he was also nominated for Best Actor, he actually applied for -- and got -- a New York cabbie license, to better understand his part.
"I was driving around the city, you know, all over," De Niro said, picking up fares.
He was so immersed in troubled Travis Bickle that when director Martin Scorsese told him to improvise one scene, the result became one of the most quoted movie lines of all time:
"You talkin' to me? Are you talkin' to me?"
"You never know what you do that could be totally out of left field, which actually might work and give something fresh to the whole scene, to the character, whatever," said De Niro. "If you have that with a director who then knows how to shape it, either in the direction, in the moment, or in the editing, then that's good.
"Does that make sense?" he laughed.
For his Oscar-winning role as the young Vito Corleone in "The Godfather Part II," De Niro took Marlon Brando's character one step further: He learned a Sicilian dialect. In the entire film, De Niro barely speaks a word of English.
"It's very difficult. I only learned the pieces that I had to for the scenes," De Niro said, "because to learn those pieces and try and speak it with the proper accent, inflections and blah blah blah, you have to practice it a lot. It's just practice."
It all started in 1943, when he was born to parents Virginia Admiral and Robert De Niro Sr., in Greenwich Village, New York.
Both were accomplished painters -- his father, a figurative artist whose works have been celebrated in galleries all over the country.
"My father was an artist since he was, I think, five," said De Niro.
Dozens of his father's paintings adorn the walls of De Niro's restaurants in New York: "He was very particular that they were hung right and put up right, you know?"
He's even kept his father's art studio the same as the day he died. "Because I wanted the kids to know who their grandfather was," he explained. "I just felt it was important."
He wants the world to know more about his father, too. He's currently working on a documentary, set to air later this year, that will help De Niro Sr. "get his due," his son said: "He was the real thing. All of his work I can't not but make sure that it's held up and remembered."
Unlike his father, De Niro Jr. never picked up a paintbrush; instead, he focused on a canvas of a different sort, the silver screen.
When asked if he imitated other actors when he was young, De Niro said, "I'm not sure if I did that. I don't know, but my mother thought I was funny."
"The first thing you did was, what?"
"'The Wizard of Oz,' the Cowardly Lion, which was when I was 10."
Think about that for a moment: The man who brought us Al Capone in "The Untouchables" and wise guy James Conway in "GoodFellas" started out as . . . the Cowardly Lion.
Maybe shy lion, though, is more apt. "I had read that getting up in front of people and performing was a tough thing at first," De Niro said. "Well, it's hard for, I think, a lot of actors to do but it's not like, it's not that easy for me, but you, you do it."
"Where you shy?"
"Yeah, part of me is shy, I guess," he replied. "You know the old story that actors are shy, then they get behind the character they play, you know? There's truth to that."
"Is that true for you?"
"In some ways, yeah."
He didn't only hide behind the heavy roles. De Niro eventually took his mom's advice, and tried being funny.
He turned his mob boss persona on his head in "Analyze This," and set the bar for a crazy father-in-law alongside Ben Stiller and the Focker clan.
While they were a commercial success, some critics lamented they were trivial roles, beneath an actor of his stature.
"That's fine," De Niro said. "They can criticize whatever, and they could be right -- why this, why that. You can't please everybody all the time, or even part of the time."
He remains a busy man, investing in restaurants, a hotel -- not to mention running the Tribeca Film Festival.
But at the moment, there seems little that brings De Niro quite as much joy as his one-year-old daughter from wife, Grace Hightower.
"She's instant joy," De Niro said. "You look at her, and she smiles, and it's all, it's all there.
"There's nothing, nothing else matters."
Films still matter, though, and as he approaches his 70th birthday, there's plenty he still wants to do.
"You've said that, if you can, you'd like to do at least two more films with Martin Scorsese?" Cowan asked.
"At least two. Make it an even numbered 10," said De Niro. "That's my obsessive compulsiveness!"
Or maybe that's just what he calls luck.
"When you look back over your career, would you change anything?" Cowan asked.
"No, I'm really okay. I have no complaints, knock wood. That's my little thing!" he laughed.
Robert De Niro's lucky charms have left legions of fans feeling charmed to have watched.
For more info:
Thanks for reading CBS NEWS.
Create your free account or log in
for more features.