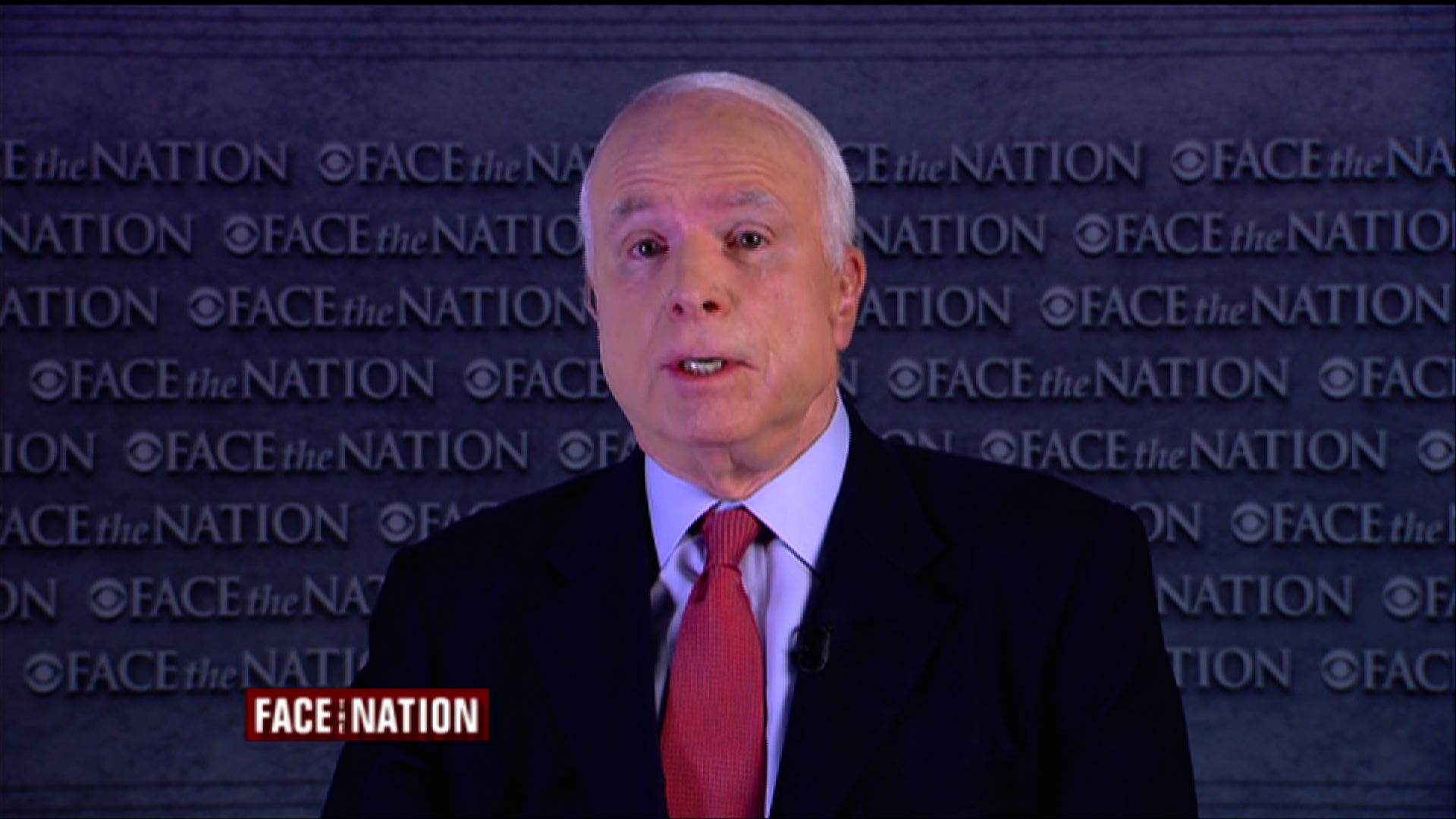 Republicans warn Putin could threaten more Eastern European nations
Two Republican lawmakers warned on "Face the Nation" Sunday that if the U.S. and Europe do not work to deter Russian President Vladimir Putin more aggressively, he could begin to threaten other nations in Eastern Europe.
Russia has increased its military involvement in Ukraine in recent days raising alarm among Western nations. In an interview, Sen. John McCain, R-Ariz., said that from the Ukrainian standpoint it might be considered an act of war.
Putin is "establishing a land bridge all the way to Crimea and he may then threaten Moldova and the Baltics if he continues to succeed," McCain said. "It's a conflict that requires our participation, not through American ground troops, but our participation, our help, and our leadership and that is what seems to be missing."
McCain, who has called on President Obama to give lethal arms to the Ukrainians in their struggle against Russian-backed separatists, denied that introducing more weapons to the region could make things worse.
"For God's sake, can't we help these people defend themselves? This is not an incursion, this is an invasion," McCain said.
"Give them the weapons they need, give them the wherewithal they need, give them the ability to fight. They will fight. And as far as Vladimir Putin is concerned, put strong sanctions (in place.) If you're looking at it from Vladimir Putin's viewpoint... he's doing pretty well with a minimum of penalty and as long as the Europeans are on his energy supplies, they're not going to do much," the Arizona senator said.
Rep. Peter King, R-N.Y., also warned that Putin must be checked now before it is too late.
"We have to let Putin know that there has to be a price to pay for this or else we can see him moving on the Baltics, we can see trouble spreading through Poland and the Czech Republic. He has to be told he cannot recreate a Soviet or Russian empire, and if we can provide weapons, and we should to the Ukrainians, I think we should do it at the earliest possible moment," he said.
Rep. Adam Smith, D-Wash., the ranking member on the House Armed Services Committee, said the U.S. should be more forceful in supporting the Ukrainian government. But he added that it would be "appropriate" to increase U.S. aid to the Ukrainian military.
"I think that its appropriate to up that level of aid, to make them a more capable fighting force to resist this incursion and to make it as painful as possible for Putin to make any progress in the Ukraine," he said.
Thanks for reading CBS NEWS.
Create your free account or log in
for more features.