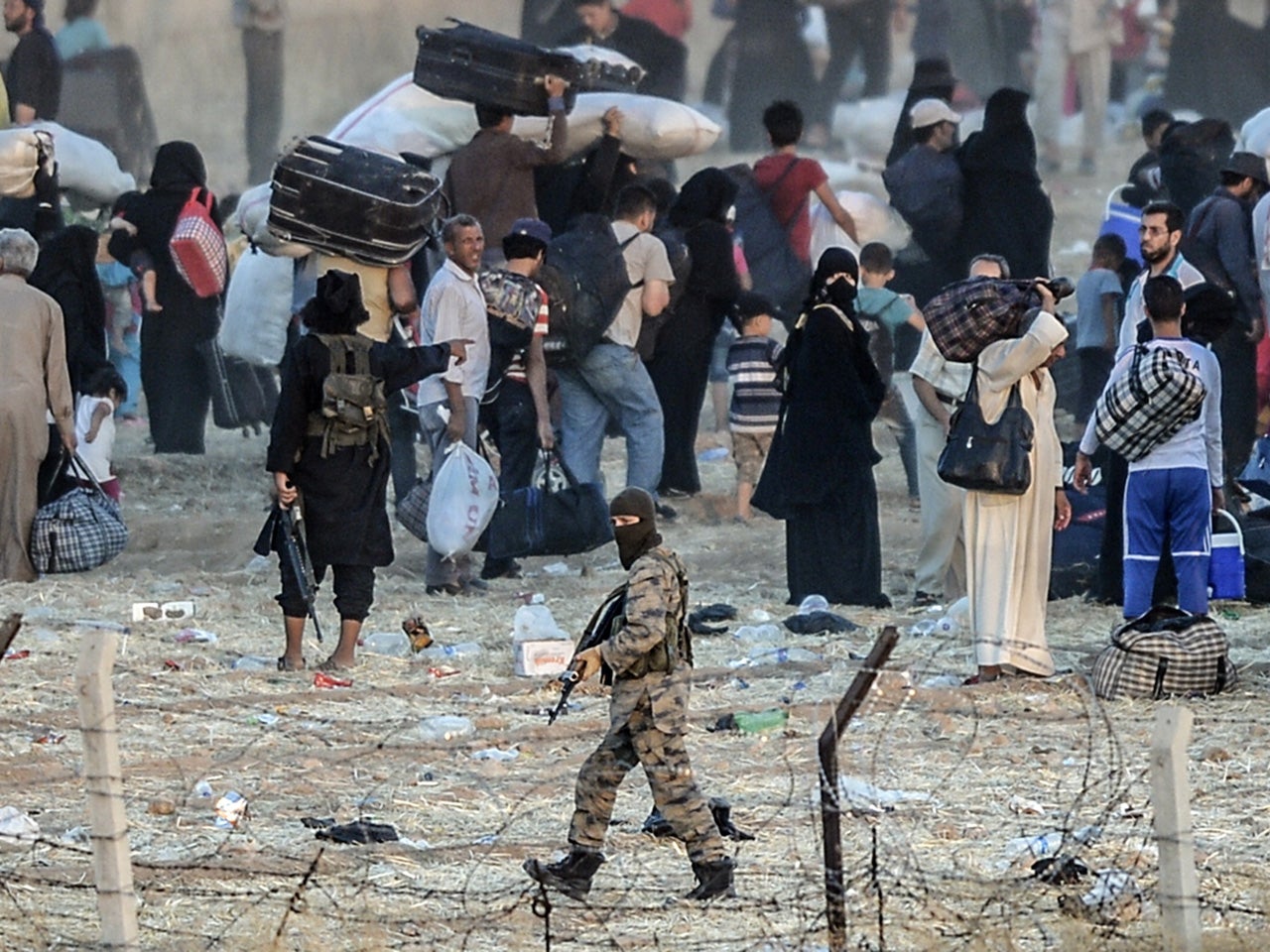 Report: Westerners who join ISIS and the threat they pose to the U.S.
A lot more women are among the Westerners going to join the Islamic State of Iraq and Syria (ISIS) than there were among past groups of fighters who flocked to Afghanistan in the 1980s and Bosnia in the 1990s, according to a report from the New America foundation.
The think tank studied the cases of 474 individuals who have traveled to fight with ISIS from 25 different Western countries, a portion of the estimated 4,500 fighters who have gone to fight in Iraq and Syria. One in seven of the women in the sample was female. The numbers get even higher among the teenagers in New America's sample: More than a third of those are female.
By comparison, just 5 percent of Americans who were charged with jihadist terrorism crimes between Sept. 11, 2001 and the start of the Syrian Civil War were women.
The fighters are also young, with an average age of 25 among men and 21 among women. Nearly one-fifth are teens, and they are active online. The American foreign fighters mirrored the overall profile of the group in the study: They were young, and women were well-represented.
Women are often not traveling to fight alongside ISIS jihadists in the region, but instead play "supporting roles" like marrying fighters and working as police officers "enforcing ISIS' draconian laws," the report said.
As a result, they are killed at a lower rate of men: While nearly half of Western militants die, just six percent of female foreign fighters do.
The report concluded, "the threat to the United States from returning fighters is low and will likely be manageable." No foreign fighter who has returned from Iraq and Syria has committed violence in the U.S., and just one was arrested for plotting a domestic attack.
The study identified 23 Americans who had reached Syria. Nine died, nine were at large, and five are in custody. Seven in 10 American would-be foreign fighters are arrested before reaching Syria.
The greater threat comes from Western foreign fighters outside of the U.S., including the many Europeans who are part of the United States' visa waiver program. There are also far more fighters from Western countries than from the United States - Americans represent less than 6 percent of the total.
The report also concludes that "ISIS-inspired violence," rather than violence that is directly planned and carried out by ISIS, "will pose the most likely threat to the United States," citing the shootings in Garland, Texas by a man who had tweeted his allegiance to ISIS. There has been just one domestic attack plot from a foreign fighter who returned from the Middle East, but at least seven cases in which the U.S. filed charges against Americans who were plotting attacks and had not been radicalized abroad.
Western Europe is at a higher risk, in part because aspiring militants can draw on more established jihadist networks. Prior to the terror attacks in Paris last week, three Belgians and four French citizens who returned from fighting with ISIS had been either arrested for plotting violence or killed during a police raid. There was just one successful case where a returning Western fighter carried out attacks: Mehdi Nemmouche, who shot and killed several people at the Jewish Museum in Brussels in May 2014.
The report ends with recommendations to reduce the flow of Western foreign fighters to Iraq and Syria. The study's authors say that ISIS defectors should be enlisted to tell their stories publicly, and that there should be an attempt to expand the reach of people like Canadian Mubin Shaikh, a former jihadist who now tries to intervene with young people being recruited online. Plus, they say, there should be continued pressure to pressure social media companies to take down ISIS material that encourages violence.
The report also encourages a continuation of the military campaign against ISIS to reduce the reach of the caliphate the group established in 2014. And it goes on to argue the U.S. should keep troops in Afghanistan beyond 2016 because, "There is a strong possibility Afghanistan could host a reinvigorated Taliban allied to a reinvigorated al Qaeda - not to mention ISIS, which is also gaining a foothold in the region."
Thanks for reading CBS NEWS.
Create your free account or log in
for more features.