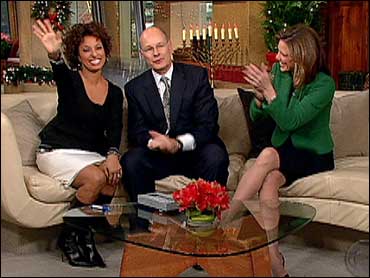 Rene Syler, one of the four original co-anchors of The Early Show, said so-long at the end of Friday's show.
She is, as co-anchor Harry Smith put it, "embarking on kind of an amazing journey over the next couple of months."
Syler has a book coming out in March, to be called "Good Enough Mother."
The cover features her own kids, Casey and Cole. "Everyone who sees the book cover says, 'Those kids are like right out of Central Casting.'
"It's been my dream and my goal my entire life to write this book, and I thought, 'What am I gonna write about? I'm gonna write about parenting, and my parenting style.' And I do think of it as a style!"
Syler said with a smile, "I come home and my kids are pulling themselves across the hardwood floors in my new 800 thread count sheets and — (shriek in exasperation). The idea was, I have so many friends, these mothers who are making themselves crazy trying to be perfect for their kids. I say you don't have to be perfect just good enough, and that's where it came from. An example: This really did happen last weekend. I took my son to an 11:30 birthday that started at 9:30. Happens all the time!"
Smith noted that Syler is trying to have the book made into a TV show.
On a much more serious note, Syler reveals that she is having a bilateral prophylactic mastectomy next month.
Smith pointed out that, "Both of your parents had breast cancer, you have had a couple of very serious scares with breast cancer and, for months now, we've had this ongoing conversation about what you've been talking about in terms of doing something in a proactive way about it for yourself."
"The thing is," Syler explained, "every year, I would go in for a mammogram, which is what you're supposed to do, women over 40, unless you have a family history, and then you start earlier. But, I've been going in every year, and every year I'd have a mammogram and that would be followed by a biopsy. The last one was aggressive and just felt like I needed to come up with a long-term solution for this."
Syler concluded by thanking her Early Show makeup artist, hairdresser, and assistant, along with the show's producers and her "on-air family."
Then, a warm wave goodbye to viewers.

Thanks for reading CBS NEWS.
Create your free account or log in
for more features.