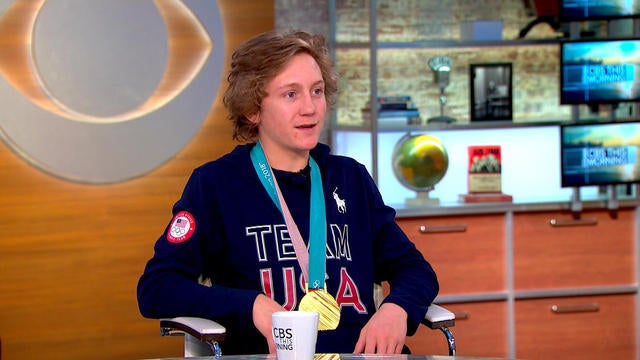 Olympic snowboarder Red Gerard recalls the "mess of a morning" before his historic win
Red Gerard is the youngest male Olympic snowboarding champion ever. The 17-year-old from Colorado won a gold medal last weekend in the slopestyle event which judges on the height of jumps, execution of each trick and overall style.
Despite his historic win at the 2018 Winter Games in Pyeongchang, the Olympics weren't really even on his radar until about four years ago.
"I always just grew up watching other snowboard competitions, like the Dew Tour and X Games, the U.S. Open and all that," Gerard told "CBS This Morning."
While the teen says he hasn't had much time to digest his new win, he said top of mind during competition is always to "land the run."
"I fell on my first two runs which was kind of a bummer. It was a really windy day. So I say to myself on all of those contests, I just want to land the run. I came here to land the run let's just do that," Gerard said. "Then once I found out I was on the podium I didn't care what spot I got as long as I got top three – that was insane to me. That's something I thought I would never be able to say in my life that I got top three at the Olympics."
But the morning of Gerard's win wasn't as smooth as it could have been.
"We were staying pretty far away from the mountain so it's like an hour bus ride up there. You have to wake up so early. I'm just not used to waking up early at all and I just slept in," he said.
Further complicating the morning was the fact that he couldn't find an essential part of his gear – his jacket.
"The jacket was a little tough. I had to borrow my roommate Kyle Mack's," he said. "It was a little mess of a morning."
Gerard says the best part about his win is that he's living his dream.
"I try to have as much fun as I can and I travel all around the world doing what I love. So it's awesome."
Thanks for reading CBS NEWS.
Create your free account or log in
for more features.