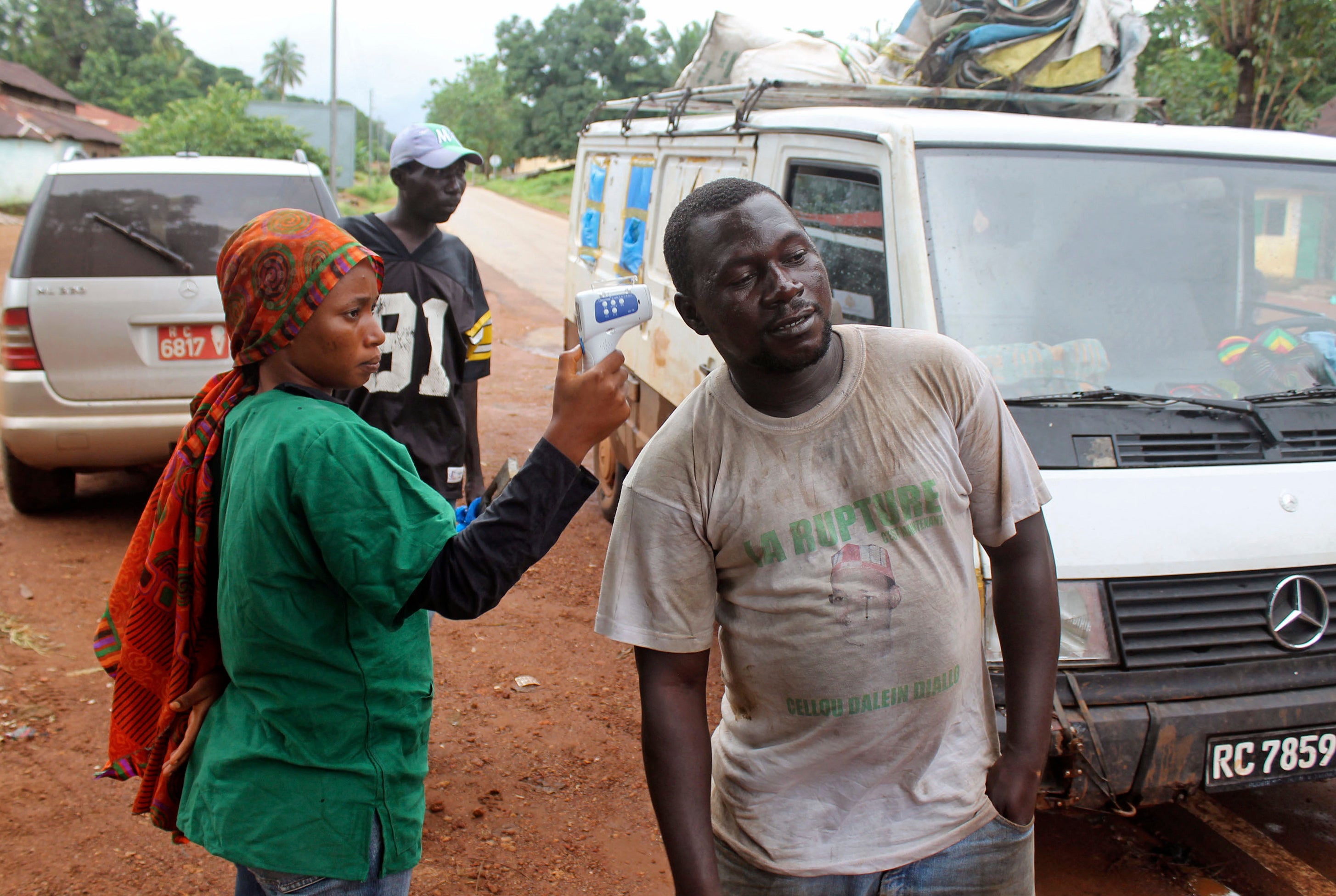 Red Cross Ebola team attacked in Guinea
CONAKRY, Guinea -- A Red Cross team was attacked while collecting bodies believed to be infected with Ebola in southeastern Guinea, the latest in a string of assaults that are hindering efforts to control West Africa's current outbreak.
One Red Cross worker is recovering after being wounded in the neck in Tuesday's attack in Forecariah, according to Benoit Carpentier, a spokesman for the International Federation of Red Cross and Red Crescent Societies.
Family members of the dead initially set upon the six volunteers and vandalized their cars, said Mariam Barry, a resident. Eventually a crowd gathered and headed to the regional health office, where they threw rocks at the building.
The attack is the most recent in a series that have plagued teams working to bury bodies, provide information about Ebola and disinfect public places. The most shocking to date was the abduction and killing last week of a team of several health officials and journalists in Guinea who were educating people on how to avoid contracting Ebola.
Ebola is believed to have infected more than 5,800 people in Liberia, Sierra Leone, Guinea, Nigeria and Senegal. The outbreak has grown into the world's largest ever for the disease, partially because it went undetected for months, began in a highly mobile area and has spread to densely populated West African cities. Resistance to efforts to control the disease - from outright denials that Ebola exists to fears that the very people sent to combat it are in fact carriers - has frustrated efforts to end or even slow the disease's spread in all three of the most affected countries, Liberia, Sierra Leone and Guinea, say officials.
There are deeply held beliefs about how dead bodies should be treated and buried in the region and teams that are forced to interfere with those practices are often targeted, said the Red Cross spokesman, Carpentier. Much of the resistance is in remote, insular areas, where attitudes change slowly - a difficult task even on issues that aren't so sensitive as burials.
"You need to reach almost one person by one person, so they all understand and there's not one person who doesn't believe and they drag the entire village around by spreading wrong messages," he said.
The conventional methods used to control Ebola - isolating sick people and tracing all their contacts - are buckling under the sheer size of the outbreak. Public health experts are beginning to hope that vaccines now being tested might eventually make an impact.
There is currently no licensed treatment or vaccine for Ebola, although some patients have received experimental drugs and scientists are now testing two vaccines.
Previously experts had said a drug or vaccine was unlikely to be ready in time to help in this outbreak. But on Wednesday, the World Health Organization said projected year-end quantities of vaccines could be large enough to have some impact on controlling the disease.
That would make this the first Ebola outbreak in history to be tackled with vaccines or medicines.
"It may be that without a vaccine, we may not be able to stop this epidemic," said Dr. Peter Piot, director of the London School of Hygiene and Tropical Medicine and a co-discoverer of Ebola. "In this outbreak, we are reaching the limit of what classic containment measures can achieve."
Even if vaccines and treatments aren't ready in time for this outbreak, scientists must prepare for the next one, said Jeremy Farrar, director of Welcome Trust.
"We must be in a position where this is the last outbreak of Ebola where we do not have any vaccines or treatments available," he said.
Thanks for reading CBS NEWS.
Create your free account or log in
for more features.