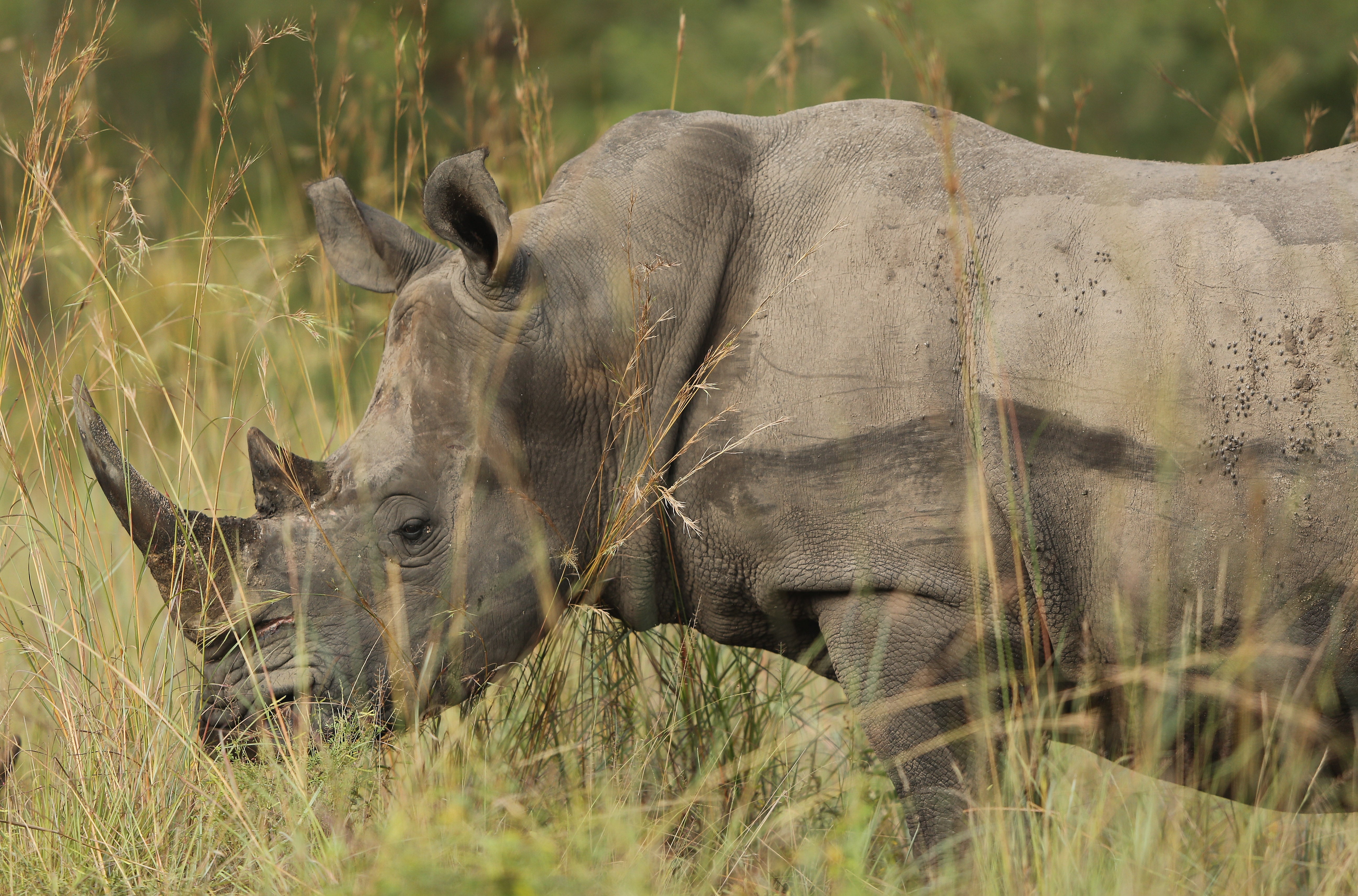 Record high 1,020 rhinos poached in South Africa
A record number of rhinos have been killed in South Africa this year, illustrating the challenges facing the government as it tries to combat the booming illegal wildlife trade.
The government announced Thursday that 1,020 rhinos were killed mostly in Kruger National Park. That surpasses last year's numbers of 1,004 and constitutes a more than 1,000 percent increase compared to 2008, when only 83 were killed.
"The South African government recognizes that the ongoing killing of the rhino for its horns is part of a multi-billion dollar worldwide illicit wildlife trade and that addressing the scourge is not simple," the Department of Environmental Affairs said in a statement.
Rhinos are mostly being killed for their horns and can fetch prices as high $30,000 a pound - about the street price of cocaine - in countries like Vietnam, where it is perceived as a status symbol. The demand is also driven by a belief that the crushed horns have medicinal properties and can cure everything from hangovers to cancer.
The lucrative trade has attracted heavily armed criminal gangs who routinely outgun park rangers and the conservation group ICCF believes the money raised from the illegal trade goes into buying weapons and has become a "substantial source" of funding for terrorist organizations in Africa.
The arrest of poachers has increased slightly - 344 this year compared to 343 last year - but conservation groups contend it has made little impact on the ground so far because the ringleaders continue to remain out of reach of law enforcement.
"The future for African rhinos does look bleak," the group Save The Rhino said in a statement in response to the poaching numbers.
"Depending on the rate that poaching increases, and depending on how well rhino populations continue to breed, overall deaths could overtake births sometime between 2015 and 2021," it said. "Important steps are underway to reverse this projected decline - such as increased law enforcement efforts and behavior change campaigns in Vietnam, the main user country - but more is needed."
There are more than 20,000, near-threatened white rhinos across Africa and around 5,000, critically-endangered black rhinos. There once were half million rhinos across Africa and Asia.
The government, for its part, insists it is taking the problem seriously.
In December 2012, South Africa signed a memorandum of understanding with Vietnam on tackling wildlife trafficking and the two nations later developed a rhino action plan. South Africa has also signed similar agreements with other poaching hot spots such as China, Thailand, Laos, Cambodia and Hong Kong.
Authorities on Thursday said they are planning to step up what they described as the "strategic management" of rhinos across the country including the "disruption of crime syndicates."
The government said it is establishing an intensive protection zone within the Kruger National Park, improving national, regional and international collaboration, translocating rhinos to safe areas and putting microchips in rhino horns to allow better tracking. It is also considering whether to introduce drone to patrol parks.
Thanks for reading CBS NEWS.
Create your free account or log in
for more features.