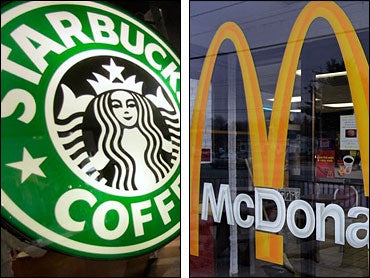 Recession Took A Bite Of Restaurant Sales
Declining consumer confidence took a bite out of restaurants' sales and profits in 2008, leading to bankruptcy filings at casual-dining chain's like Bennigan's and the closure of more than 600 Starbucks locations.
Like most companies that depend on consumers for their survival, a restaurant's performance is largely measured by its sales. For most restaurants - particularly the "casual dining" or sit-down chains - that meant a tough year.
Sales first began to slide at the chains in late 2007 when consumers started cutting back on small luxuries like eating out after watching the housing market deteriorate. High gas prices were also taking their toll on wallets, giving consumers less cash to use at restaurants.
"The big story really is negative same-store sales," said KeyBanc Capital Markets analyst Brad Ludington. "There was an expectation for negative same-store sales, but not to the levels we've seen here in the back half of the year."
Same-store sales, or sales at locations open at least a year, are a key indicator of restaurant performance since they measure sales at existing locations rather than newly-opened ones.
In 2008, the Dow Jones U.S. Restaurants & Bars index dropped about 13 percent. The index is made up of 12 restaurant companies, including McDonald's Corp., Starbucks Corp., Olive Garden and Red Lobster owner Darden Restaurants Inc. and Ruby Tuesday Inc.
In comparison, the Dow Jones Total Market index fell 40 percent and the Standard & Poor's 500 index lost 39 percent.
The casual-dining sector performed the worst. Unlike fast-food chains, which offer dollar menus and cheap limited time offers, sit-down chains typically require diners to pay a tip and charge far more for food. Customers also frequently are encouraged to buy pricey add-ons like drinks or desserts.
The drop in sales and profits, combined with a glut of choices for consumers in the bar and grill segment, helped force the privately-owned parent company of the Bennigan's and Steak & Ale chains to file for Chapter 7 bankruptcy protection in 2008.
The decline in the sector was led by Ruby Tuesday Inc. which saw its shares sink 85 percent. The chain was hit hard by falling sales and high costs from remodeling its restaurants. Cheesecake Factory Inc. shares also dragged on the index, falling 60 percent in 2008.
Fast-food chains that offered lower prices or those sit-down restaurants considered a good deal by thrifty consumers fared better.
Shares of McDonald's, which reported big increases in sales through much of 2008 jumped nearly 5 percent.
Darden shares rose just over 1 percent. The company was helped by small sales gains at its Olive Garden chain, which has a reputation among consumers for being a good deal and offers all the salad you can eat.
But even those companies that performed well struggled to keep profit growth intact in 2008. Spiking commodity costs - particularly grain - pressured restaurants' margins and forced nearly all chains to raise menu prices to try to protect profits. The National Restaurant Association estimates menu prices jumped 4.2 percent during 2008.
The higher costs also led to some changes on menu. McDonald's replaced its popular double cheeseburger, which features two patties and two slices of cheese, on its dollar menu with a new double burger that has only one slice of cheese to cut food ingredient costs.
Zacks analyst Ann Northrop said although the higher commodity costs were a factor in the sector, the cost pressure "paled in comparison to declining traffic."
Falling traffic - and an overzealous growth strategy in the early 2000s - led Starbucks to shutter more than 600 underperforming U.S. stores to cut costs. The chain also closed more than 60 stores in Australia during 2008.
Although the year was difficult for most restaurant investors, 2009 may offer some opportunities as long as the economy begins moving toward a recovery. Restaurant stocks typically are some of the first to rise at the end of a recessionary period.
Ludington also warned investors that 2009 could still hold some surprises, given consumers' fears that a recession could be long-lasting.
"I don't necessarily think they're going to come back as quickly as they have in the past," Ludington said.
Thanks for reading CBS NEWS.
Create your free account or log in
for more features.