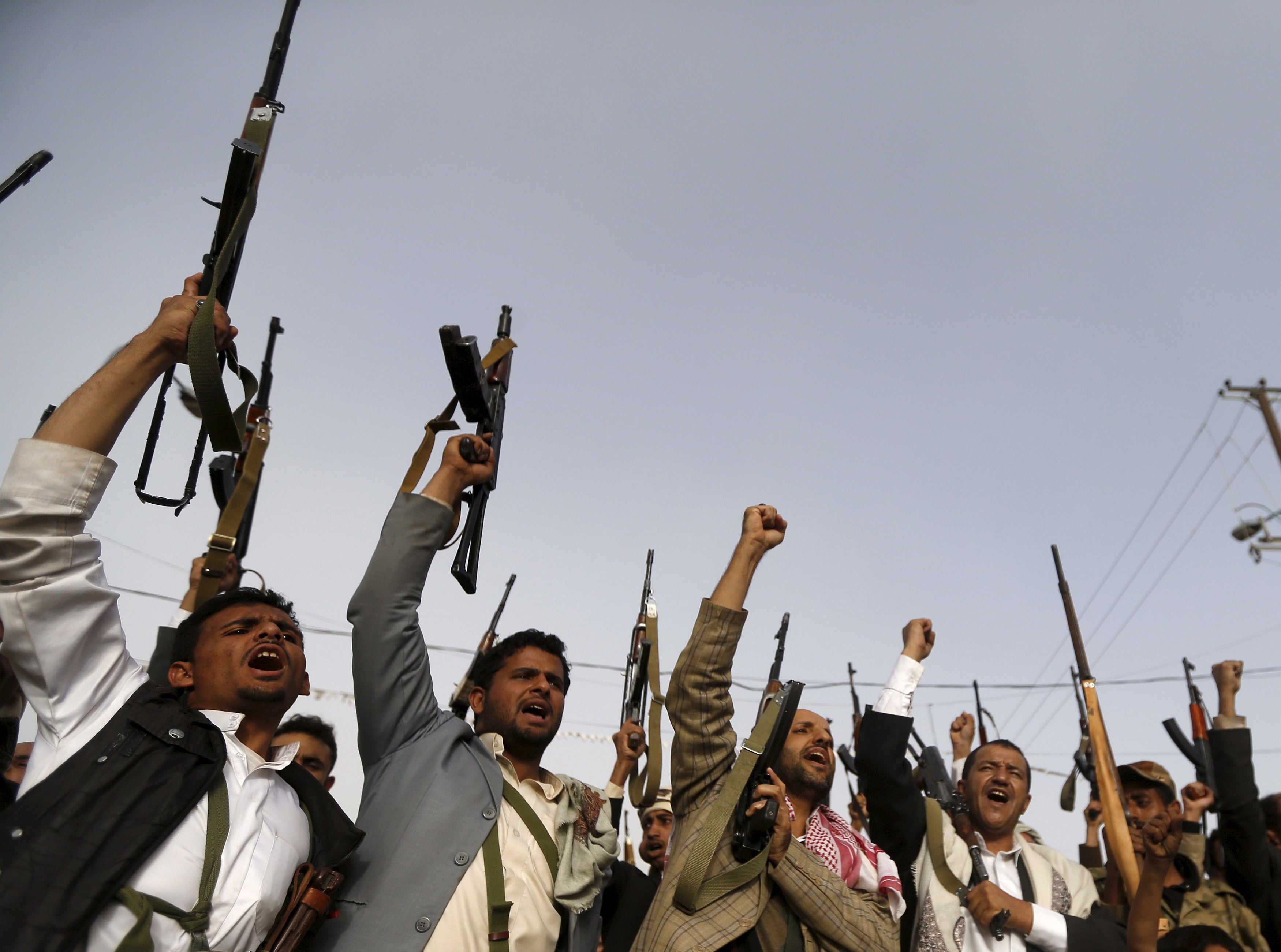 Rebels in Yemen abduct Sunni rivals amid Saudi airstrikes
SANAA, Yemen -- Yemeni Shiite rebels, making an aggressive bid for power in the impoverished Gulf state, arrested more than a hundred members from a rival Islamist Sunni political party, including two leaders, the party said in a statement Sunday.
The Islah party, the Muslim Brotherhood's branch in Yemen and a traditional power player in Yemen, had declared its support for the Saudi-led coalition bombing campaign against the rebels and their allies. The Shiite rebels, known as Houthis, have been joined by security forces loyal to the ousted President Ali Abdullah Saleh - whose loyalists control elite forces and large combat units in Yemen's military.
The Saudi-led campaign in its 11th day aims to thwart the advances of the rebels, who took over the capital Sanaa in September and eventually forced President Abed Rabbo Mansour Hadi to flee to Aden, Yemen's second largest city in the south, after putting him under house arrest. The combined force of Houthis and Saleh loyalists is now advancing on Aden and seeking to tighten their hold on this nation of 25 million on Saudi Arabia's southern border.
Hadi has since fled to Saudi Arabia, and the coalition campaign has yet to stop the rebels' push to take control of the south.
The overnight arrest campaign rounded up leading members of the Islah party, Mohammed Qahtan and Hassan al-Yaeri, along with more than 120 others, the group said in a statement on its website.
Also on Sunday, medical officials said coalition airstrikes in Dhale, a southern city the rebels are trying to control in order to open a corridor to Aden, killed at least five civilians, apparently when an errant missile hit a residential area. The officials spoke on condition of anonymity because they were not authorized to speak to reporters.
Coalition officials accuse the Houthis of hiding among civilians. Saudi military spokesman Ahmed Asiri said during Sunday's briefing that jets targeted weapons and convoy supplies of Houthi militias heading toward Aden in the last 24 hours.
Meanwhile, fierce fighting in Aden continued between the Houthis and allied forces and popular committees loyal to Hadi. The rebels are making a push on the neighborhood in Aden that houses the presidential palace and the local television station.
Local activist Maha el-Sayed said at least six fighters loyal to Hadi were killed in fierce clashes overnight, and 20 were wounded, including three children. She said the Hadi fighters also damaged three tanks used by the rebels and allied forces.
Coalition planes on Friday began to airdrop weapons to fighters battling the Houthis in Aden. Military officials, speaking on condition of anonymity because they were not authorized to speak to reporters, complained that some of the airdrops have landed in neighborhoods controlled by extremist groups, a claim that couldn't be immediately and independently verified.
Critics of the Houthis allege that the rebels are proxies for regional Shiite powerhouse Iran. Tehran has supplied the rebels with some logistical aid and supplies, but strongly denies any military support. On Sunday, a senior Iranian official called on the Saudi-led coalition to halt its bombing campaign.
"We advise Saudi Arabia to learn from the fate of U.S. military interventions in the region and immediately stop military attacks against Yemen," said Deputy Foreign Minister Hossein Amir Abdollahian, in comments published by the conservative news website namanews.com.
Al-Qaida in the Arabian Peninsula, considered among the most active and dangerous branch of global militant organization, has benefited from Yemen's political crisis. On Thursday, al-Qaida militants overran Mukalla, a major port city in southern Yemen and the provincial capital of the country's largest province, Hadramawt, seizing government buildings and freeing inmates from a prison, including a top Saudi-born militant leader.
The militants consolidated their hold on the city on Friday, capturing its port and a major army base, facing little resistance from the soldiers who fled.
Thanks for reading CBS NEWS.
Create your free account or log in
for more features.