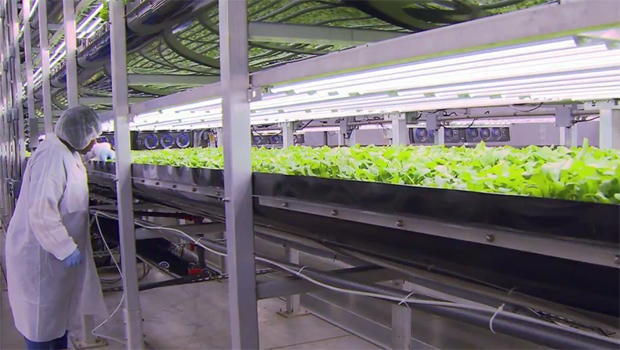 The growing trend of vertical farming
The world's population will climb from around seven billion people to nearly 10 billion by 2050. That will make it even more challenging to feed everyone on the planet.
Companies like AeroFarms are rethinking how we grow fresh and affordable produce through vertical farming -- growing vegetables like kale, arugula and watercress indoors on shelves stacked seven levels high. When all is said and done, AeroFarms hopes to produce 1.7 million pounds of greens a year.
A 70,000-square foot facility, housed in a former Newark, N.J., steel plant, is AeroFarms CEO David Rosenberg's green machine. It grows 130 times more produce than the average American field farm of the same size per year.
But to fully understand this large-scale operation, you've got to go back to its roots, where it all began seven years ago, inside Philip's Academy Charter School.
AeroFarms' prototype was planted in the school's cafeteria as a teaching tool for students to learn the basics of biology, chemistry and nutrition.
Essentially, the students grow some of the greens for their salad bar.
"I think growing food every day and seeing it, I understand and have a better taste for it, and understanding for it," said student Susannah Love. "I appreciate it a lot more."
The technology is called aeroponics, which grows plants on a re-usable fabric -- proprietary information.
But as Love explained it to CBS News correspondent Michelle Miller, this process needs no soil, no sunlight, and uses less water than conventional farming.
"We're misting it from underneath, so the water comes up through the sheet and it hits the seedlings."
Hits them with a nutrient-rich solution that allows the plant to take root. LED lights substitute for the sun.
Rosenberg says vertical farming offers higher yields with less land, less time, and no pesticides. They can farm indoors in any city, anywhere around the world: "From seed to harvest in 16 days, what otherwise takes 30 days in the field," he told Miller. "And then we're able to do that 22 times a year versus, in the field, three times a year, because of seasonality."
Still, not everyone is sold.
"Early adopting is not necessarily bad," said Cornell University researcher Kale Harbick. But he says his studies found indoor farms that rely solely on artificial light are not energy-efficient or sustainable.
"Just because it's possible to grow inside a warehouse doesn't mean it's a good idea, doesn't mean it's cost effective," said Harbick. "If you do the math, the energy costs just aren't what they should be."
Harbick warns these companies struggle once their seed money runs dry. Case in point: One Chicago-based company recently shut down its growing operations.
Rosenberg says AeroFarms LEDs that run 24/7 have been tweaked to save energy. He didn't share just how much.
Investors believe in it. AeroFarms has raised more than $50 million from the likes of Goldman Sachs and Prudential, and received more than $9 million in state and local grants.
Miller asked, "Why would someone want to buy from you as opposed to a field farmer or a greenhouse farmer?"
"Here, we're growing in the local community," he replied. "That's the supply chain difference. But it turns out that we're able to compete on taste and texture."
By adjusting the lights and nutrients, Rosenberg says they can also make their arugula more peppery, their kale a little sweeter.
Which for many of us, parents in particular, might be the biggest selling point of all, to get their kids to enjoy their greens.
AeroFarms' product is available in area grocery stores and supermarkets for about $3.99 a package.

For more info:
Thanks for reading CBS NEWS.
Create your free account or log in
for more features.