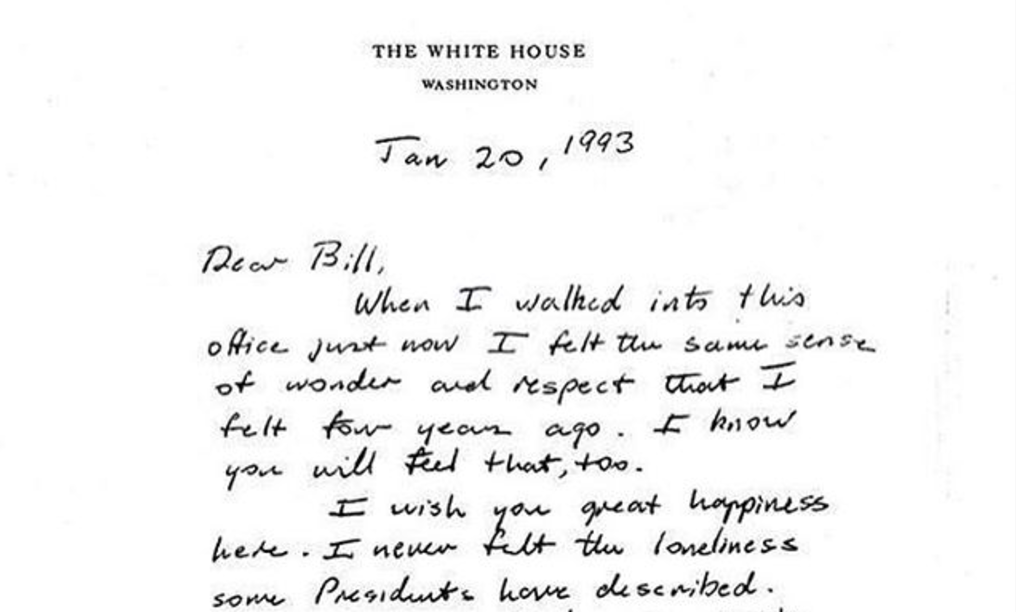 Read this letter George H.W. Bush sent to Bill Clinton after losing 1992 election
A gracious letter written by Republican President George H.W. Bush after he lost the 1992 election to Democrat Bill Clinton is going viral – offering quite a contrast to the comments current Republican nominee Donald Trump made during Wednesday night's debate.
For weeks, Trump has called the election "rigged," pointing blame at the media and potential voter fraud. During the final debate, the GOP nominee was asked to address these accusations, as well as answer once and for all whether he would "absolutely accept" the result of this election.
Some found the candidate's response shocking.
"I will look at it at the time. I'm not looking at anything now. I'll look at it at the time," Trump said.
Today, at a campaign rally in Delaware, Ohio, Trump told supporters he had to make a "major announcement."
"I would like to promise and pledge to all of my voters and supporters and to all of the people of the United States that I will totally accept the results of this great and historic presidential election – if I win!"
The crowd went wild.
While some applauded Trump's attitude, others slammed the Republican nominee for casting doubt on the democratic process. On social media, users started recirculating Mr. Bush's Inauguration Day letter as an example of grace and respect for our shared American values.
Hillary Clinton shared the 1993 letter on Instagram nearly 5 months ago, saying it brought her to tears.
In the handwritten note, Bush wished Bill Clinton "great happiness" as he assumed power and even offered some words of wisdom based on his own experience in the White House.
"There will be very tough times, made even more difficult by criticism you may not think is fair," he wrote. "I'm not a very good one to give advice; but just don't let the critics discourage you or push you off course."
Underlining the fact that Clinton will be "our president," he wrote, "your success is now our country's success."
"I am rooting hard for you," said Bush as a final note.
Several called it a "lesson in grace" and a "lesson in dignity and respect."
"This is elegant and classy," one Twitter user commented.
"Trump should read this," another suggested.
Many agreed that now, at the height of this bitter campaign, it's a perfect time to re-read the letter.
Thanks for reading CBS NEWS.
Create your free account or log in
for more features.