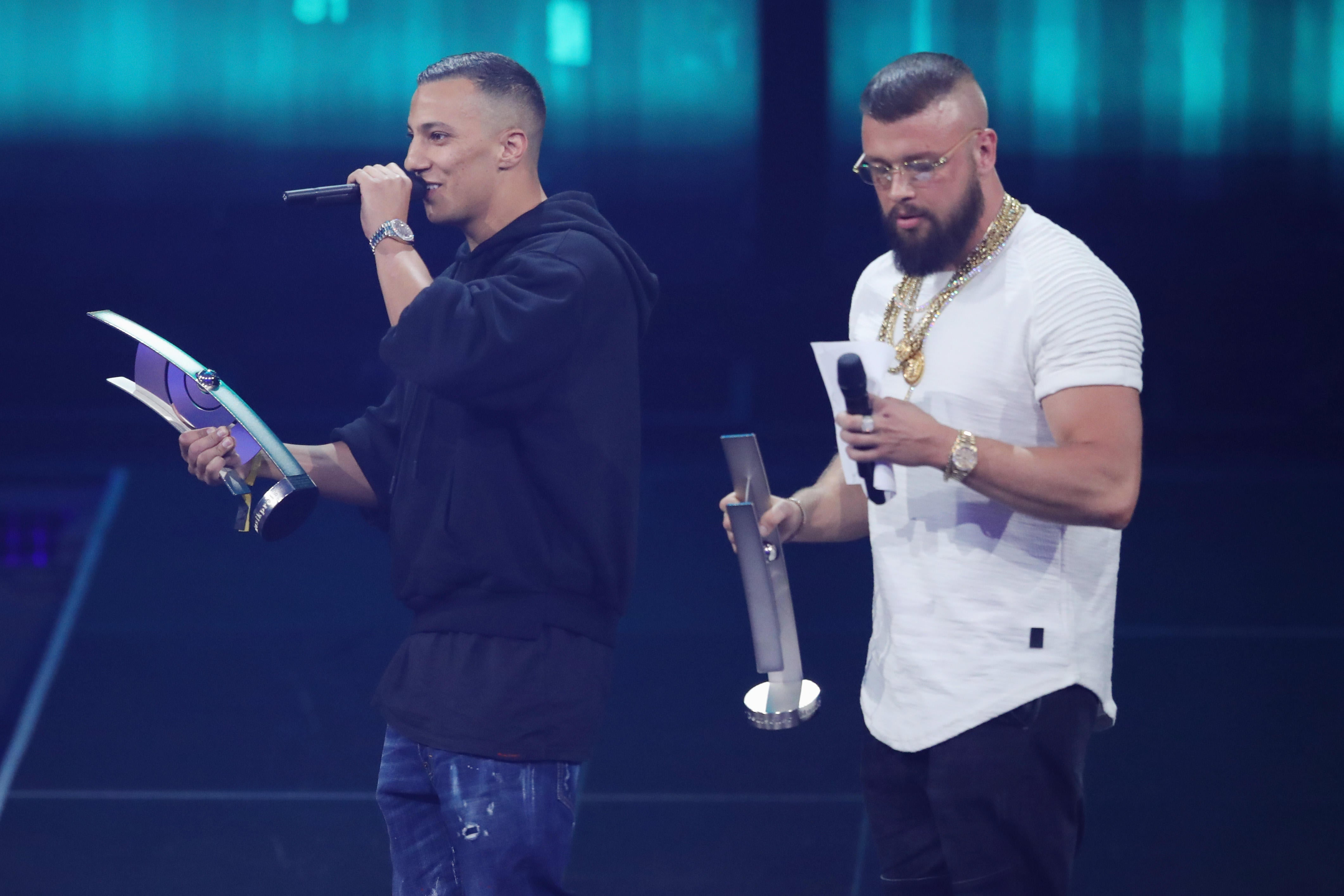 Rappers defend lyrics deemed anti-Semitic amid award backlash
A German rap duo whose infamous lyrics include references regarded as anti-Semitic have been awarded one of the country's most prestigious music prizes.
In a move that caused a nationwide outcry and attracted international condemnation, Kollegah and Farid Bang received the ECHO award for best hip hop/urban album at a ceremony in Berlin.
Entitled "Young, Brutal, Handsome 3," the album contains tracks in which the artists refer to their muscles being, "more defined than those of Auschwitz inmates" and re-imagining the Holocaust with Molotov cocktails.
Their winning of the award, which is the German equivalent of a Grammy, was swiftly condemned by prominent artists, Jewish organizations and senior politicians.
Monika Gruetters, Germany's culture and media minister, said that while artistic freedom was cherished in the country, "a line was crossed" in this instance. She said the duo, based in the city of Offenbach, should never even have been nominated.
"It is not a question of taste, but about the responsibility of the art and the artist for our community," Gruetters said.
Kollegah, 33, a Muslim convert whose real name is Felix Blum, defended the lyrics, arguing that they had been "misinterpreted," and offered to provide free tickets to future concerts for Jewish fans.
In a YouTube video, he also blamed the mainstream media for underestimating the intelligence of his listeners.
Kollegah's artistic partner Farid Bang, born Farid El Abdellaoui to parents of North African origin, apologized in a letter to 93-year-old Holocaust survivor and musician Esther Bejarano for any offense caused.
The duo have gained notoriety in Germany for their provocative content, which critics have labelled misogynistic and homophobic.
A track from a previous album, entitled Apocalypse, depicted Jewish bankers as controlling world affairs.
The duo's record label, BMG, initially stood by the controversial tracks, saying it would not dictate the content of its artists' albums. But the Bertelsmann-owned firm said it would donate 100,000 euros to a campaign dedicated to fighting anti-Semitism in German schools.
BMG's chairman Hartwig Masuch later told the German newspaper FAZ that the company was putting its cooperation with Farid Bang and Kollegah, "on hold... in order to further discuss the issue."
"We deeply apologize to the people whose feelings were hurt by the rap duo's lyrics," said Masuch, who called the lyrics "tasteless," and the entire episode a "wake up call" for the industry.
Anti-Semitic attacks have been on the rise in Germany, and the issue was brought to national prominence once again this week when two young men wearing Jewish skullcaps in the gentrified Berlin neighbourhood of Prenzlauer Berg were assaulted.
The increase in such incidents has led Prime Minister Angela Merkel's government to appoint a special commissioner to tackle prejudice, particularly in primary schools.
The backlash over Kollegah and Farid Bang's award began at the ECHO ceremony itself, when one of Germany's most recognizable cultural figures, Campino, the lead singer of 1980s rock band Die Toten Hosen, registered his protest by refusing his own award, and railing against the rappers.
Several other German stars, including cover artist Klaus Voormann, classical pianist Igor Levit and conductor Enoch zu Gutenberg announced they would return previous awards.
Rock musician Marius Müller-Westernhagen, a recipient of multiple ECHO awards, defended the duo from accusations of anti-Semitism, instead branding them "shockingly ignorant."
The head of Germany's music industry association, BVMI, which oversees the ECHO awards, apologized to those whose "feelings had been hurt" by the rappers' recognition. In a letter to Jewish leaders, Florian Druecke said his board had wanted to "promote artistic freedom" and committed to making sure nothing similar would occur in the future.
Holocaust survivor and former president of the Association of the Jewish Community Charlotte Knobloch said she was shocked by the lack of sensitivity, and considered the award a "devastating signal."
The timing of the ECHO awards, on April 12th, coincided with Yom Hashoah, Israel's Holocaust Remembrance Day.
Thanks for reading CBS NEWS.
Create your free account or log in
for more features.