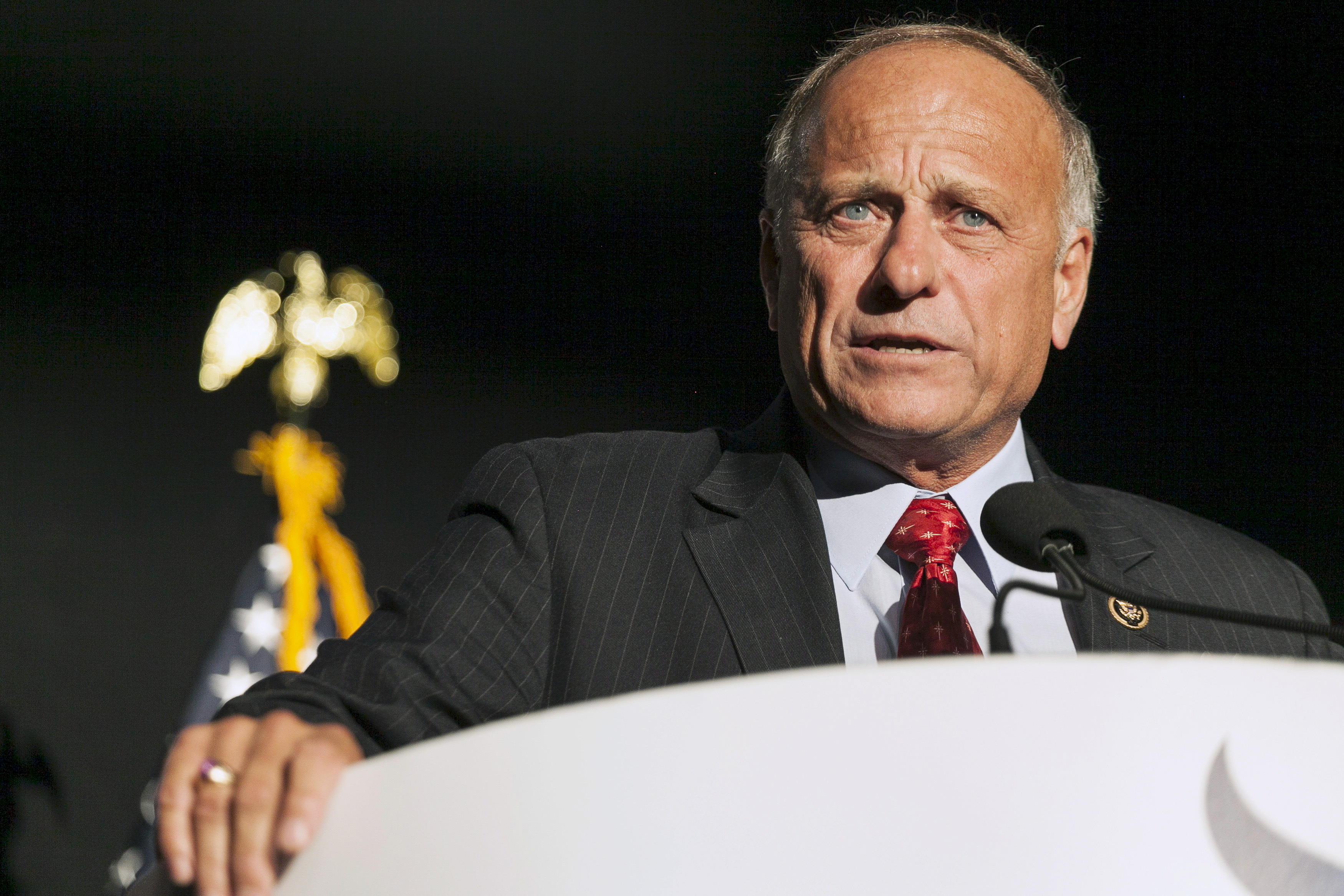 Purina cuts ties to GOP's Steve King after boycott threats
A growing list of corporate contributors to Rep. Steve King say they'll no longer donate money to the Iowa Republican, who is facing intensifying scrutiny for his controversial statements on race and his links with white nationalists.
Purina Petcare, part of Swiss-based food conglomerate Nestlé S.A., this week followed Land O'Lakes and Intel in vowing to end campaign contributions to King, an eight-term congressman up for reelection on Nov. 6.
The pet-food giant, which donated $500 to King's campaign in September, responded to questions about its support by saying the lawmaker's "recent statements" conflicted with its values. Like privately owned dairy company Land O'Lakes, the decision came amid online calls for boycotts of Purina's products.
King, who has a long history of inflammatory rhetoric, has stirred controversy by refusing to delete a retweet of the British immigration activist and Nazi sympathizer Mark Collett and by displaying a confederate flag on his desk in Washington, D.C. The firebrand lawmaker in September also endorsed a candidate for mayor of Toronto who has espoused white supremacist views.
"The Land O'Lakes Inc. PAC has traditionally contributed to lawmakers of both parties that represent the communities where our members and employees live and work and are also on [congressional] committees that oversee policies that directly impact our farmer owners," the company said in a statement Tuesday. "We take our civic responsibility seriously, want our contributions to be a positive force for good and also seek to ensure that recipients of our contributions uphold our company's values. On that basis, we have determined that our PAC will no longer support Rep. Steve King moving forward."
A spokesperson for King referred CBS MoneyWatch to the congressman's Twitter account, in which the congressman blamed the news media for the negative publicity.
Another company that has backed King, AT&T, now faces online calls to boycott the telecommunications giant and an appeal from two Jewish leaders from King's home state.
"We call on King's donors to cut off their financial support. Intel and Land O' Lakes recently took this long overdue step and we expect the same from Berkshire Hathaway, AT&T and the American Bankers Association," Alan Steckman of Adas Israel and John Pleasants of the Ames congregation wrote in a letter to the Des Moines Register.
A spokesperson for AT&T, which contributed $5,000 to King's campaign at the end of September, said it doesn't intend to make any further donations given the culmination of the current political cycle with next week's midterm election.
"Our PAC contributions are managed and approved by a committee of employees who represent various levels and business units throughout the company," the spokesperson said in a statement to CBS MoneyWatch. "When the PAC committee meets next year to decide future contributions for 2019 and beyond, they will take all concerns very seriously."
Land O'Lakes is a Fortune 500 company that operates as a member-owned food and agricultural cooperative and reported revenue of $13.7 billion last year. Its corporate PAC gave $2,500 to King's campaign in June, according to Federal Election Commission records.That donation was condemned by liberals including former presidential candidate Howard Dean and TV host Soledad O'Brien, who called the the company's donation to King "appalling."
"Land O Lakes dairy company sent this guy money. We need to let them know decent people don't appreciate it," Dean argued in a tweet last week that drew hundreds of responses advocating a boycott of the company's butter, cream and milk products.
Dean's and O'Brien's tweets drew hundreds of responses calling for a boycott.
Another corporate contributor, the chip giant Intel, confirmed a report that it has withdrawn its support for King after earlier donating $2,000 to the lawmaker's campaign. A political newsletter, Popular Information, reported on Sunday that Intel stated in an internal email to employees that it would no longer contribute to King's campaigns after reviewing his public statements and determining they conflicted with the company's values.
The newsletter quoted an Oct. 25 email from Dawn Jones, Intel's director of policy and external partnerships: "We had engaged with Rep. King because of his support for IP theft protections, which is important to Intel's business. However, an Intel employee raised concerns about the donations earlier this month. We looked into the congressman's public statements and determined that they conflict with Intel values. As a result, we are no longer donating to his campaigns."
Thanks for reading CBS NEWS.
Create your free account or log in
for more features.