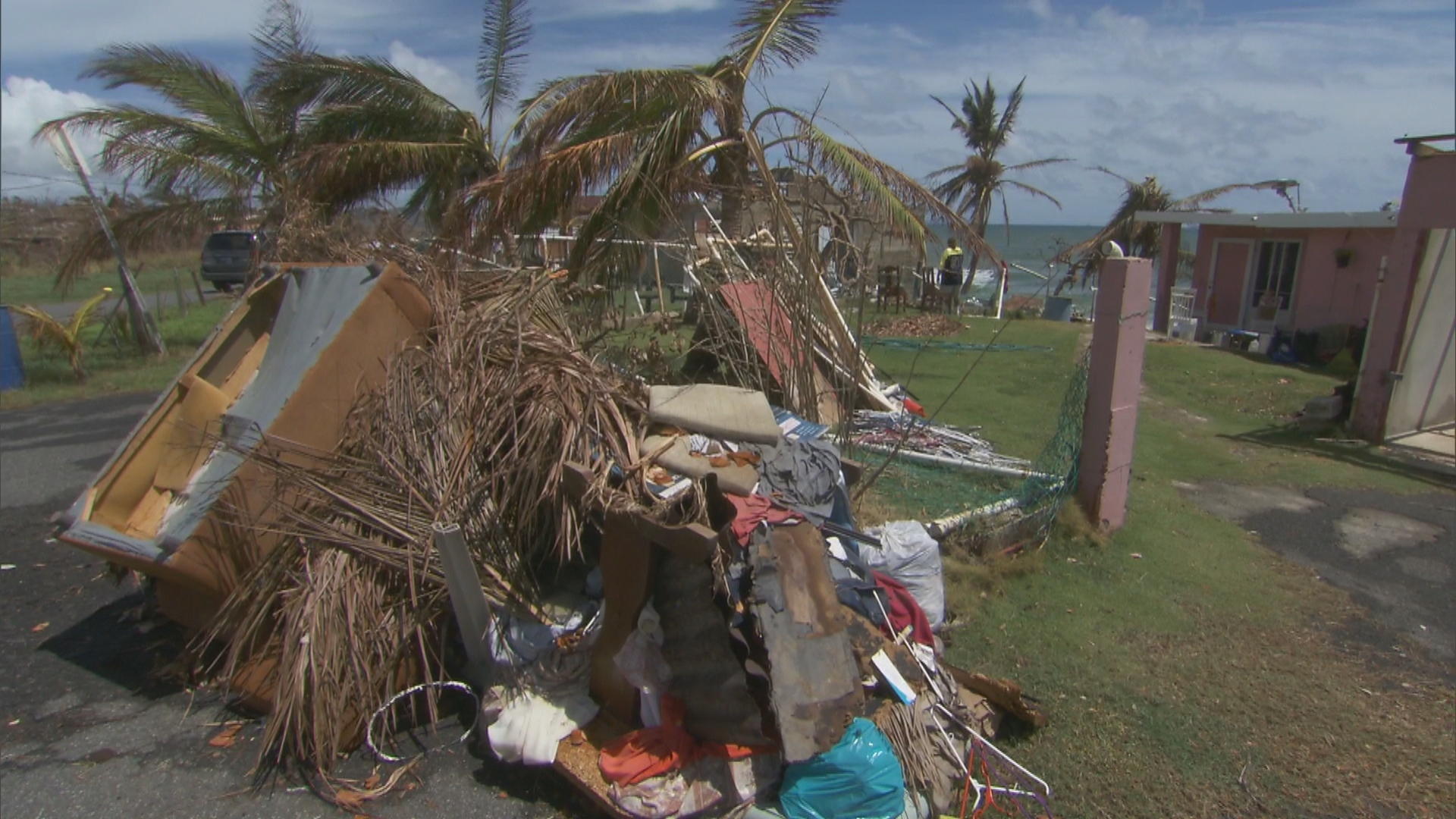 6 months after Hurricane Maria, parts of Puerto Rico continue to struggle
It's been six months since Hurricane Maria slammed into Puerto Rico. The Category 4 storm knocked out power to the entire island, at least 64 people died, and more than 135,000 people reportedly left Puerto Rico for the U.S. mainland. It is considered the most logistically challenging natural disaster in modern U.S. history. Today, less than 10 percent of the island remains without power and all 68 hospitals are open.
Yabucoa, on the southeastern part of the island, is where Hurricane Maria made landfall six months ago. These days you'll get a pretty good cell phone signal, water is running, but people there haven't had electricity since September. CBS News' David Begnaud returned to the island for 35 hours and reached out to locals on social media to find out which areas of the island are must-sees. The response was overwhelming.
On September 20 in Yabucoa, 155-mph winds brought hell and high water. Sixty-five percent of people living there still don't have electricity. Mayor Rafael Surillo says the first team to arrive to restore power took 75 days.
Desperation has a relentless hold on people there. The mayor said that a few days ago a local man in his 60s took his life. Apparently the same day he was found hanging from a tree, power was restored to his house. Dennis Pagan, 18, found the man. He was her neighbor.

"It's like something traumatic to see someone to take away their own life," Pagan told us. "To see how people want to kill themselves because of these problems it's very difficult."
Relief is coming largely from volunteers like those from All Hands and Hearts -- Smart Response. People in purple, replacing blue tarps with actual roofs.
From Yabucoa, one of the thousands of social media messages we received led us to Las Piedras to see the conditions a woman's bed-ridden father has been living in for the last six months.
The Santana sisters introduced us to their 90-year-old father, Guillermo. The day before arriving there, someone brought a solar panel system that allow his daughters to power a single light in the room and his respiratory machine.
"More or less, we are surviving. But it's not easy, it's not easy," said one of the sisters.
Driving around the island, a majority of the traffic lights we saw were not working. But overall, progress is being made and within just the last couple of days the power generation on the island has hit 99 percent. We spoke to the U.S. Army Corps of Engineers which has the task to help restore electricity on the island.
"The magnitude of destruction of this power grid is beyond anything that we have seen in America post storm," said Col. Jason A. Kirk. "Eighty percent of destruction of the grid, these poles, the lines, etc. ...And using the helicopters we brought more to the island in the last month, you have to use helicopters in many cases to attach and then pull the wires across a given valley."
But many Puerto Ricans have wondered whether they are improving the infrastructure.
"We aren't burying the lines because if we were doing that because if we were doing that we wouldn't have power back today to 92 percent of the populace," Kirk said. "It would take a whole lot more time and that may be a future state, future decision."
We first met police officer, Daniel Pacheco, last October. He says life is steadily improving.
"Well things have gotten a lot better," he said. "The stores have food, they are stocked, you can actually go and get groceries and you don't have to do a two-hour line."
But in the mountainous middle region of the island, Utuado is still in the dark. Headlights guided our way to Esther Rosario's house. It's hard without water, she tells us. She's housing her son, daughter-in-law and three grandchildren because their home was destroyed during the storm.
It has been our experience that Puerto Ricans are some of the most resilient Americans we've ever met. After the storm there was a rush to get things done in order to save lives, but now that rush has shifted to getting those things done before the next hurricane season begins on June 1.
Thanks for reading CBS NEWS.
Create your free account or log in
for more features.