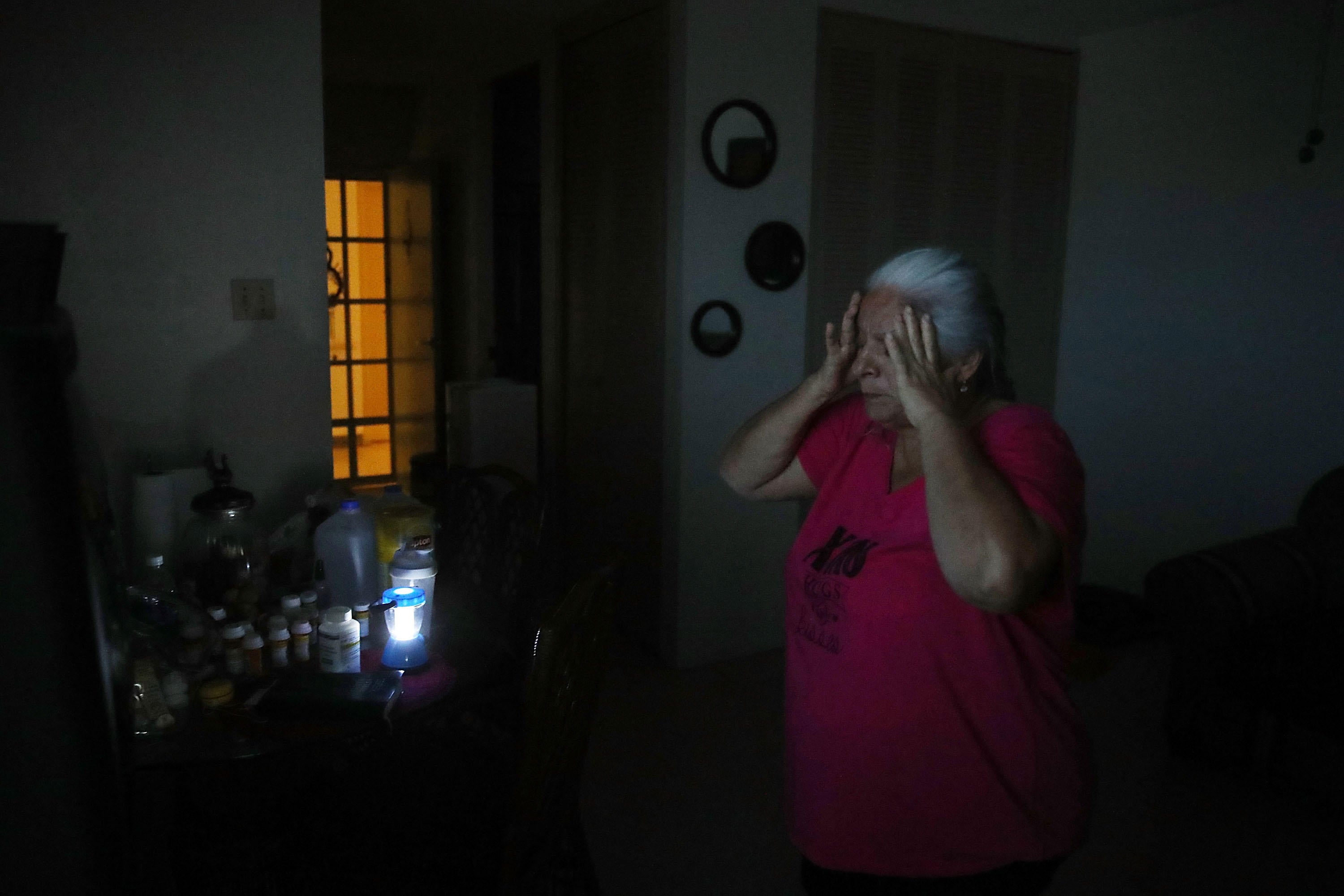 2 more months to restore power in Puerto Rico, official says
SAN JUAN, Puerto Rico -- It could take up to another two months to fully restore power in Puerto Rico as crews across the U.S. territory prepare to strengthen its electrical grid, the power company director told The Associated Press. Thursday's development comes as a new hurricane season gets underway and follows a study showing that the death toll in the aftermath of Hurricane Maria was likely much higher than originally thought.
Walter Higgins, the new CEO of Puerto Rico's Electric Power Authority, said the company just awarded a $500 million contract to Florida-based MasTec to help with power restoration efforts and plans to build a better, more efficient grid. Another $900 million contract was recently awarded to Cobra Energy, and a third contract is still being finalized, he said.
"We all wish we were further along," he said of efforts to restore power to the more than 11,000 customers who remain in the dark more than eight months after Hurricane Maria hit Puerto Rico as a Category 4 storm.
Higgins estimated it could take $5 billion to $8 billion to strengthen the grid and said the islands of Vieques and Culebra would be first places where the grid would be built to modern standards, starting within four months. This would include installing new poles, wires and transformers as well as smart meters and renewable power sources for an estimated $150 million to $160 million.
He said it will take years to modernize and strengthen Puerto Rico's electrical grid, and that it's too early to say what will happen if and when the power company or its operations are privatized. The island's Senate approved a bill late Wednesday that would allow for the privatization of assets of the Electric Power Authority, which carries $9 billion in public debt and relies on infrastructure nearly three times older the industry average. The bill has not yet been signed by the governor.
"The Senate is starting to modernize Puerto Rico's electrical system, a process that should have started years ago," said opposition Sen. Eduardo Bhatia.
Higgins said he feels it would be best to privatize the generation of energy and then award one concession for transmission and distribution. If a company were to simply buy the Electric Power Authority, the federal government has the right to demand it be repaid for the more than $3.8 billion it has invested so far in reconstruction efforts, he said, adding that the U.S. government has agreed to pay for all emergency power restoration efforts for another three months.
In addition, private utilities cannot get federal aid in the wake of a natural disaster, and if a company were unable to deal with storm-related losses, it could claim bankruptcy, Higgins warned.
"Puerto Rico was lucky that with this disaster, it was able to get the aid," he said. "This is working out both opportunistically and financially. ... If you're going to have to have this crisis, this is probably the way it should happen. I hate to say that."
Going forward, Puerto Rico should start relying more on liquefied natural gas, which in turn would lead to lower power bills, Higgins said. Power bills in the U.S. territory are roughly twice the average of those in the U.S. mainland, although the island has been reducing its dependence on petroleum. Higgins said that while coal is currently the cheapest resource to power Puerto Rico, he is not in favor of it.
The power company is now finalizing plans to prepare for the Atlantic hurricane season that starts June 1. Higgins said there is still work to be done to finalize mutual aid agreements, which he said should have been done two months ago. Puerto Rico's government has been sharply criticized for not activating those agreements until more than a month after Hurricane Maria, which then allowed crews from the U.S. mainland to help restore power on the island.
Meanwhile, a study by Harvard University found that the death toll in Puerto Rico stemming from Hurricane Maria is likely 70 times higher than official estimates. The authors of the study would not say who they talked to due to privacy concerns, so CBS News' David Begnaud put out a message on Facebook, asking people to share their stories about loved ones who died. The response was overwhelming.
One of the people that reached out was Mildred Castro. Her mother, Adelaida Machuca died the day before her 84th birthday. She was dependent on supplemental oxygen and insulin. Castro says she was receiving hospice care at home, but was told by her nurses they ran out of oxygen. Machuca went to a hospital and died two months later.
"Do you believe the storm accelerated her death?" Begnaud asked her.
"Yes, because in my house, in my home, she was stable and she was doing fine," Castro responded.
Thanks for reading CBS NEWS.
Create your free account or log in
for more features.