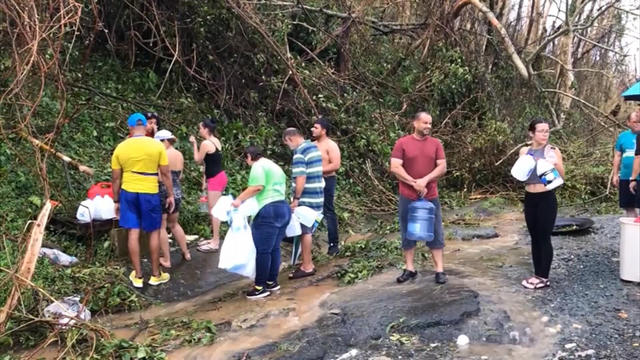 Clean water still scarce in isolated parts of Puerto Rico
The FBI is investigating claims of possible fraud in connection with hurricane supplies in Puerto Rico as food and other items are allegedly being diverted from those who need them.
President Trump weighed in on the U.S. territory's problems Thursday morning on Twitter, saying that FEMA and other first responders can't stay "forever" and that Congress needs to decide how much to spend on helping Puerto Rico rebuild.
But as clean drinking water remains scarce in some parts of the island, Puerto Ricans are simply asking for help now, reports CBS News' David Beganud.
Four people there have died from the bacterial disease known as leptospirosis, which is spread through contaminated water.
Jorge Rivera, who died of the illness Friday, was initially diagnosed with dengue and sent home, according to his daughter Johanna. Her older sister Evelyn says the last thing she told her father is "I love you."
Leptospirosis is easily treatable with antibiotics.
The island's Secretary of State, Luis Rivera Marín, has been ordered to figure out why clean water is still not getting to parts of the island.
"At what point do you bypass the local government if they're not getting it done and at what point do you guys do it?" Begnaud asked.
"We've been doing it, that's why we, we've been even doing airdrops in communities where we go directly to isolated communities where a bridge has been destroyed by the water or any reason which needs us to impact them directly, we'll keep doing that," Marín said.
Three weeks after the hurricane, the government is now handing out 1 million water purifying tablets as well as 20,000 high volume water filters. Back at the Garden of God Pentecostal Church in Canovanos, the widow asks "Why was he taken away?"
People are so desperate to find clean drinking water in isolated areas of the island, the Environmental Protection Agency says there are reports of Puerto Ricans getting drinking water from wells at hazardous waste sites.
Thanks for reading CBS NEWS.
Create your free account or log in
for more features.