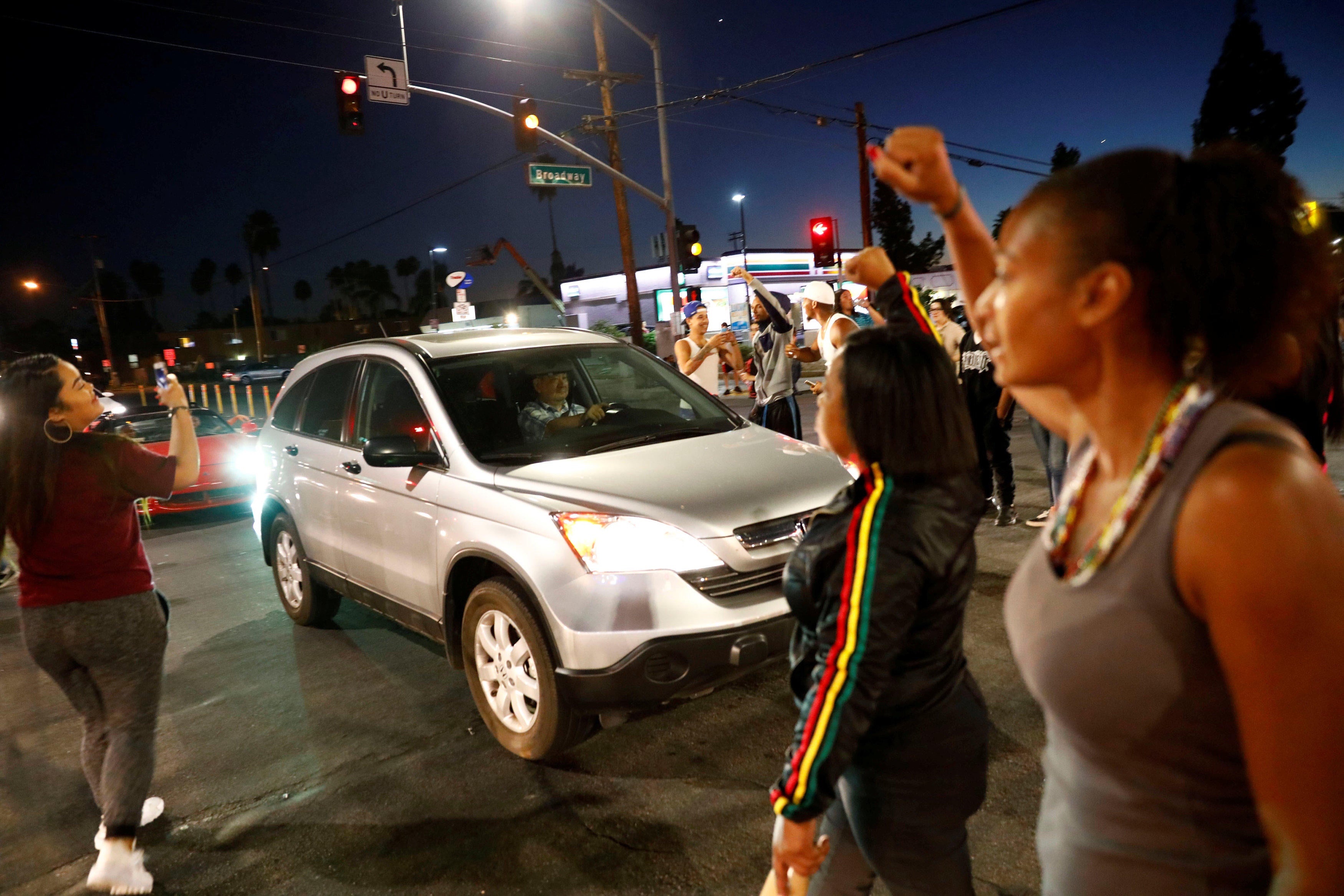 Protests over police shooting near San Diego grow more violent
EL CAJON, Calif. -- Angry protests flared for the third straight night Thursday after a family attorney charged that an unarmed black man was unjustly killed by El Cajon police, and that officials were trying to sway public opinion by only releasing a single, favorable frame from video of the shooting.
Demonstrators contend that the officer was unduly quick to open fire and that the decision was at least in part racially motivated, notes CBS San Diego affiliate KFMB-TV.

"These senseless killings have to stop -- not just in El Cajon but in the entire country,'' community activist Estela De Los Rios remarked to the station.
Earlier in the day, Alfred Olango's family gathered with lawyers and religious leaders and urged people to continue demonstrating but implored them to do it peacefully to honor his memory.
Olango's anguished mother said her son was a good, joyful man who suffered a "mental breakdown" over the recent death of his best friend and needed compassion when police encountered him. Pamela Benge said her family had escaped strife-torn Uganda to come to the U.S. for safety and she asked why police didn't just shock her son with a stun gun or shoot him in the leg.
"He needed someone who was going to calm him down and then take care of the situation," she said, her voice thick with emotion and dark glasses covering her eyes. "Not to come and just finish his life."
Olango's sister had called police three times Tuesday to report that he was sick, "not acting like himself," and was walking in traffic. It took officers more than an hour to respond. Once they arrived, the shooting took place within about a minute.
Critics have questioned why personnel with special training to deal with the mentally ill were not dispatched after police received a report that Olango was behaving erratically, KFMB notes.
Police later said a Psychiatric Emergency Response Team clinician was on another call at the time.

Christopher Rice-Wilson of Alliance San Diego attributed what befell Olango to "three strikes'' -- being black, being mentally ill and not following orders.

"Black lives matter,'' Rice-Wilson said to KFMB. "And if a black life doesn't matter, then no life matters.''
Later, fewer but more violent protesters were in the streets for Thursday's third night of demonstrations.
Between 50 and 75 people marched through streets and blocked intersections until police used pepper-spray balls to break them up.
Some got into fights with drivers who were angry over blocked traffic, at times breaking car windows and in one case pushing a man off his motorcycle, police said. Some threw bottles at police.
Two men, ages 19 and 28, were arrested for failing to end an unlawful assembly, police said.
Authorities released a still frame from a bystander's video that showed the 38-year-old Olango with his hands together at chest level and pointed at an officer directly in front of him. Police Chief Jeff Davis said Olango refused to obey orders to remove a hand from his pants pocket and was shot after he swiftly drew an object from his front pocket and pointed at the officer in a "shooting stance."
The object turned out to be a 4-inch electronic cigarette, known as a vape pen.
A lawyer representing Olango's family said at a news conference that authorities were misinforming the public by only showing a single image from the video that supports the El Cajon Police Department's version of events.
"It's a wonderful way if you're litigating a case in the media," attorney Dan Gilleon said. "It fits a perfect narrative for them."
Family representatives demanded that the full video be shown.
The El Cajon mayor defended the decision to release the single frame, saying it accurately represented the situation the two officers faced.
"I thought it was way too incendiary to not release something," Mayor Bill Wells said.
Wells said he reached that decision with the police chief and District Attorney Bonnie Dumanis to release the image to counter reports from people saying Olango had his hands in the air and was begging not to be shot. Wells said the video footage did not show either of those things.
Wells said he met with leaders of the black community Thursday who told him releasing the video immediately could help prevent violence. Wells said he wants to talk to the district attorney to discuss why the video should not be released immediately.
The San Diego district attorney's office, which controls when videos of officer-involved shootings are released, said there is no time frame for when it will release the video.
The fatal shooting happened less than two weeks after black men were shot and killed by police in Tulsa, Oklahoma, and Charlotte, North Carolina, where violent protests broke out.
Police in both those cities have released videos of the shootings. A Tulsa officer was charged with manslaughter in the fatal shooting of a motorist.
Olango arrived as a refugee in 1991 and was twice ordered deported because of a 2001 conviction for selling cocaine, U.S. immigration authorities said.
But he was released from detention after his native Uganda refused to take him. A U.S. Supreme Court ruling bars detention of foreign nationals after six months if deportation is unlikely.
Immigration authorities took Olango into custody in 2009 after he served nearly four years for a federal firearms conviction in Colorado but were again unable to obtain travel documents.
Immigration and Customs Enforcement said Olango stopped reporting to officers in February 2015. Spokeswoman Virginia Kice did not know if officers tried to find him after that.
Olango's mother said the family came to the U.S. as refugees and she just wanted them to have a better, safer life.
"I wanted the children not to be running around, being in fear every night, sleeping in the bush," she said. "I thought a lovely, nice country like this would protect us."
She said she had grieved and prayed for other parents who had lost children in recent shootings by police in the U.S., but "didn't know that the next time it would be me." She now understands their suffering.
"There is nothing as painful," she said as family members stood nearby wiping tears from their eyes. "It is so much that you cannot swallow it. You try to swallow it, but the pain overweighs you. It is so bitter."
Thanks for reading CBS NEWS.
Create your free account or log in
for more features.