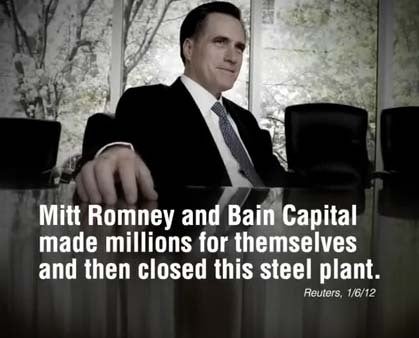 Priorities USA Action ad revives Bain attack
(CBS News) As Mitt Romney tries to reshape his campaign message to focus on the middle class, the pro-Obama super PAC Priorities USA Action is hitting back with an attack on his record at Bain Capital.

The super PAC's new ad revives a specific line of attack employed by the Obama campaign and stars the same disgruntled steelworker featured in an Obama ad in May.

In the new Priorities ad, called "Understands," former GST Steel employee Joe Soptic recounts how he lost his job and health benefits after Bain Capital -- the private equity firm founded by Romney -- purchased and shut down the Kansas City plant. Soptic's wife was ill but could not afford to go to the doctor; by the time she went to the hospital, she was already dying of cancer.

"I don't think Mitt Romney understands what he's done to people's lives by closing the plant," Soptic says in the minute-long spot. "I don't think he realizes that people's lives completely changed."

The ad is part of a $20 million television and online campaign that scrutinizes Romney's business record and its impact on the middle class.

If the story sounds familiar, that's because Soptic appeared in a two-minute Obama ad that aired in five battleground states in May. In that ad, Soptic lamented that Bain sought to eliminate GST Steel's pension plan and retiree benefits. "Those guys were all rich, they all had more money than they'll ever spend, and yet they didn't have the money to take care of the very people that made the money for them," he said.

According to Federal Election Commission rules, super PACs are allowed to support a candidate -- as long as they don't directly coordinate with that candidate's campaign. Priorities USA Action said it filmed this ad months ago, independent of any other campaign or committee.

While using the same steelworker in an ad may seem like coordination, it's just the latest example of how narrow the rules are. For instance, as the New York Times reported, some super PACs and the campaigns they support have worked with the same consultants (Priorities, however, doesn't share any vendors with the Obama campaign). Additionally, some super PACs were founded by former aides to the candidates they support; Priorities USA Action, for instance, was founded by former Obama White House officials.

If Soptic's re-emergence means anything, it's that both the Obama campaign and Priorities USA Action see his story as an effective way to counter Romney's pitch to voters.

Romney has sought to cast himself as an effective manager who can turn the economy around using his private sector experience. In recent days, Romney has specifically talked about helping the middle class, hammering Mr. Obama for the still-sluggish economy. After the Labor Department reported that the unemployment rate ticked up to 8.3 percent in July, Romney called the jobs report "another hammer blow to the struggling middle class."

As Romney has attacked Mr. Obama for his economic record, he's run his own ads featuring working-class, white males. Those ads have criticized Mr. Obama for saying at a campaign stop, "If you've got a business, you didn't build that. Somebody else made that happen." (Read more about Mr. Obama's remarks and the Romney attacks here.)

Blue collar white males, like Joe Soptic and those featured in the Romney ads, could be critical in this year's election in Rust Belt states like Ohio and Pennsylvania. Democrats, and Mr. Obama in particular, have struggled to appeal to that demographic. Recent polls show Mr. Obama performing well against Romney in Ohio and Pennsylvania, but to win Pennsylvania, for instance, he'll have to bolster his support in working class areas like Pittsburgh.
Thanks for reading CBS NEWS.
Create your free account or log in
for more features.