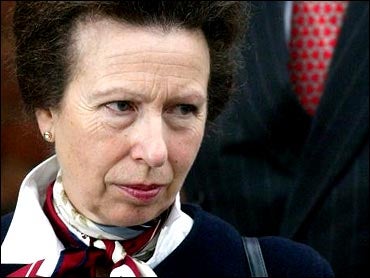 Princess Anne's Kidnapping Ordeal
Princess Anne argued with a gunman who tried to kidnap her 30 year ago after ambushing her car and shooting four people and she distracted him enough that security officers were able to capture him, according to government documents released Saturday.
Queen Elizabeth II's only daughter told authorities she grew so angry, she feared she might try to hit the assailant and provoke him into shooting her.
Anne refused to get out of her car when Ian Ball used his own car to block her party near Buckingham Palace late on March 20, 1974. He shot her driver, a bodyguard, a policeman and a reporter who was following the princess in a taxi.
Ball, a 26-year-old petty burglar with mental problems, then pointed his gun at the princess and demanded: "I want you to come with me for a day or two, because I want two million pounds. Will you get out of the car?"
She replied, with heavy irony: "Bloody likely; and I haven't got two million pounds."
Adjusting for inflation, that is equivalent to 13 million pounds today, or about $25 million.
The details are contained in a secret report written the next day for Prime Minister Harold Wilson. It was released by the National Archives under a rule that allows state documents to be published after 30 years.
In the paper, Wilson's private secretary, Robert Armstrong, quoted the princess as saying: "It was all so infuriating; I kept saying I didn't want to get out of the car, and I was not going to get out of the car. I nearly lost my temper with him, but I knew that if I did, I should hit him and he would shoot me."
After repeatedly refusing Ball's demands to get out, Anne opened the door on the side away from Ball, drawing him to move into the path of security officers, the report said.
"So she made a dive for the door and sure enough, Ball fell for it; he dashed round to the other side and was apprehended," Armstrong reported.
Ball pleaded guilty to attempted murder and attempted kidnap and was imprisoned indefinitely under the Mental Health Act.

Thanks for reading CBS NEWS.
Create your free account or log in
for more features.