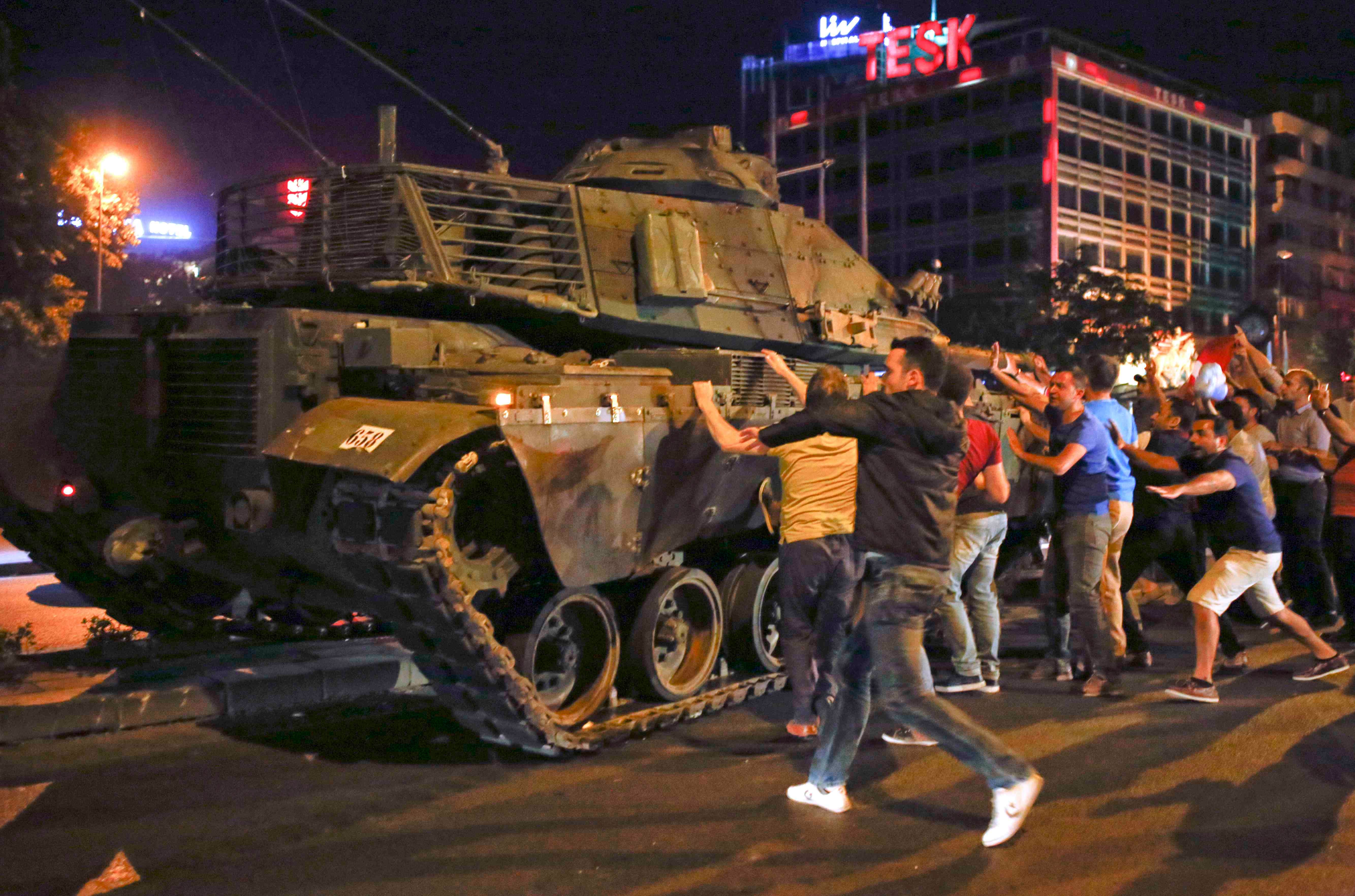 Uncertainty in Turkey after military faction coup attempt
ANKARA, Turkey -- A group within Turkey's military engaged in what appeared to be an attempted coup, the prime minister said, with military jets flying over the capital and reports of vehicles blocking two major bridges in Istanbul.
Chaos and unrest continued overnight on the streets of Istanbul and the capital, Ankara, hours after the uprising began. Gunfire and explosions were reported in both cities amid clashes between the government, the military faction and the public.
A senior Turkish government official told CBS News at least 60 people had been killed in violence across the country, and more than 300 people arrested for taking part in the uprising.
Anadolu Agency said 17 of the dead were police officers, killed in a helicopter attack on the special forces headquarters on the outskirts of Ankara.
Early Saturday, Turkish President Recep Tayyip Erdoğan characterized the coup supporters as "a minority within the military."
"Those who drive around in tanks will have to go back to where they came from..." he said. "The most important thing right now is that millions of Turkish citizens are on the streets at 4.30 a.m."
He insisted that his government remained in control.
"Turkey has a democratically elected government and president. We are in charge and we will continue exercising our powers until the end," Erdoğan said. "We will not abandon our country to these invaders. It will end well."
Erdoğan warned "they will pay a heavy price for their treason to Turkey," according to a transcript of his remarks provided by his office. "Those who stain the military's reputation must leave. The process has started today, and it will continue just as we fight other terrorist groups."
However, Erdoğan acknowledged his general secretary was abducted and that there was no information on the chief of the military staff, who had reportedly be taken hostage.
Likewise, people in Turkey reported on social media that they witnessed gunfire and heard blasts even after Erdoğan's announcement claiming that the coup was effectively over.
Earlier in the night, a few hours after the coup attempt began, Erdoğan spoke with a private Turkish TV network on a live video-streaming app, urging the public to reject the uprising.
"I urge the Turkish people to convene at public squares and airports," Erdoğan said. "There is no power higher than the power of the people. Let them do what they will at public squares and airports."
He continued, "The chain of command has been violated. This is a step against the higher ranks by their superiors. The judiciary will swiftly respond to this attack. I invite the people to public squares."
After Erdoğan's appearance, live video appeared on social media showing crowds of people gathering in public squares in Istanbul and Ankara.
As dawn broke Saturday, Prime Minister Binali Yildirim told state-run Anadolu Agency hundrefds of arrests were being made. "Things are getting better every minute," Yildirim said.
He called on people to remain in the streets to support the government and appealed for patience. He said a few air force planes flown by coup plotters remained in the air, but had earlier ordered those aircraft to be shot down.
Yildirim called all legislators for an emergency meeting on Saturday.
Anadolu Agency reported early Saturday that a bomb had hit the Turkish parliament in Ankara. CNN-Turk television said some police officers and parliament workers were hurt in the bombing.
A resident living not far from the area told the Associated Press he heard a massive explosion that shook buildings and saw a column of smoke but could not confirm if it was coming from parliament itself.
An F-16 fighter jet shot down a Sikorsky chopper hijacked by the coup plotters, a source in Erdoğan's office told CBS News. It was unclear if it was the same helicopter used in the strike against the police building in Ankara where 17 officers were killed.
An official at Haydarpasa Numune Hospital in the Uskudar district of Istanbul told the Associated Press at least 150 wounded were being treated.
The official refused to comment whether there were fatalities. He spoke on condition of anonymity because he wasn't authorized to speak to the media.
Earlier, NTV reported that six dead were brought to the same facility.
CBS News foreign correspondent Holly Williams reported from Istanbul that Erdoğan has spent time trying to decrease the influence of the military, in effect attempting to "defang" the armed forces.
An extremely polarizing figure, Erdoğan became president in 2014. Prior to that, he was prime minister and the mayor of Istanbul.
"People either love him or loath him. There is really nothing in between," Williams told CBSN.
Williams said soldiers and military vehicles were blocking traffic on the Bosporus and Fatih Sultan Mehmet bridges in Istanbul. Military jets repeatedly were seen flying low over the city, according to Williams. All flights to and from Istanbul's Ataturk airport were also cancelled.
Early on, an announcer on state-run TRT television said members of the military had entered the station and demanded the network broadcast additional information, including that a curfew was in place and that martial law had been imposed.
The announcement said a "peace council" had been established to maintain order and that a new constitution would be prepared as soon as possible. TRT was later taken off the air, as were other private television networks.
The military faction said in a statement it seized control "to reinstall the constitutional order, democracy, human rights and freedoms, to ensure that the rule of law once again reigns in the country, for the law and order to be reinstated."
The statement went on to say that "all international agreements and commitments will remain. We pledge that good relations with all world countries will continue."
A State Department source and a U.S. intelligence official confirmed to CBS News a change of command was expected to take place next month for Turkey's military. There was speculation that some in the military did not like who Erdoğan was going to place in control.
A source in Erdoğan's office responded to CBS News by saying the appointments were routine and happen every year. The source said the coup attempt was launched by the Gulen Movement, named for reclusive preacher Fethullah Gulen.
Several known Gulenists have hinted about the possibility of a coup in recent months, according to the source.
Gulen has been in exile in the United States since the 1990s. His movement released a statement denying any involvement in the coup attempt.
The Alliance for Shared Values said "we condemn any military intervention in (the) domestic politics of Turkey."
Erdoğan has launched a broad campaign against Gulen's movement in Turkey and abroad. The Erdoğan regime has carried out a purge of civil servants suspected of ties to the movement, seized businesses and closed some media organizations.
Gulen has been charged criminally with plotting to overthrow the government, and was placed on trial in absentia in Turkey earlier this year. Erdoğan's government has asked the U.S. to extradite him.
The White House said President Barack Obama spoke with Secretary of State John Kerry, who was in Moscow on Friday to meet with the Russian foreign minister about the situation in Syria.
"The President and Secretary agreed that all parties in Turkey should support the democratically-elected Government of Turkey, show restraint, and avoid any violence or bloodshed," a White House statement read. "The Secretary underscored that the State Department will continue to focus on the safety and security of U.S. citizens in Turkey."
Speaking briefly to reporters in Moscow, Kerry said he could not comment further on the situation but added, "I hope there will be peace and stability and continuity within Turkey."
Early on in the revolt, the State Department told U.S. citizens in Turkey to "shelter in place and stay indoors," and to notify their friends and family that they were safe.
As CBS News foreign affairs correspondent Margaret Brennan reported from the State Department, Turkey is a NATO member, which binds the U.S. to help protect it. Turkey has also been an important regional ally in the U.S.-led coalition fighting the Islamic State of Iraq and Syria (ISIS).
NATO's chief called for "full respect" for Turkey's democratic institutions and constitution.
"I have just spoken to the Turkish Foreign Minister Mevlut Cavusoglu," NATO Secretary-General Jens Stoltenberg said in a statement issued early Saturday. "I am following events in Turkey closely and with concern."
In an expression of support for President Tayyip Erdogan and his government, Stoltenberg said: "I call for calm and restraint, and full respect for Turkey's democratic institutions and its constitution."
He added: "Turkey is a valued NATO Ally."
There are more than 2,000 American troops at Incirlik Air Base in southern Turkey, near the Syrian border. Keeping those troops in place is a priority for the U.S., which launches airstrikes against ISIS from Incirlik.
The U.S. has recently been very concerned about Erdoğan's increasingly authoritarian tendencies, according to Brennan. He has been silencing critics, journalists and trying to crush Kurds pushing for independence.
Two weeks ago, 44 people were killed in a triple suicide bombing at Istanbul's airport. Turkish officials believe ISIS was responsible for the attack.
Thanks for reading CBS NEWS.
Create your free account or log in
for more features.