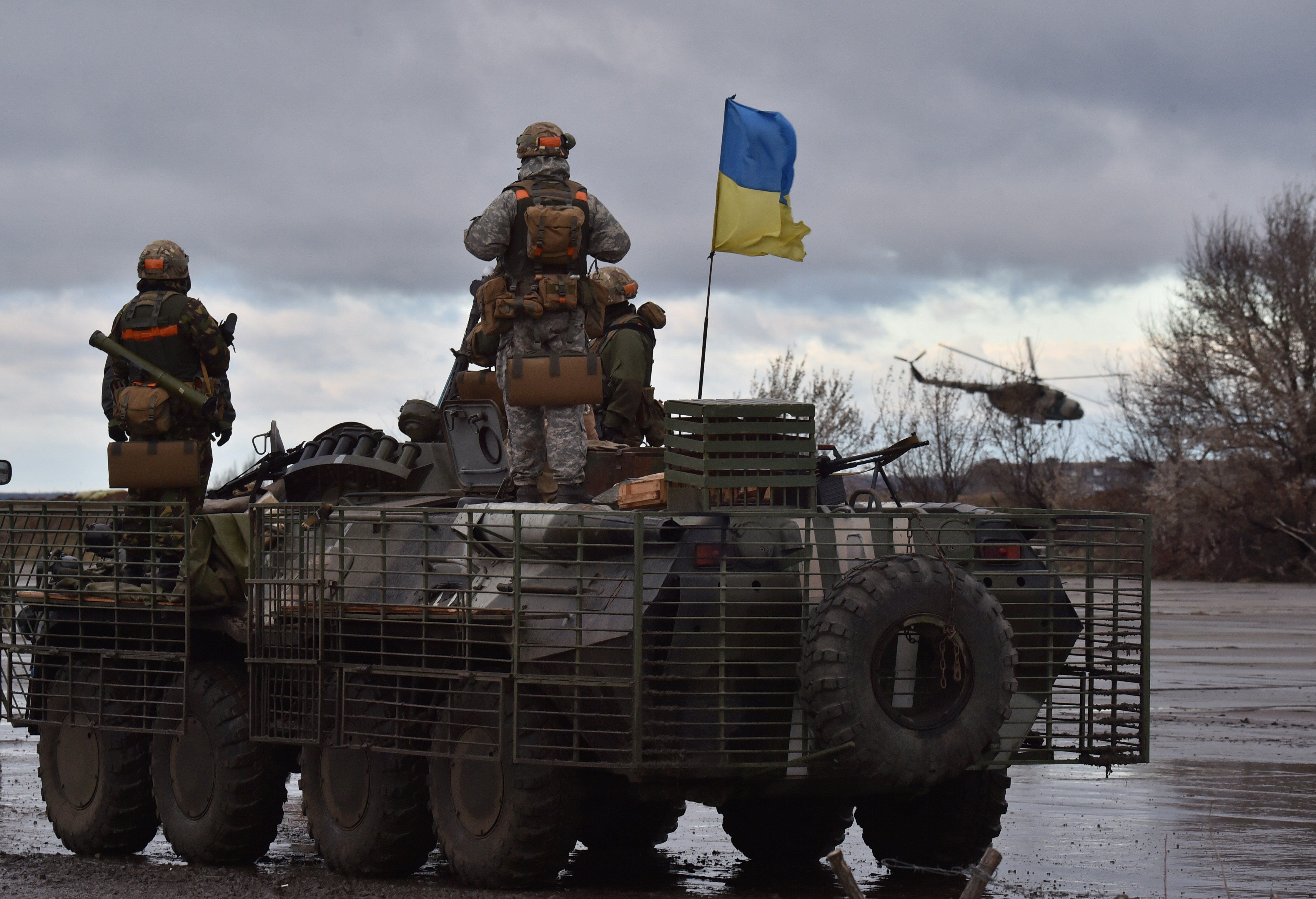 Pressure mounts on Obama to arm Ukraine troops
It's been nearly one year since pro-Russian separatists began seizing territory in the Crimean region of Eastern Ukraine, enabling Russia to annex the peninsula and set off months of increasingly bloody clashes between pro-Russian forces and the Ukrainian government. Now, President Obama is coming under increasing pressure from Democrats, Republicans, and former defense and national security officials to do what he has resisted for months: send lethal weapons to the Ukrainian government.
The conflict, which largely faded into the background amid more immediate threats to U.S. security like the rise of the Islamic State of Iraq and Syria, is taking on renewed urgency as increased fighting between pro-Russian rebels and the Ukrainian military is resulting in more and more civilian deaths.
Those who argue in favor of giving the Ukrainian military better offensive and defensive weapons say they are under no illusions that Ukrainian troops can ever defeat their Russian counterparts. What they can do is make further aggression and escalation so costly for the Russians that they see no choice but move toward a diplomatic solution, Steven Pifer, a former ambassador to Ukraine and senior fellow at the Brookings Institution, told CBS News.
"Further escalation is not easy for Russia because they then have to make it less of a separatist conflict and then they have to use the Russian army more," Pifer said. It will make it "that much harder to hide casualties from the Russian public, which the Kremlin is desperately trying to do."
"I don't think Putin cares about dead Russian soldiers, but I do think he does care about the political impact of that," Pifer added.
He and a group that includes former American ambassadors to Ukraine, U.S. Defense Department officials and NATO leaders released a report earlier this month that called for the U.S. government to provide Ukraine with $1 billion in direct military assistance as soon as possible in 2015, followed by another $1 billion in 2016 and 2017.
So far, Congress seems willing to spend at least a little on Ukraine. A bill passed at the end of 2014 authorized $510 million in funding for Ukraine over the next three years, although it was limited to nonlethal military aid.
But a growing number of lawmakers from both sides of the aisle are telling Mr. Obama it's time to put weapons directly in the hands of the Ukrainian military.
"You just can't stand by and watch people being slaughtered with superior equipment. You know, blankets don't do very well against tanks," Senate Armed Services Committee Chairman John McCain, R-Arizona, said at a press conference Thursday.
McCain argued, as Pifer did, that defensive lethal assistance won't allow the Ukrainian military to beat Russia's forces, but will "raise the risks and the cost Russia must incur to continue its offensive."
"It will pierce the veneer of the Kremlin's cynical and false narrative that there are no Russians in Ukraine," McCain said.
He was joined not only by Sens. Lindsey Graham, R-Arizona, and Kelly Ayotte, R-New Hampshire, his usual allies, but by a broader group that included Sen. Jack Reed of Rhode Island, the top Democrat on the Armed Services Committee, and eight other committee members on both sides of the aisle.
"Make no mistake: Sanctions are not working. Ukrainians are being slaughtered. And we have a role to play in imposing restraint," Sen. Richard Blumenthal, D-Connecticut, said. "We need to see that Putin understands nothing but force."
The looming concern among those who are urging the U.S. to arm the Ukrainians now is that Russia will conclude the hybrid warfare tactics applied in Ukraine were successful, and try to apply them to countries like Estonia or Latvia. Those countries are members of NATO, and the U.S. would be bound by its treaty obligations to come to their aid in the event of an armed attack.
"My guess is if we don't take this opportunity we could find ourselves down the road a few months from now watching greater Russian military action and wishing we had," Pifer said.
On the other side of the debate are those who say giving more arms to the Ukrainians will only escalate the conflict further in a way that could force the U.S. to get involved even more.
U.S. Air Force Gen. Philip Breedlove, the top NATO commander, told the Associated Press Thursday that any action by the U.S. or its Western allies "could trigger a more strident reaction from Russia."
Jeremy Shapiro, a Brookings fellow and former State Department staffer, said the U.S. and its allies are calculating a strategy out of desperation and need to think longer term.
"If U.S.-provided weapons fail to induce a Russian retreat in Ukraine and instead cause an escalation of the war, the net result will not be peace and compromise. There has recently been much escalation in Ukraine, but it could go much further," Shapiro wrote in a recent analysis. "As horrible as it is, the Ukrainian civil war still looks rather tame by the standards of Bosnia, Chechnya or Syria. Further escalation will mean much more violence, suffering and death in Ukraine."
Some U.S. allies seem to have drawn the conclusion that the current strategy of heavy sanctions on the Russian economy is the best way to force Russia to back down. In a press conference earlier this week, German Chancellor Angela Merkel announced that Germany would not send lethal weapons to Ukraine.
"It is my firm belief that this conflict cannot be solved militarily," Merkel said.
But Pifer said it is notable that she did not try to dissuade other countries from sending weapons to Ukraine. In his own meetings with representatives from NATO countries last month, he came away with the impression that countries like Poland, the Baltic States and Canada would be prepared to provide weapons, but "they need the Americans to move first for political cover." Merkel is also scheduled to visit the president on Monday.
The Russians will be keeping a close eye on any moves the U.S. makes and respond accordingly, said CBS News Senior National Security Analyst Juan Zarate.
"I think its very important that if we...actually make a decision to do the arming and to do it well, if we do it in half measures and it's delayed the Russians will see that as weakness and it may even spark further adventurism," he said.
Despite his previous reluctance to provide arms to the Ukrainians, Mr. Obama is now reportedly reconsidering. Secretary of State John Kerry, who was in Kiev Thursday meeting with Ukrainian leaders, said the president is reviewing "all of his options."
"The president will make his decision, I am confident, soon, but not before he's had a chance to hear back from myself, from others who are having conversations in Europe at this time - the meetings at the Munich conference and, of course, the meeting with Chancellor Merkel will be very important on Monday. And then when the President deems it necessary or is ready, he will make his decision," Kerry said.
Thanks for reading CBS NEWS.
Create your free account or log in
for more features.