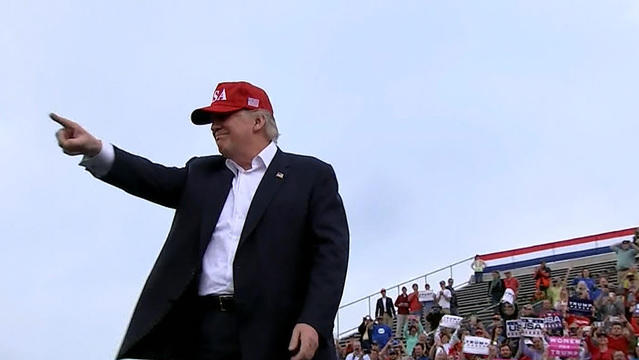 President-elect Donald Trump could soon make over 100 judicial appointments
President-elect Donald Trump will likely have the chance to make over 100 judicial appointments, the Washington Post reports.
Mr. Trump will inherit an estimated 103 such vacancies throughout federal and district courts, allowing him and his Republican allies to reshape the judiciary with dozens of lifetime appointments. President Barack Obama only inherited 54 such vacancies from his predecessor, President George W. Bush.
The prospect of judicial appointments is thought to have helped mobilize Republicans behind Mr. Trump, particularly among conservative evangelical Christians.
This is particularly true when it comes to the Supreme Court, where Mr. Trump will nominate the successor to Justice Antonin Scalia, who died earlier this year. Mr. Obama's choice for that position, Judge Merrick Garland, never saw his nomination brought to a vote by the GOP-controlled Senate.
During the campaign, Mr. Trump released two lists of conservative legal figures who could replace Scalia. Mr. Trump promised to appoint a justice in the mold of Scalia, and personally mentioned judges Diane Sykes and Bill Pryor, two well-known conservative jurists, as possibilities to fill the slot.
Democrats say that the high number of judicial appointments Mr. Trump has inherited is due to an unprecedented level of obstructionism by the Republican Congress.
"Republican tactics have been shameful and will forever leave a stain on the United States Senate," said White House spokesman Eric Schultz. "Republican congressional dysfunction has now metastasized to the third branch of government, and that is not a legacy to be proud of."
Republicans, meanwhile, are optimistic Mr. Trump will appoint judges who will reflect conservative opinions on a wide array of issues, from gun control and abortion access to regulatory reform.
A number of long vacancies in numerous judicial seats have created a substantial backlog, increasing the pressure for Mr. Trump and his Republican allies to quickly fill the positions. "There are people and companies who are not having their cases heard because there are no judges around," W. Neil Eggleston, Mr. Obama's White House counsel, told the Post.
The Federalist Society, an association of conservative legal figures, and the Heritage Foundation, a conservative think tank, are said to be working closely with the incoming administration to identify potential nominees. The Post reports that incoming White House Counsel Don McGahn will also play a substantial role in choosing appointments.
The majority of judges on the district and circuit court level are currently Democratic appointees, although Russell Wheeler, an expert on judicial nominees at the Brookings Institution, told the Post that he expects that to soon change.
By the mid-2020s, Wheeler said, Republicans will likely have appointed half of the 673 district judgeships. And while Democratic appointees currently fill 51 percent of the 179 circuit court judgeships, that number could fall to 43 percent in the coming years.
But despite a slim Republican majority in the Senate, which confirms judicial nominees, the nomination process will likely prove acrimonious, with Democrats taking a page from the GOP playbook and pushing back hard on potential appointees.
Per Senate tradition, nominees are only considered for confirmation if both of a nominee's home state senators support the appointment. With 28 states currently represented by at least one Democratic senator, the situation is ripe for a tremendous amount of high-stakes bargaining.
As Wheeler told the Post: "The president doesn't always get exactly who he wants."
Thanks for reading CBS NEWS.
Create your free account or log in
for more features.