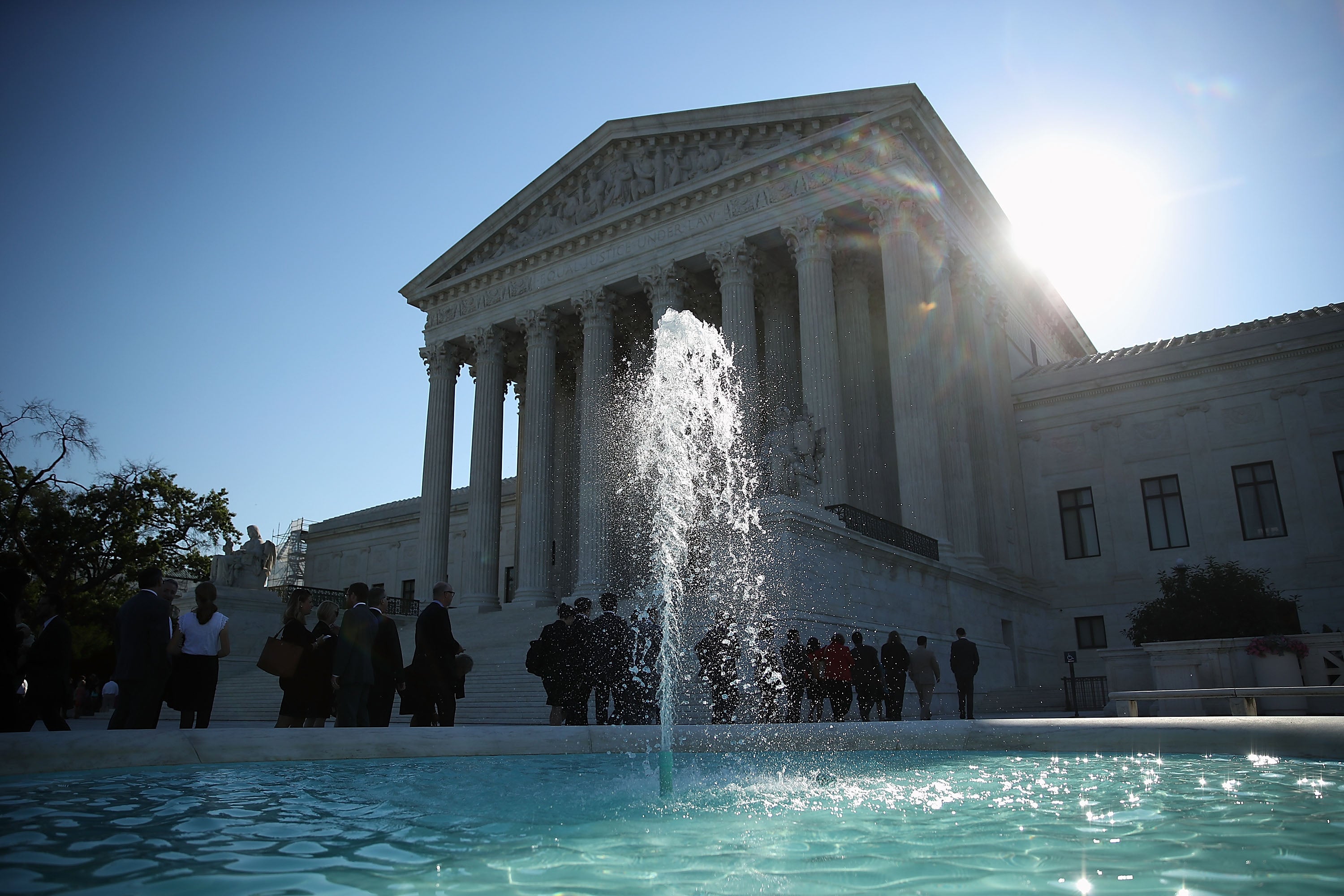 Donald Trump expands list of possible Supreme Court picks
In an announcement Friday, Donald Trump added ten more names to his list of possible Supreme Court nominees
Here are the GOP nominee's added picks:
Sen. Mike Lee, R-Utah

Neil Gorsuch, a judge of the Tenth Circuit Court of Appeals

Margaret Ryan, a judge of the U.S. Court of Appeals for the Armed Forces

Edward Mansfield, a justice of the Iowa Supreme Court

Keith Blackwell, a justice of the Georgia Supreme Court

Charles Canady, a justice of the Florida Supreme Court

Timothy Tymkovich, chief judge of the Tenth Circuit Court of Appeals

Amul Thapar, a judge of the U.S. District Court for the Eastern District of Kentucky

Frederico Moreno, a judge of the U.S. District Court for the Southern District of Florida

Robert Young, chief justice of the Michigan Supreme Court

Trump already circulated a list of 11 potential candidates in May, following long speculation over who the GOP nominee would choose to fill the late Justice Antonin Scalia's empty seat. Most of the names he floated months ago hail from similar legal backgrounds as his latest list, with representatives from state Supreme Courts and judges on the U.S. Court of Appeals.
The senator on the list, Utah's Mike Lee, has refused to endorse Trump, and he had a list of reasons he gave to Newsmax's Steve Malzberg in June.
"We can get into the fact that he accused my best friend's father of conspiring to kill JFK," Lee said, referring to Texas Sen. Ted Cruz's father. "We can go through the fact that he's made statements that some have identified correctly as religiously intolerant. We can get into the fact that he's wildly unpopular in my state, in part because my state consists of people who are members of a religious minority church. A people who were ordered exterminated by the governor of Missouri in 1838. And statements like that make them nervous."
The Utah senator remains unmoved on Trump, even after the new list was made public.
"Sen. Lee already has the job he wants which is why he is campaigning to represent the great people of Utah again this year," Lee's communications director, Conn Carroll, said in a statement Friday. "This does not change Sen. Lee's mind about Trump in any way whatsoever."
One name on Trump's original list had drawn some attention for his colorful Twitter account: Justice Don Willett, on the Texas Supreme Court.
Willett frequently skewered Trump in his Twitter missives, even implying once that the New York businessman was a closet liberal.
As Chief White House Correspondent Major Garrett points out, for many conservatives still unsettled by Trump, the looming Supreme Court vacancies -- perhaps three or as many as four in the next few years -- weigh heavily on their mind. They see the generational damage to the court, to the country and to conservatism itself if Hillary Clinton appoints liberals to the bench. This would tip the balance and, depending on the number of slots filled, create a liberal majority for years. Specificity about potential Trump jurists addresses this anxiety and elevates the issue, showing that Trump is so concerned about the court, he's expanding his list. It's designed to solidify the conservative court-watchers, especially on social issues and executive power.
Putting Sen. Mike Lee, R-Utah, on the list is a play for former rival Sen. Ted Cruz's support and endorsement, as well as for the constitutional wing of the Tea Party conservatives. By putting Lee's name on the list Trump is signaling to Lee (Cruz's best friend in the Senate) and Cruz and their ilk that he's serious about their issues. Lee's placement on the list is conspicuous and can't be withdrawn. It's as big a public play as Trump can make.
Trump also wants a conversation in Republican circles about the Supreme Court before Monday's debate because concern over the makeup of the court can be the issue that tilts reluctant GOP voters his way. Trump is framing the debate a bit here, so even if he doesn't do well, he will have this issue as a sort of political life raft: Hey, Trump didn't do so hot, but remember the Supreme Court. This all may sound very granular, but the court is a unifying issue for Trump across varying constituencies in the GOP. The Trump campaign's own polling shows the court could be among its best weapons against Clinton, even outweighing other misgivings about Trump.
Thanks for reading CBS NEWS.
Create your free account or log in
for more features.