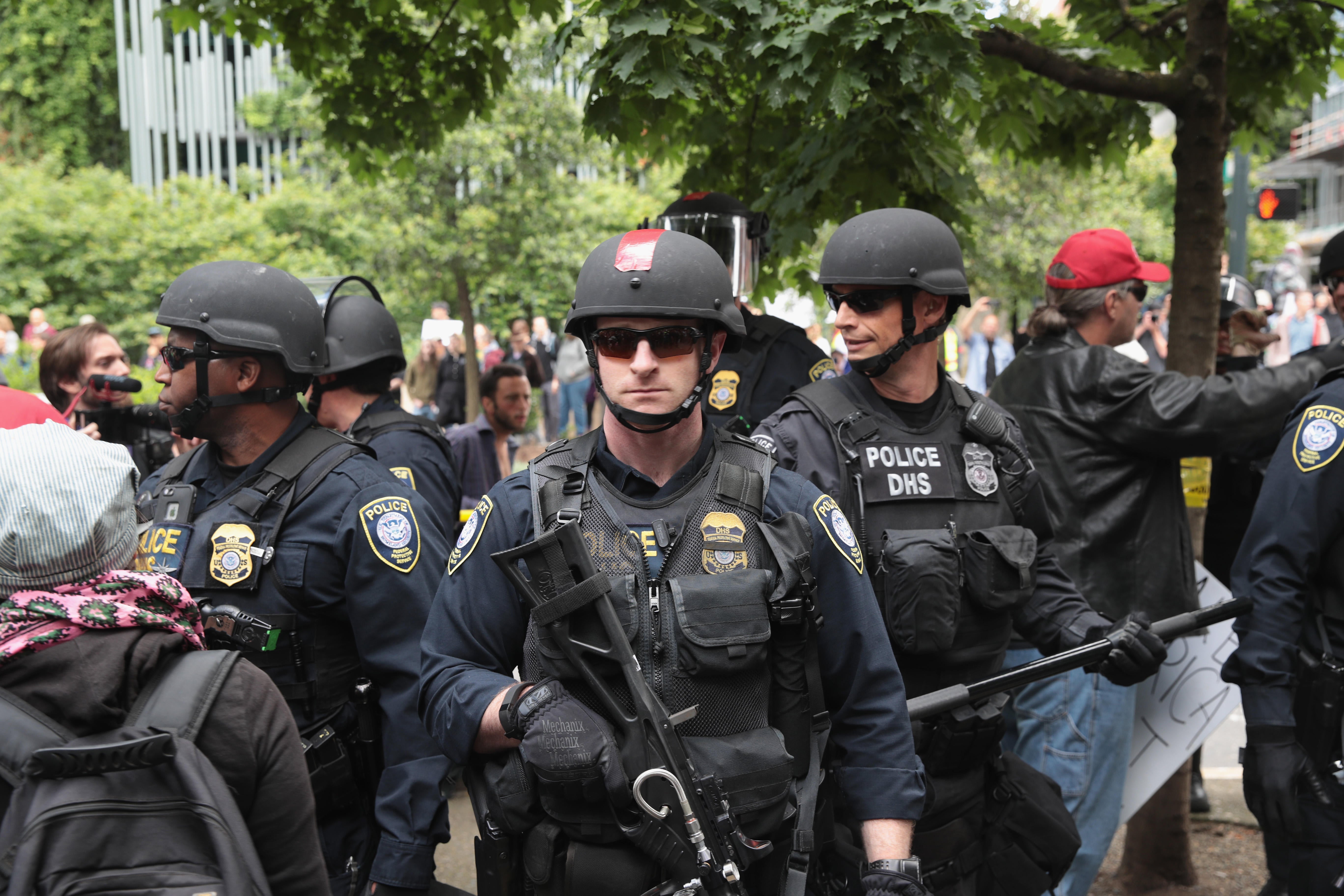 Portland protest: Arrests made as thousands gather for opposing rallies
PORTLAND, Ore. -- Police say at least 14 people were arrested in Portland, Oregon, Sunday as thousands gathered for opposing rallies following the fatal stabbing of two men who tried to stop another man's anti-Muslim tirade.
A total of at least 14 arrests were made throughout the day, and the number could rise, a Portland Police Department spokesperson told CBS News.
A pro-Donald Trump, free speech rally was organized by the conservative group Patriot Prayer that was met with groups of anti-Trump and anti-hate protesters.
Officials shut down at least one counter-protest at a public square in Chapman Square, because they say demonstrators were hurling bricks and other objects at officers.
Police said people gathered by Patriot Prayer and other counter-protesters at City Hall were not involved. They said they used "less-lethal chemical munition" such as tear gas to disperse the crowds.
Rally organizer Joey Gibson told the crowd that the goal was to wake up the liberty movement. "It's OK to be a conservative in Portland," he said. Demonstrators chanted "USA" and held banners in support of President Trump.
"We build our hope and our stamina for justice by showing up," Rev. Diane Dulin of the United Church of Christ said in a statement ahead of the rally.
More than 60 separate groups have gathered outside Portland City Hall, CBS affiliate KOIN-TV reports.
"Portland will take a deep breath and realize this is a moment we need to stand up for," Nico Judd, a protester with Portland Stands United Against Hate, told KOIN-TV.
Mayor Ted Wheeler unsuccessfully tried last week to get a permit for the event yanked, saying he feared violence after the May 26 killings. Counter protesters organized by religious and labor groups are also expected to show up downtown.
Police Sgt. Pete Simpson told CBS News that suspect in the light-rail stabbings, 35-year-old Jeremy Joseph Christian, attended a free speech march in April with a baseball bat to confront protesters. Simpson said the bat was quickly confiscated by officers.
Authorities say that on May 26 Christian killed two men and injured another on the light-rail train when they tried to help after he verbally abused two young women, one wearing a hijab. Christian is charged with aggravated murder and other counts.
Mat Dos Santos, the legal director for the American Civil Liberties Union of Oregon, has said it was wrong and unconstitutional for Wheeler to try to stop the demonstration based on the viewpoint of the organizers.
The concerns over the Portland rally come amid a wider debate in the U.S. about the First Amendment, often in liberal cities like Portland and Berkeley, California, and on college campuses, where violent protests between far-right and far-left protesters have derailed appearances by contentious figures.
Wheeler previously said that he will attend the rallies from the police command post. "The goal is to keep everybody separated, respect First Amendment rights for everybody to speak their piece," the mayor told KOIN-TV.
Dozens of officers in black protective gear and others on bicycles are in downtown Portland were working to keep groups separated on opposite sides of the street.
Officers say they want protesters to stay with their groups and not cross the street to escalate tensions. They warned people to not bring weapons or weapon-like objects to the rally and posted images to Twitter of objects they confiscated, including hockey sticks, a knife, batons, a homemade slingshot and a makeshift shield.
"Police working to keep all groups separated. Protesters should stay with their groups, not attempt to cross streets to escalate tensions," the department said on Twitter.
Thanks for reading CBS NEWS.
Create your free account or log in
for more features.