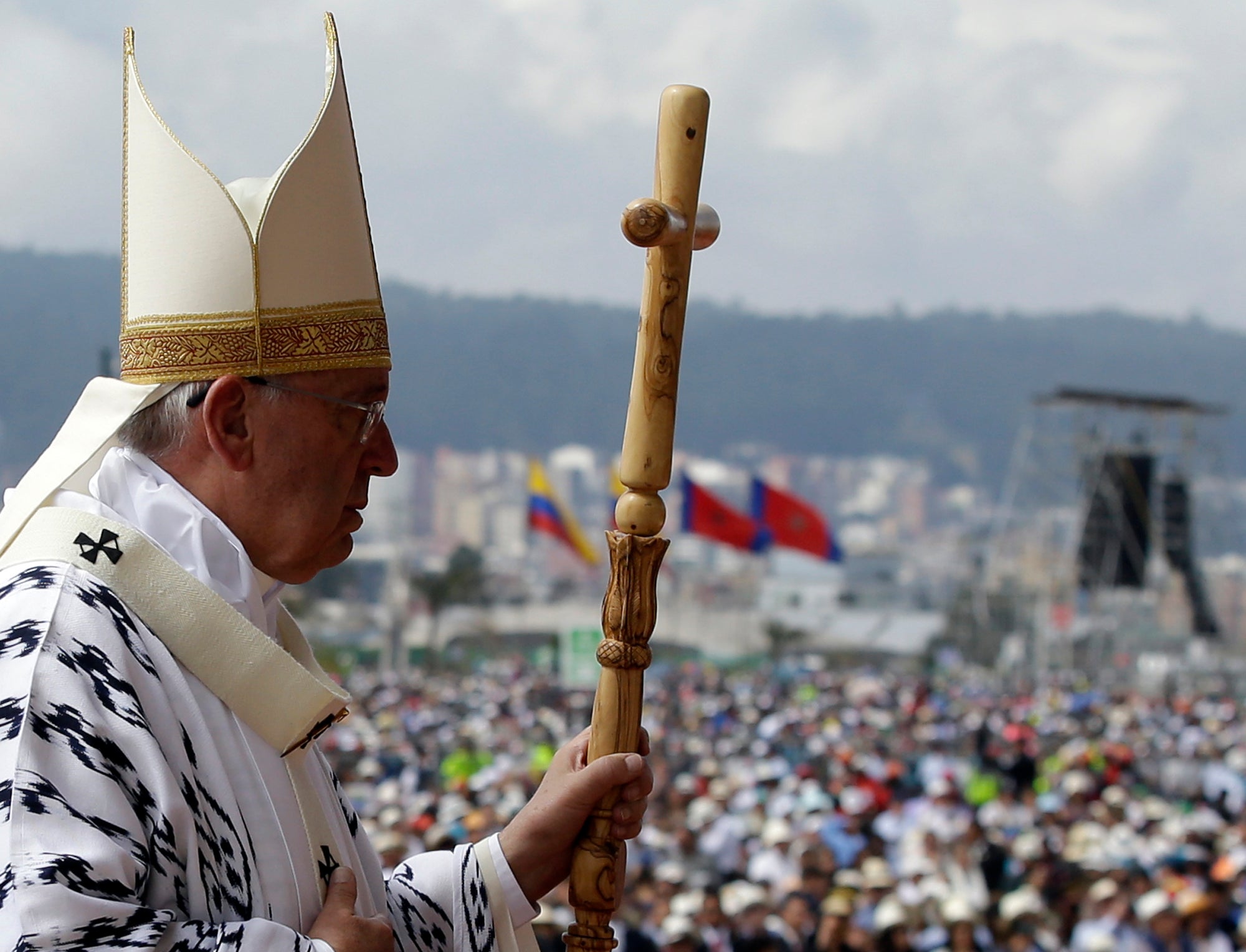 Pope Francis says humans "irresponsible" with environment
QUITO, Ecuador --Speaking to students and educators at a Catholic University in Ecuador's capital on Tuesday, Pope Francis delivered a strong speech in defense of the environment, warning that caring for the Earth is now no longer a recommendation, but an urgent requirement.
He said humans had damaged the planet by "our irresponsible use and abuse of the goods with which God has endowed it. We have come to see ourselves as her lords and masters, entitled to plunder it at will." He quoted from his recent document on the environment, the encyclical Laudato Sii. In that document, released in June, the Pope urged immediate action to combat climate change.
"It is wrong to turn aside from what is happening all around us, as if certain situations did not exist or have nothing to do with our lives," he said. He delivered equally strong words to a gathering of political, civic and cultural leaders immediately following.
"The tapping of natural resources, which are so abundant in Ecuador, must not be concerned with short-term benefits," he said. "The goods of the earth are meant for everyone."
Containing both the Galapagos Islands and Amazon rainforest, Ecuador has more biodiversity than any other country on earth. At the same time, it is heavily reliant on revenues from its oil reserves, which represent the country's chief source of income. Critics say that a planned increase in oil drilling, as well as mining, will put Ecuador's natural riches at risk.
Earlier in the visit, the Pope urged Ecuadorians to balance the need to increase the nation's wealth with the need to protect the environment.
Francis began his day by holding a mass for over one million people in Quito's Bicentennial Park. Many -- including families with small children -- had camped out all night in the cold and rain in order to stake a good spot to see him. Local media reported that 20 people suffered hypothermia from spending the night outdoors.
In his homily, the Pope urged Ecuadorians to work towards unity. He said that Catholics should work as "builders of peace in a world divided by war and individualism," and they should rely on their common Catholic values to work towards common hopes and ideals.
The Pope's visit has brought a temporary lull in demonstrations against the embattled left-wing government of President Rafael Correa. Correa's fiscal policies have angered many in the upper and middle classes, and demonstrations have rocked the capital for the past month.
Ecuadorians have welcomed Pope Francis with great enthusiasm, with large crowds lining the streets to see him in the Popemobile or outside venues. On Monday, an estimated 800,000 braved intense heat and humidity to attend the papal mass in the coastal city of Guayaquil.
Thanks for reading CBS NEWS.
Create your free account or log in
for more features.