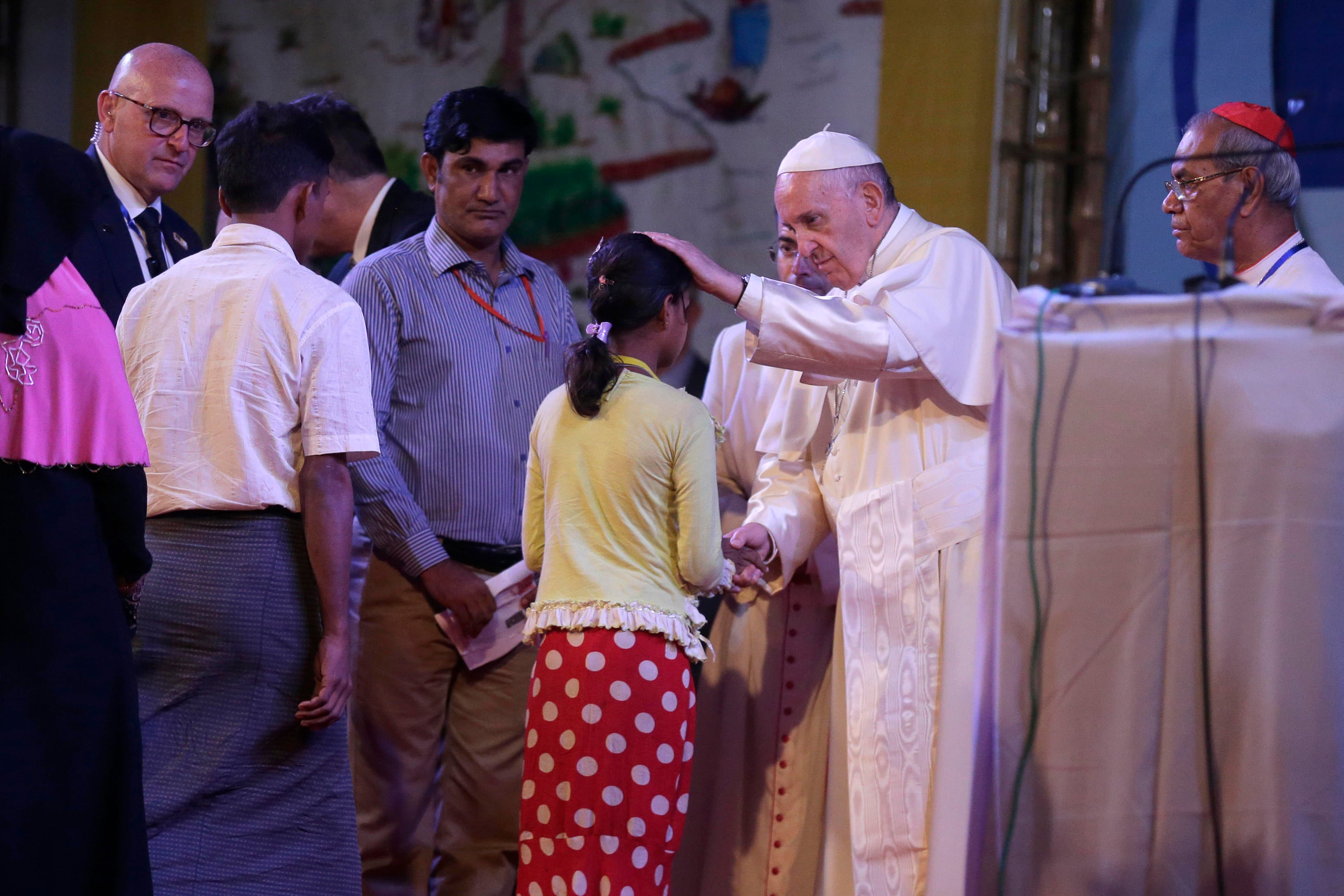 Pope Francis says "Rohingya" in emotional encounter with refugees
DHAKA, Bangladesh -- Pope Francis asked for forgiveness Friday from refugees in Bangladesh for all the hurt and persecution they have endured, demanded their rights be recognized and pronounced the word he had so assiduously avoided only days earlier in Myanmar: "Rohingya."
In a deeply moving encounter, Francis greeted and blessed a group of Rohingya Muslim refugees, grasping their hands and listening to their stories in a show of public solidarity amid Asia's worst refugee crisis in decades. He apologized for the "indifference of the world" to their plight and then pronounced the name of their ethnic group to a gathering of Muslim, Buddhist, Hindu and Christian leaders.
"The presence of God, today is also called 'Rohingya,'" he said.
The 16 Rohingya — 12 men, two women and two young girls — had traveled to Dhaka from Cox's Bazar, the district bordering Myanmar where refugee camps are overflowing with more than 620,000 Rohingya who have fled what the U.N. says is a campaign of ethnic cleansing by Myanmar's military.
The campaign has included the burning of Rohingya villages and fleeing Rohingya have described rape and shootings by Myanmar soldiers and Buddhist mobs that left them no option but to make the dangerous and sometimes deadly journey through jungles and by sea to Bangladesh.
The Myanmar government has denied any such campaign is underway. The army says "clearance operations" are targeting militants who attacked security positions in August.
Myanmar's government and most of the Buddhist majority recoil from the term "Rohingya," say the members of the Muslim minority are "Bengalis" who migrated illegally from Bangladesh. Myanmar doesn't acknowledge them as a local ethnic group and won't give them citizenship, even though they have lived in Myanmar for generations.
One by one, each one of the refugees approached the pope at the end of Friday's event in the tented garden of the Dhaka archbishop's residence. Francis blessed one little girl, placing his hand on her head, and grasped the shoulder of a young man. The women who approached him pushed aside their headscarves so they could speak, offering their hands out for him to hold.
"Maybe we can't do much for you, but your tragedy has a place in our hearts," Francis told them.
His voice trembling with emotion, he continued: "In the name of all those who persecute you, who have persecuted you, and those who have hurt you, above all in the indifference of the world, I ask you for forgiveness. Forgiveness."
Citing the "big heart" of Bangladesh that welcomed them in, Francis said: "Now, I appeal to your big hearts, that you are able to grant us the forgiveness that we seek."
He called for continued aid for the refugees, and continued advocacy "so that their rights are recognized."
"We won't close our hearts. We won't look away," he said.
Francis had refrained from publicly raising the crisis or using the word Rohingya while in Myanmar out of diplomatic deference to his hosts. The Holy See only established diplomatic relations with Myanmar in May, and the local Catholic Church had begged Francis not to create waves — and possible problems for them — by using the term.
Human rights organizations and Rohingya themselves had voiced disappointment at Francis' public silence, given he had previously denounced the persecution of "our Rohingya brothers and sisters" at the Vatican. The Vatican defended it as diplomatically necessary, and stressed that his silence in public didn't negate what he had said in the past, or what he was saying in private.
Prior to the pope's comments, the Rohingya who had traveled from Cox's Bazar urged him to recognize their identity publicly.
"He is the leader of the world. He should say the word as we are Rohingya," said Mohammed Ayub, 32, whose 3-year-old son was killed by the Myanmar military.
After the encounter, they seemed pleased that Francis had assured them of his prayers.
"He also said he would do whatever he can, and with Allah's help, all my troubles will go away," said refugee Abdul Khoyam. "He asked me to not lose patience."
Francis' encounter with the refugees was the highlight of his day that began with a Mass to ordain 16 new priests.
Bangladesh's tiny Catholic community represents a fraction of 1 percent of the majority Muslim population of 160 million. Despite its small size, the Catholic Church runs a network of schools, orphanages and clinics and has enjoyed relative freedom in its work, though Christian missionaries say they have received threats.
In his homily ordaining 16 new priests, Francis thanked those who came out for the Mass, noting that some people had traveled two days to attend.
"Thank you for your generosity," Francis said. "This indicates the love that you have for the church."
Later in the day, the Catholic community received welcome news: A Catholic priest who had gone missing on the eve of Francis' arrival was found in a northeastern district and was returned to Dhaka.
Khairul Fazal, a local police chief in Sylhet, said the Rev. Walter William Rosario was picked up at a bus counter. It wasn't immediately clear what happened to him, but earlier reports suggested he might have been kidnapped given his family reported receiving ransom calls.
Thanks for reading CBS NEWS.
Create your free account or log in
for more features.