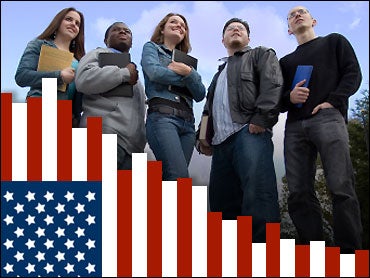 Poll: Black Teens More Optimistic than Peers
Bria Fleming has been through a lot in the last year, including her mother's hospitalization and job loss and a fire in their home. It'd be enough to get most 18-year-olds down.
But the black high school student is surprisingly optimistic about the future and her chances for a better life — an attitude common among her African-American peers, according to a new nationwide survey of U.S. high school students.
"I know kids who've been through less and maybe they can't handle it," said Fleming, who will head to Florida A&M University in the fall in hopes of eventually becoming a veterinarian. "But my mom always tells me, 'Work hard, stay positive and you'll make it."'
A poll released Thursday by Hamilton College in Clinton, New York, found that 70 percent of black students ages 15 to 18 thought their standard of living would be better than their parents, compared with just 36 percent of white students.
Overall, 39 percent of respondents thought they would have a higher living standard.
Those numbers and the level of optimism among black students appeared to be closely tied to their enthusiasm for President Barack Obama, the first black U.S. president, making for what some called the "Obama effect."
Asked about the president's performance, more than two-thirds of black students rated his performance as "good" or "very good," compared with 23 percent of white students. Overall, about a quarter of the students who were surveyed rated the president highly.
DeQuan Foster, a 15-year-old high school sophomore in Newark, New Jersey, agreed that having someone who looks like him leading the country has strongly influenced his belief in the future and what he can personally achieve.
"You're always told anything is possible — but when you see it, you believe it. It makes me want to try twice as hard," said Foster, who's active in the theater and his local Boys & Girls Club and hopes to start his own entertainment company after college.
It's an attitude that mirrored the findings of a recent Harvard Institute of Politics survey of 18- to 29-year-olds, and that could have ramifications on November's midterm elections, said John Della Volpe, the institute's polling director.
"Young African Americans have this serious afterglow that is not as strong with whites and Hispanics," Della Volpe said. "And that's despite (African American youth) having more serious economic concerns."
The Hamilton College survey involved 818 high school students from across the country who were surveyed last month. The poll, funded by the school's Levitt Center for Public Affairs, has a margin of error of plus-or-minus 3.5 percentage points.
Stephen Wu, the Hamilton economist who oversaw the poll, said he was surprised by the stark difference in optimism among races and that black students' attitudes appeared to be so tied to their view of the president.
Thanks for reading CBS NEWS.
Create your free account or log in
for more features.