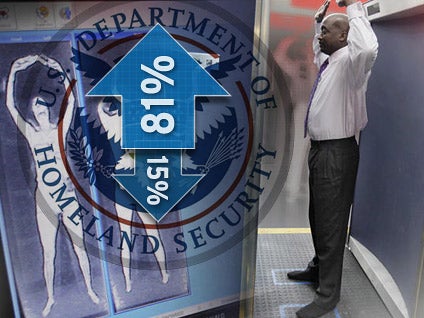 Poll: 4 in 5 Support Full-Body Airport Scanners
CBS News Poll analysis by the CBS News Polling Unit: Sarah Dutton, Jennifer De Pinto, Fred Backus and Anthony Salvanto.
Americans have differing views on two potentially inconvenient and invasive practices that airports could implement to uncover potential terrorist attacks, a new CBS News poll shows. Americans overwhelmingly approve of the use of full-body digital x-ray machines - a new technology in use at some airports in the U.S. Most, meanwhile, do not approve of racial or ethnic profiling - a practice not in place.
In response to continued security threats, the Transportation and Security Administration recently began introducing full body scanners with more enhanced technology than past devices into airports nationwide. If a passenger refuses to pass through the new scanners, TSA agents are now allowed to conduct a very detailed, very personal, body search on that person.
Although some civil rights groups allege that they represent an unconstitutional invasion of privacy, Americans overwhelmingly agree that airports should use the digital x-ray machines to electronically screen passengers in airport security lines, according to the new poll. Eighty-one percent think airports should use these new machines -- including a majority of both men and women, Americans of all age groups, and Democrats, Republicans, and independents alike. Fifteen percent said airports should not use them.
In an op-ed for USA Today, Homeland Security chief Janet Napolitano today urged Americans to be patient in the face of the heightened airplane security measures.
"Al-Qaeda and those inspired by its ideology are determined to strike our global aviation system and are constantly adapting their tactics for doing so," she wrote. "Our best defense against such threats remains a risk-based, layered security approach that utilizes a range of measures, both seen and unseen, including law enforcement, advanced technology, intelligence, watch-list checks and international collaboration."
Health Blog: Should John Tyner Should Worry about More Than His Junk?
New Airport Security to Slow Down Holiday Travel
While the TSA has implemented new security measures, it does not single out individuals based on their ethnic or racial backgrounds. (It has since 2003 conducted behavioral profiling.)
Most Americans do not think it would be justified for people of certain racial or ethnic groups to be subject to additional security checks at airport checkpoints. Fifty-two percent say no, while 37 percent say it would be justified.
Feelings on this may be sensitive to news about terror threats. Back in January 2010 -- after a failed Christmas Day attempt by a Nigerian citizen to detonate explosives hidden in his underwear on a flight to Detroit - a slight majority of Americans thought ethnic profiling was justified. In 2006, shortly after British authorities unveiled a potential terror plot using liquid explosives, 49 percent of Americans supported ethnic profiling at airports.
Some groups of Americans see this issue differently. Republicans are divided on this issue, while Americans over 65 and those who think a terrorist attack within the next few months is very likely are more apt to think ethnic and racial profiling is justified than not.
---
This poll was conducted among a random sample of 1,137 adults nationwide, interviewed by telephone November 7-10, 2010. Phone numbers were dialed from RDD samples of both standard land-lines and cell phones. The error due to sampling for results based on the entire sample could be plus or minus three percentage points. The error for subgroups is higher. This poll release conforms to the Standards of Disclosure of the National Council on Public Polls.
---
Stephanie Condon is a political reporter for CBSNews.com. You can read more of her posts here. Follow Hotsheet on Facebook and Twitter.
Thanks for reading CBS NEWS.
Create your free account or log in
for more features.