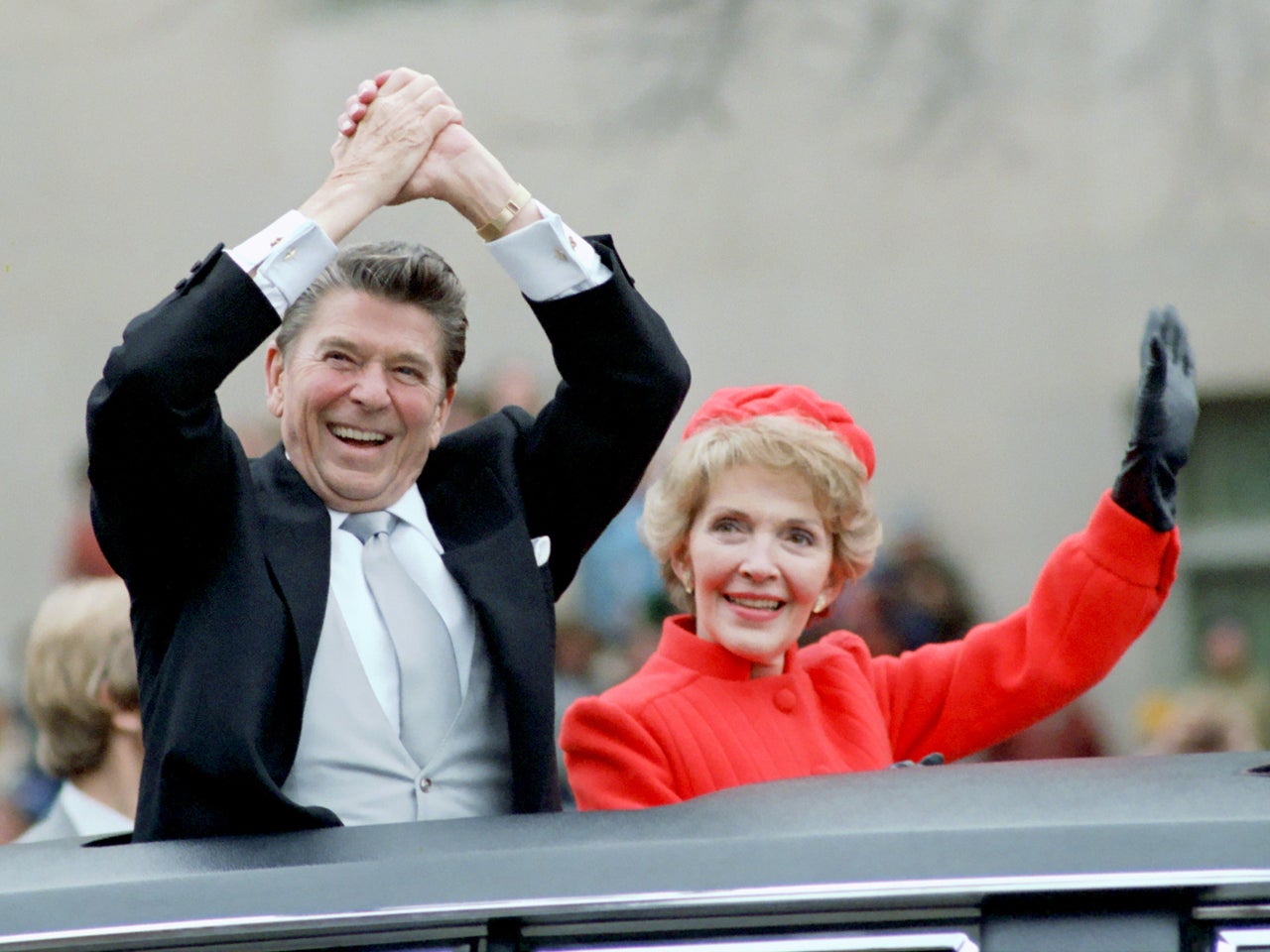 Politicians, celebrities mourn Nancy Reagan
When the news broke of Nancy Reagan's death early Sunday, politicians and celebrities alike mourned and commemorated the life of the former first lady and one-time actress.
President Barack Obama and first lady Michelle Obama said they "remain grateful for Nancy Reagan's life" and "thankful for her guidance."
"Nancy Reagan once wrote that nothing could prepare you for living in the White House. She was right, of course," they said in a joint statement. "But we had a head start, because we were fortunate to benefit from her proud example, and her warm and generous advice."
"Our former First Lady redefined the role in her time here," the first family said. "Later, in her long goodbye with President Reagan, she became a voice on behalf of millions of families going through the depleting, aching reality of Alzheimer's, and took on a new role, as advocate, on behalf of treatments that hold the potential and the promise to improve and save lives."
Former presidents also offered up their condolences.
Ex-President George W. Bush commented on Reagan's "fiercely loyal" love her husband, adding that her devotion "was matched only by her devotion to our country."
"Her influence on the White House was complete and lasting. During her time as First Lady and since, she raised awareness about drug abuse and breast cancer," Bush said in a statement Sunday. While her husband occupied the Oval Office, Reagan worked on several passion projects, including her famous "Just Say No" campaign against drug abuse.
"When we moved into the White House, we benefitted from her work to make those historic rooms beautiful," Bush continued. "Laura and I are grateful for the life of Nancy Reagan, and we send our condolences to the entire Reagan family."
Ex-President Bill Clinton and current Democratic presidential front-runner Hillary Clinton extended their prayers to the Reagan family as well.
"Nancy was an extraordinary woman: a gracious First Lady, proud mother, and devoted wife to President Reagan--her Ronnie," the Clintons said in a statement Sunday. "Her strength of character was legendary, particularly when tested by the attempted assassination of the President, and throughout his battle with Alzheimer's. She leaves a remarkable legacy of good that includes her tireless advocacy for Alzheimer's research and the Foster Grandparent Program."
Another one-time Democratic president, Jimmy Carter, complimented Reagan's work while she resided in the White House and beyond.
"Her 'just say no' campaign prevented many young people from falling prey to the allure of drug use; and her advocacy for stem cell research raised public awareness and influenced decision makers about vital research for Alzheimer's disease," Carter said in a statement.
"She will always be admired for her strength of conviction and her lifelong devotion to her husband," he added.
Another former first lady, Barbara Bush, gave her condolences in a separate statement, saying "Nancy Reagan was totally devoted to President Reagan, and we take comfort that they will be reunited once more."
"George and I send our prayers and condolences to her family," she added.
Republican presidential candidates also expressed their admiration for Reagan on Twitter. GOP front-runner Donald Trump called her an "amazing woman" in one tweet, and Texas Sen. Ted Cruz praised her "deep passion for this nation and love for her husband."
Reagan was widely known for her devotion to her husband, President Ronald Reagan. In a 1998 interview with Vanity Fair magazine, she famously said, "My life began with Ronnie."
The two met in 1951 when Ronald Reagan was president of the Screen Actors Guild. The former Hollywood actress later starred in a 1956 film with her then-husband, titled Hellcats of the Navy.
Ronald Reagan eventually left his career in show business to jump into politics, rising through the Republican ranks and serving as California's governor from 1967 to 1975. His wife followed him to the governor's mansion.
Former California Gov. Arnold Schwarzenegger, himself a former silver screen star, called the woman "one of my heroes" in a tweet.
Republican National Committee chairman Reince Priebus also mourned Reagan's loss.
"Nancy Reagan embodied what it means to represent America as First Lady and her dignified and warm demeanor inspired America," said Chairman Priebus. "Mrs. Reagan will go down in history as a woman who left her own mark on the White House and our country. She was a longtime friend and supporter of many in our party, and will be sorely missed."
Other prominent Republicans, including former presidential candidates, offered up more praise:
Senate Majority Leader Mitch McConnell and wife Elaine Chao gave a touching tribute in their statement: "In many ways the Reagan love story was class Hollywood, but it was unmistakably human too. Hands intertwined, Nancy and Ron rose to the pinnacle of political power, weathered cancer and personal heartbreak, and braved the depths of Alzheimer's cold embrace -- always together."
"I know every American felt Nancy's immense pain when she, kissing Ronnie's casket, mouthed a tearful farewell to the best friend she once said she couldn't imagine life without," they wrote. "Today, Nancy and Ron are together once more, and we offer our most sincere condolences to the friends and family left behind."
Politicians weren't the only ones to discuss the mark Reagan left on them -- Hollywood stars also weighed in:
Nancy Reagan died at the age of 94 at her home in Los Angeles. She is survived by two children Patti Davis and Ronald Reagan Jr.
Thanks for reading CBS NEWS.
Create your free account or log in
for more features.