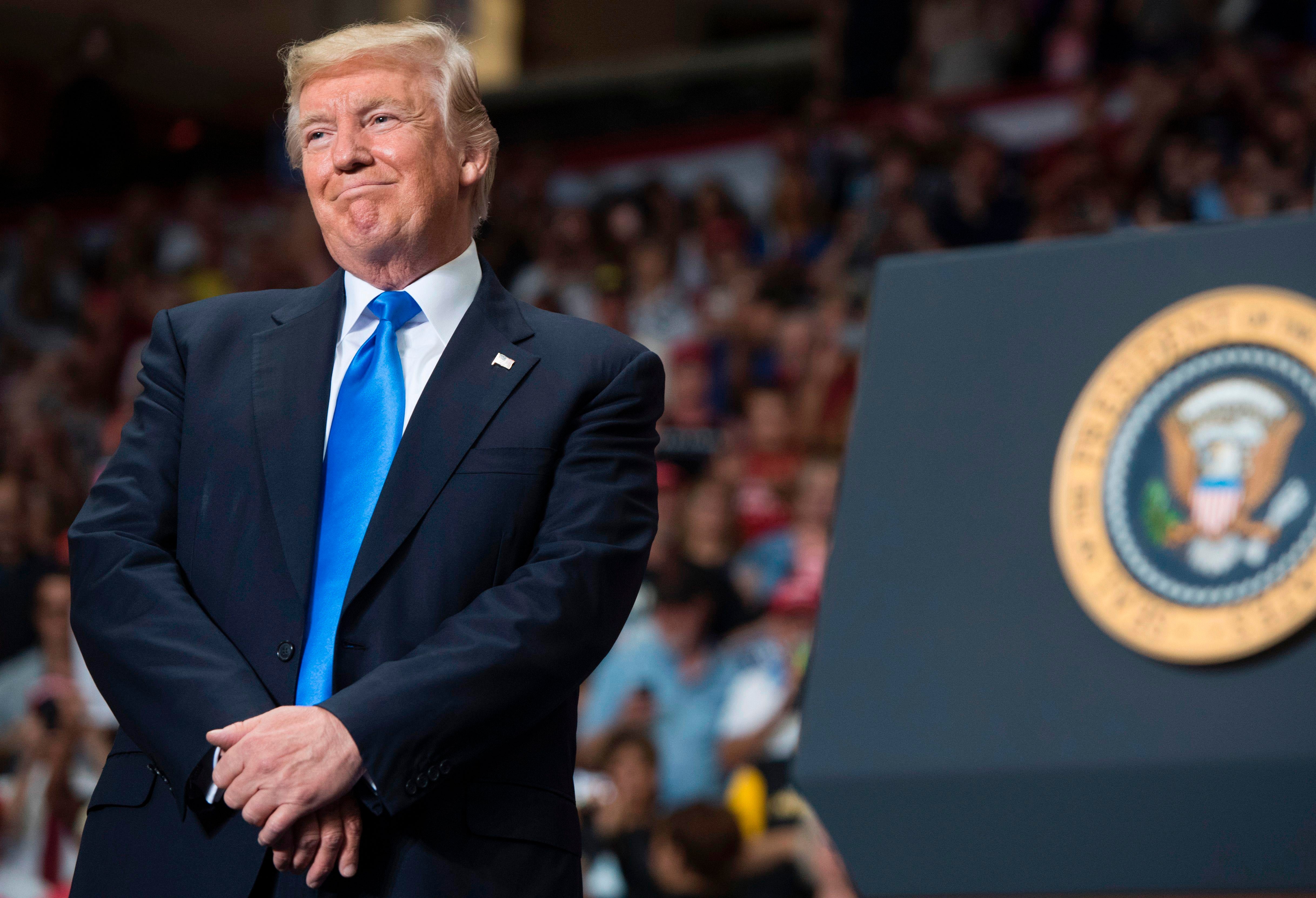 Political world, LGBTQ community react to Trump transgender military ban
After President Trump announced a surprise shift in policy directed at transgender people serving in the U.S. military, the members of the political world and LGBTQ community across the country are reacting to the administration's ban on openly trans service members.
The ban reverses an Obama-era military policy in operation since last year, which allowed transgender service members to serve openly in the military after former Defense Secretary Ash Carter ended the previous ban, saying it was "the right thing to do."
The new proposed policy drew immediate backlash for Mr. Trump's apparent reversal on his commitment to protecting the rights of the LGBTQ community:
Capt. Jeff A. Davis, Defense Department spokesman:
In response to Mr. Trump's policy announcement, Davis said in a statement, "We will continue to work closely with the White House to address the new guidance provided by the Commander-in-Chief on transgender individuals serving the military. We will provide revised guidance to the Department in the near future."
Sarah Kate Ellis, President and CEO of GLAAD:
"Today further exposed President Trump's overall goal to erase LGBTQ Americans from this nation. Trump has never been a friend to LGBTQ Americans, and this action couldn't make that any more clear."
Vice President Joe Biden:
Chelsea Manning, formerly imprisoned transgender service member:
Navy Lt. Cmdr. Blake Dremann, who began transitioning in 2013:
Dremann, who served in Afghanistan in 2011, told CBS News correspondent Jericka Duncan on Wednesday that Mr. Trump's decision "impact[s] me absolutely personally."
"I've done 11 deployments, including five strategic patrols," Dremann said.
Dremann began transitioning from female to male in 2013 and said he was worried by Mr. Trump's tweets.
"Transgender people are already serving in various aspects of the military honorably and they've shown no impact to readiness or the lethality of our mission," Dremann said.
He said no American should be prevented from serving openly in the military.
"I do want to say to the service members that are currently transitioning in the military: Continue to do what you're doing," Dremann said.
Ash Carter, former Secretary of Defense:
In a statement following the ban, Carter, who originally called for an end to the ban, said, "Quality people in uniform are what make our military the finest fighting force the world has ever seen. I continue to maintain that what matters in choosing those who serve is that they are best qualified. To choose service members on other grounds than military qualifications is social policy and has no place in our military."
He added, "This action would also send the wrong signal to a younger generation thinking about military service."
Joshua Block, senior staff attorney, ACLU LGBT & HIV Project:
"This is an outrageous and desperate action. The thousands of transgender service members serving on the front lines for this country deserve better than a commander-in-chief who rejects their basic humanity."
Sen. Richard Blumenthal, D-Connecticut:
Speaking to reporters on Capitol Hill on Wednesday, Blumenthal said of the policy ban, "I think that the president's statement contravenes the doctrines of the military, and we'll have to review it in the Armed Services Committee."
Sen. Tammy Duckworth, D-Illinois:
In a statement following the ban, Duckworth, a combat veteran herself, said, "When my Black Hawk helicopter was shot down in Iraq, I didn't care if the American troops risking their lives to help save me were gay, straight, transgender or anything else. All that mattered was they didn't leave me behind."
She added, "If you are willing to risk your life for our country and you can do the job, you should be able to serve—no matter your gender identity, sexual orientation or race. Anything else is discriminatory and counterproductive to our national security."
Rep. Joe Kennedy, D-Massachusetts:
Speaking on the House floor, Kennedy said in response to Mr. Trump's tweets, "When our bravest men and women raise their hand and volunteer to defend our nation, they defend all of her people. Rich and poor, young and old, democrat and republican, gay and straight. Americans of all races, religions, ethnicities, gender identities. Our soldiers do not discriminate. They don't offer to pay the ultimate sacrifice for some Americans and not for others. Their government owes them that same courtesy."
He added, "To the thousands of brave transgender men and women serving today in uniform, please know that a grateful nation does not take your service, your patriotism for granted. you deserve better from your president, you deserve better from your government, you deserve better from your country."
Sen. John McCain, R-Arizona:
The Vietnam War veteran and frequent advocate for vets said in a statement, "The president's tweet this morning regarding transgender Americans in the military is yet another example of why major policy announcement should not be made via Twitter."
McCain went on to say the statement was "unclear" and that "there is no reason to force service members who are able to fight, train and deploy to leave the military -- regardless of their gender identity."
Gregory T. Angelo, President of the Log Cabin Republicans:
The party leader said in a statement, "This smacks of politics, pure and simple. The United States military already includes transgender individuals who protect our freedom day in and day out. Excommunicating transgender soldiers only weakens our readiness; it doesn't strengthen it."
Angelo added, "The president's statement this morning does a disservice to transgender military personnel and reintroduces the same hurtful stereotypes conjured when openly gay men and women were barred from service during the military's 'Don't Ask, Don't Tell' era. "
Sen. Lindsey Graham, R-South Carolina:
Graham, speaking to reporters on Capitol Hill, echoed McCain's criticism that "we shouldn't make policy by tweets."
He added that the Senate should have the Department of Defense "over for a hearing" to discuss the policy changes, saying he wants to hear from the military directly.
Sen. Dianne Feinstein, D-California:
In a statement responding to Mr. Trump's announcement, Feinstein called the decision a "step in the wrong direction."
"Since becoming an all-volunteer force more than four decades ago, men and women of every race, religion, ethnicity, sexual preference and gender identity have proudly served in our armed forces."
She added, "It's nothing more than cruel to tell the 15,000 transgender individuals currently serving honorably that they are no longer wanted just because of who they are. Democrats will do all we can to change this discriminatory policy."
David O. Barbe, M.D.
, President of the American Medical Association:
"There is no medically valid reason to exclude transgender individuals from military service. Transgender individuals are serving their country with honor, and they should be allowed to continue doing so.
"AMA policy also supports public and private health insurance coverage for treatment of gender dysphoria as recommended by the patient's physician. According to the Rand study on the impact of transgender individuals in the military, the financial cost is a rounding error in the defense budget and should not be used as an excuse to deny patriotic Americans an opportunity to serve their country. We should be honoring their service - not trying to end it."
Thanks for reading CBS NEWS.
Create your free account or log in
for more features.